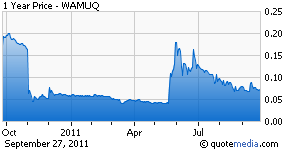 On September 13th, Federal bankruptcy Judge Mary F. Walrath denied Washington Mutual's (WAMUQ.PK) reorganization plan for the second time, citing improper post-petition interest rates and "colorable" claims of insider trading. However out of concern that the case would simply unravel into more costly litigation, she immediately ordered that all parties proceed to mediation.
In January the judge had denied WaMu's reorganization plan for the first time based on multiple minor issues but approved the majority of the plan built around a global settlement agreement that paid all WaMu's creditors, the FDIC, JP Morgan (NYSE:JPM), and some WaMu bank bondholders. The GSA however left nothing for shareholders, resulting in many individual objectors to the plan. During the confirmation hearing, one independent shareholder, Nate Thoma, raised sufficient enough concern with hearsay evidence of insider trading by four hedge funds involved in the case that the judge ordered a limited scope probe of the allegations.
A Previous Settlement
While the insider trading charges had been 10 months in the making, they almost never made it to trial. After repeated rescheduling of depositions, a May settlement was announced that included all parties involved. The terms of the settlement had WaMu shareholders receiving the reorganized company valued at $160 million, but with $160 million in debt and preferred securities to pay back, a $100 million bridge loan for the company, and $30 million for a litigation fund to pursue some third parties not exempted by the GSA. While on the surface, this settlement appeared to give equity very little, the main value was that WaMu shareholders would have been able to preserve valuable tax breaks from net operating losses against future income between the amount of $6 and $17.7 billion.
Talks eventually broke down in June though after some WaMu shareholders deemed the settlement insufficient. Attorneys representing equity wanted a recovery for both preferred and common shares, however there was simply not enough money available from the deal to appease everyone. In an attempt to preserve the settlement, equity attorneys sought additional considerations from the hedge funds. They refused, gambling that a win at trial would dispel the need for any concessions.
A Lost Gamble, "Reckless" Actions
Despite their best efforts to persuade her otherwise, the hedge funds arguments – which ranged from that the ethical trading walls are too cumbersome and expensive to that they lost money on some of their trades so they couldn't have known what was going on – were largely ineffective with Judge Walrath. She decided that the hedge funds were suspicious of engaging in insider trading both under the classical and misappropriation theories. In her 139 page opinion, the court wrote that, "The Court finds that the Equity Committee has made sufficient allegations and presented enough evidence to state a colorable claim that the Settlement Noteholders acted recklessly in their use of material nonpublic information."
Instead Judge Walrath opined that while there was sufficient merit to the insider trading claims for the equity committee to proceed with their litigation, she ruled that in order to preserve the estate's limited assets all parties would go to mediation. This order came with an added pressure to settle. Should mediation attempts fail, the judge indicated that she is prepared to allow the equity committee to proceed with a more detailed discovery of the funds' actions. If successful at trial, the equity committee would then be able to hold equitable disallowance against the hedge funds, resulting in their debt claims being expunged and their distribution to be redistributed to other creditors and ultimately to shareholders.
Strength of the Case
Now with the judge ruling that the insider trading charges have merit, once again the hedge funds are in the hot seat. Shareholders allege that the four hedge funds, Appaloosa Management, Aurelius Capital Management, Centerbridge Partners, and Owl Creek Asset Management used non public material information from closed door settlement negotiations between WaMu, JP Morgan, and the FDIC to purchase deeply discounted parent company debt with the knowledge they would certainly profit. As the on and off negotiations progressed, it is alleged that at least two of the hedge funds also used their insider knowledge to sell higher seniority debt they had already profited on to buy up junior debt as it became clearer that WaMu's lower priority creditors were more likely to be paid. This knowledge provided an unfair advantage over the rest of the investing public, which was unaware that negotiations were even in progress. In one such example, a $4 billion dollar deposit asset held by WaMu had been agreed upon early on by all that it belonged with the parent corporation. This material insider knowledge however was in direct contrast to court filings and news reports which led the public to believe the asset was still hotly contested.
As usual, Judge Walrath refrained from showing her hand in regards to her level of conviction on the strength of the charges. Instead she only ruled that the minimum bar had been achieved in order to allow for the charges to progress. It is evident that by deciding to hold back a more detailed opinion the judge is looking for all the parties to come to an unbiased settlement, one not weighted towards any one side by a preliminary judiciary decision.
Disclosure: I am long OTC:WAMKQ, WFC.