Enterprise Products Partners, L.P. (NYSE:EPD) is an integrated provider of natural gas and natural gas liquids processing, fractionation, and storage services transportation. The company has provided outsized returns and dividend growth to shareholders over the years. EPD has provided shareholders a 9.5% total annualized rate of return over the past 10 years. This return does not include reinvestment of dividends.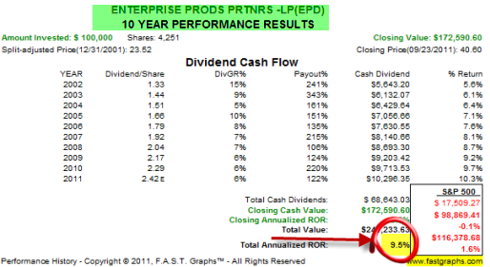 Here are 5 reasons to consider purchasing EPD for your portfolio:

Enterprise Products Partners has raised its dividend for 28 consecutive quarters.
Investors should project a 5-6% earnings growth rate in annual dividends. This is based upon past history growth, current growth projects and future accretive acquisitions.
The company has focused on building a streamlined vertical integration and synergistic master limited partnership platform. A $35 billion market capitalization offers the company strength in negotiations, stability in ongoing day-to-day business operations, and ability to raise capital even during difficult economic times. This included the 2008 economic crisis.
Enterprise Products Partners does not have a general partner; this relationship is within the company, thus avoiding incentive distribution rights. These IDR's proceeds remain within the MLP business model.
Growth opportunities currently include development of a Marcellus ethane operation in Mt. Belvieu, Texas; development of an integrated Gulf Coast ethane-based system; and building out Barnett and Eagle Ford shale projects.
Key Accretive Acquisitions:
Acadian Gas LLC, April 2001;
GulfTerra Energy Partners September 2004;
TEPPCO partners, L.P. October 2009;
M2 Midsteam, May 2010;
Enterprise GP Holdings, November 2010.
Business Strategy:
Enterprise Products is a Texas-based production company for natural gas and crude oil pipelines which has shown significant growth over the years. Especially after the acquisition of GulfTerra in September 2004, Enterprise has thrived over the years significantly after its initial public offering in 1988. The business has increased its market cap from $715 million to a present $35 billion market cap.

This extraordinary growth is the aftermath of acquisitions and expansions combined made from accretive opportunities, and the company is growing with its ongoing new project portfolio.

EPD has a firm code of conduct in its company policy through which it oversees and provides guidance for compliance, as well as ensures that the legal and ethical standards that the company requires are highly maintained. Ethical conduct is emphasized upon carrying on certain traditions held by their predecessor company.

Business Summary:
Enterprise has several segments in its corporate structure, which includes its natural gas processing business and other relative NGL marketing services. These NGL pipelines are assembled across almost 16,900 miles, and add their relative product storage to terminal facilities of a 160 MMBbls of functional storage capacity, and terminals dedicated purely to import and export and NGL fractionation facilities.

Enterprise's crude oil pipelines and services faction involves around 4,700 miles of inland crude oil pipelines, with eleven MMBbls of above-ground capacity for storage tanks. These systems gather and take crude oil to many refineries, centralized storage terminals along with conjoining pipelines in Texas, New Mexico and Oklahoma.

EPD also has possession of crude oil terminals in Cushing, Oklahoma, and Midland, Texas, which are essential in the part that they play for their inland oil operations. A generalization of the functions of the crude oil terminals is that they store volumes of crude oil for the company and the company's clients. They sell the storage space for storage of crude oil on a day-to-day basis, along with the amount of space taken which they multiply by a contractual rate for storage.

The revenue generated from the transportation of crude oil is based on a fixed price per barrel, which is multiplied by the volume delivered. In accordance, the results are usually reliant upon the volume of product transported and the level of charges which are billed to the customers.

The petrochemical industry uses NGL products as raw material and fuel by the refiners of the production of motor gasoline for industrial and residential users. Ethane, one of the NGL products, is primarily used as the foundation for a wide range of chemical products like plastic.

Enterprise Products Partners LP (EPD) Peer-Group Comparison: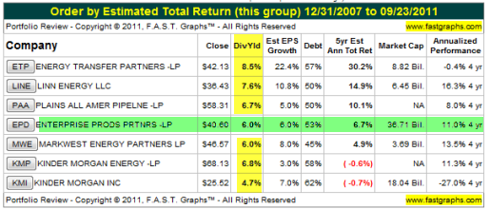 1. Kinder Morgan, Inc. (NYSE:KMI):
Kinder Morgan, Inc.(KMI) owns and operates energy infrastructure in North America. The general partnership, with IDR benefits, manages Kinder Morgan Energy Partners (NYSE:KMP). Kinder Morgan, Inc. previously went private to the and had a new IPO in early 2011. The return of Kinder Morgan, Inc. included a debt-laden balance sheet from prior trading days. Kinder Morgan, Inc. operates in products pipelines; natural gas pipelines; terminals; and Kinder Morgan Canada.
2. Kinder Morgan Energy Partners LP:
Kinder Morgan Energy Partners is the United States' largest pipeline master limited partnership. Kinder Morgan Energy Partners owns over 37,000 miles of pipelines and over 180 terminals.
3. MarkWest Energy Partners LP (NYSE:MWE):
MarkWest Energy Partners' business model includes the gathering, processing, and transportation of natural gas. Markwest Energy Partners transports, fractionates, storages, and markets natural gas liquids; and gathers and transports crude oil.
4. Energy Transfer Partners L.P. (NYSE:ETP):
Energy Transfer Partners is the third-largest master limited partnership in the United States. Energy Transfer Partners business operations include gathering, processing, storing, and transporting natural gas. Energy Transfer Partners owns approximately 18,000 miles of pipeline.
5. Plains All American Pipeline, L.P. (NYSE:PAA):
Plains All American Pipeline is a master limited partnership which engages in the transportation, storage, terminaling, and marketing of crude oil, refined products, and liquefied petroleum gas. Plains All American Pipeline owns, or is control of via a lease, more than 20,000-miles of pipelines and gathering systems.
6. Linn Energy, LLC (LINE):
LINN Energy participates in the purchase, development, and maintenance of long-life natural gas and oil properties. These assets provide stability to LINN Energy which has producing oil basins. Its oil, gas, and natural gas liquids assets are located in the Mid-Continent region, the Permian Basin, California, and Michigan.
Disclosure: I am long EPD, KMI, MWE, LINE.