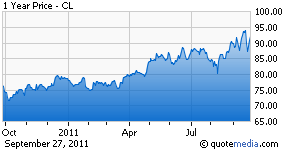 September's market drop has left a bad taste in investor mouths, making it the perfect time to highlight the global toothpaste, toothbrush and mouthwash leader Colgate Palmolive (CL).
The global population is getting wealthier and emerging market economic expansion means more educated, middle class, appearance-conscious consumers. As a result, Colgate's sales are tied more to peer pressure than Libor OIS spreads and 10-year Italian bond yields. Its revenue, earnings and dividend clarity make Colgate increasingly attractive during periods of market unease.
But, Colgate isn't just a defensive stock. It has a growth story too. Governments like China's are investing in dental care education programs, designed to reduce future costs from illnesses linked to poor dental health, such as heart disease and diabetes. Countries like China and India have huge population centers, which provide significant scale and market opportunity. Emerging market populations are living longer, which means more demand for dental care over a lifetime. And, affluence is increasing the availability and consumption of sugary food and drinks, boosting demand for dental care products.
How important are overseas markets to Colgate?
Colgate gets more than half its total sales from emerging nations and emerging market organic sales were high single digit rates last quarter, the highest rate in a year. Overall, 75% of Colgate's total revenue comes from outside the United States. In the Asia/Africa region, Colgate's toothpaste share is nearly 40% while toothbrush share is 35%. In Q2, sales in the region were 12% higher than last year as China and India experienced double-digit growth. New products tied to regional tastes have helped Colgate capture 30% of China's mouthwash market. And, CL is guiding the region's organic sales growth at double digits for both Q3 and the full year.
Latin America is an important market for Colgate too, with Q2 sales up 17% from last year. It set record market share in Venezuela, Central America, Chile and Peru. It holds 80% market share in Mexico. And, in the fast growing and competitive Brazilian market, Colgate has a 70% share. The company is also the #1 play in toothbrushes, with a regional share of 40%. Its mouthwash share is a record 32.2% year-to-date. And, Colgate expects Latin America volume to increase mid single digits this year, producing double-digit organic sales growth.
Over in Europe, macro instability has done little to curb consumer demand for necessities. Colgate gained share in both toothpaste and toothbrushes as market share rose in France and Italy to 20.9% and 23.9%, respectively. In the U.K., Colgate's toothpaste market share is 50% and its toothbrush share was a record 33.3% in May.
Don't count out the United States marketplace either.
The U.S., despite being a mature market, continues to offer opportunity. Americans spent $70.3 billion on dental services in 2002 and are expected to spend $126 billion in 2013. Despite our developed nation status, the CDC estimates 16% of children age 6-19 have untreated cavities and only 78% have visited a dentist in the past year. New products, such as Colgate Optic White and Sensitive Pro-Relief toothpaste, will help grow volume into year-end. Colgate Palmolive also boasts a 38% market share in dish liquid and is expanding its Softsoap brand to include bar soap.
But what about input costs?
Higher costs did weigh on gross margins, which fell to 57.4% versus 58.8% last year. But, 85% of Colgate's planned price hikes were implemented prior to Q3 and the remainder, including an important price hike for its Science Diet pet foods, is now in place. As a result, pricing will offset costs more in the final half of the year than they did in the first half. And, cost cut initiatives have freed up additional money, which has been redeployed back into advertising in support of new products - bullish for future market share upside.
Overall, Colgate stock allows investors to insulate European debt contagion risk, providing portfolios with a market share leading company, solid revenue and earnings growth and a 2.6% dividend yield. Given Colgate's 50 million share buyback and a PE on future earnings of 16, the lower end of its 5 year PE range, investors have several reasons to bet on upside over the coming months.
Disclosure: I have no positions in any stocks mentioned, but may initiate a long position in CL over the next 72 hours.