With cotton prices declining after a difficult spring, Columbia Sportswear (NASDAQ:COLM) has tremendous opportunity right now to use sales growth from new product lines to expand operations. The company is a maker and marketer of outdoor apparel, footwear, and related equipment. It is currently rated as a "hold" by analysts and offers favorable upside in the event that it beats market expectations.
Columbia Sportswear offers a variety of different product lines, although they are not differentiated too much from the competition. I foresee the company's Omni-Heat feature being a top performer, followed by OutDry and Omni-Dry.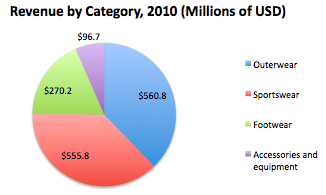 Currency changes will increase risk-adjusted returns while not, in my opinion, having an appreciable effect on value creation. International growth will be difficult in Europe, where there is strong competition and macro concerns. At the same time, an emerging middle-class in the emerging markets will help to offset these difficulties.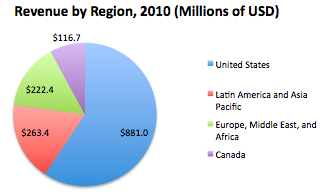 Management has taken several steps to improve its performance abroad. It is launching and marketing online sites in both Canada and Europe, in addition to unveiling new products. These products could provide reduced risk from Columbia Sportswear's more high-end lines. At the same time, I ultimately expect operating margins to improve by around 270 basis points by the end of 2013 from 7% currently. I further estimate free cash flow increasing to around $107M by this time period.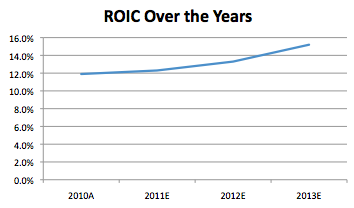 *Note that the fluctuations between the years have been simplified by a connecting line.
Product introductions will also result in marketing synergies that will improve the brand's appeal and boost ROIC. Reductions in costs will unlock shareholder value and enable the company to start to take away market share from competitors, like Ralph Lauren (NYSE:RL), Nike (NYSE:NKE), and Under Armour (NYSE:UA).
I forecast this strategy having a positive effect on operating margins, roughly in-line with other analyst estimates: EBITDA to grow by 28.3% to $182M and then 13.1% and 13.7% in the next two years. Enterprise value is currently trading at roughly 9.5x EBITDA. Consensus estimates for EPS are that it will grow by 24.8% to $2.82 and then by 18.8% and 16.1 % in the next two years.
In conclusion, I believe that Columbia Sportswear does not offer favorable risk asymmetry given European macro concerns and limited market penetration. Its dividend yield is low at 1.74%, which is still nevertheless higher than peers. I find the company mildly preferable to Ralph Lauren, but that it will highly underperform Nike.
Disclosure: I have no positions in any stocks mentioned, and no plans to initiate any positions within the next 72 hours.