It has been one month since Steve Jobs resigned as CEO of Apple (NASDAQ:AAPL). And in the past month, the stock is up almost 8%.
Apple recently overtook Exxon Mobile (NYSE:XOM) as the world's largest company by market cap, and over the past month that lead has widened.

Apple

vs.

Exxon Mobile

- (click charts to expand)




Source: finance.yahoo.com
With a market cap of $377 billion, Apple is almost as valuable as Google (NASDAQ:GOOG) and Microsoft (NASDAQ:MSFT) combined.
And there are plenty of other things Apple has surpassed in value. A recent article in The Atlantic listed a few:
Apple is worth more than all the bricks in the Great Wall of China (that's based on $.52 per brick, and 3.873 billion bricks).
Apple is worth more than all of the farmland in Iowa, and South Dakota, (at $4200 per acre).
Apple is worth more than Singapore's gross domestic product (at $318 billion).
Apple is worth more than all the homes in Atlanta, Georgia, (valued at $274.8 billion in 2010, according to Zillow).
And the stock has held up amid the market decline (last week while the Dow saw its worst week since 2008, shares rose almost 1%). The stock is a buy, but I wouldn't add to a position until market trends reverse.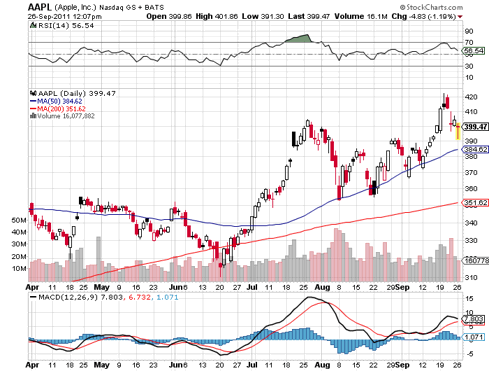 Disclosure: I am long AAPL.