Consider the familiar fork lift truck and its importance to a distribution center. Distribution centers essentially exist for the purpose of organizing and moving goods around. Lift trucks do almost all that moving. A better lift truck would be huge. It means a fundamental improvement to operations.
For decades, almost all indoor lift trucks have been powered by lead acid batteries. They are quiet, and they don't pollute the indoor air.
But batteries have some disadvantages on lift trucks: a set of batteries will gradually run down during a shift, meaning the goods are moving slower. Also batteries have to be charged and are often completely swapped out six hours into a shift. A swap can take 15 or 20 minutes. This means idle time for operators. These centers need huge charging rooms, and a staff just for charging and swapping batteries.
Enter the fuel cell. Think of a fuel cell as a box exactly the same size and shape as the battery pack. A fuel cell runs at 100% speed all through a shift, not slowing at all. The truck can be refueled in 2 minutes by the operator, and doesn't require a battery charging room and staff.
These devices have been proven by some of the largest distribution center operators, such as Wal-Mart (NYSE:WMT), FedEx Freight (NYSE:FDX), Coca-Cola Bottling Co. (NYSE:KO), Sysco Foods (NYSE:SYY) and Central Grocers. Some of these companies have now proven the concept and are starting to roll out additional centers. Since the trucks are powered with hydrogen, there are no pollutants, making fuel cells the only practical alternative to batteries for indoor applications.
Market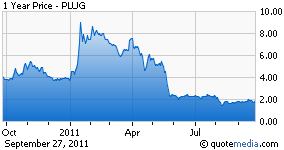 We discussed the market in the earlier article on Plug Power (NASDAQ:PLUG). The company has estimated that there is an installed base of 1 million trucks in North America, and opportunity to ship or upgrade up to 250,000 fuel cells for lift trucks per year.
Plug Power's Strategy
Early on PLUG spent many years and many dollars on a much broader strategy, developing fuel cell stacks, fuel cell systems and targeting multiple applications. Since 2007, they have dramatically narrowed their focused their efforts to building products for the material handling industry in North America.
In the process they have reduced their staff and their OPEX rates significantly. They've partnered with Ballard Power (NASDAQ:BLDP), relying on Ballard for the engineering and manufacturing of the fuel cell stack. PLUG integrates Ballard's stack component into their finished system, and provides the targeted engineering, final assembly, marketing and sales effort. PLUG doesn't make lift trucks, but they are partnering with lift truck makers, and they make a component that can replace a swapped out battery pack.
The lift truck application is a key source of business for distributors of hydrogen fuel. PLUG has partnered with leading fuel distributors who deliver hydrogen fuel to the distribution centers.
Plug has remained focused one application and even then, just in North America, but they do have plans to expand into Europe, probably by partnering with a major gas distributor in 2012.
Orders and Sales
To date the new strategy seems to be working. Plug claims more than 85% market share in the materials handling. In early September, units, they had a 1,504 units in backlog representing $29 mln in orders.
The shipment history has grown rapidly, and demonstrates an increased acceptance of fuel cell units by the customers. Unit shipments have more than doubled each year since 2007, and company guidance in September indicates unit shipments more than doubling again in 2011 and in 2012.
Shipment History
Year
Units

Shipped

2007
47
2008
132
2009
271
2010
650
2011
1600
Co. Guidance
The company has stated that they expect revenue growth of 80 to 100% in 2011 and to double revenue with 3,400 again in 2012. Revenue in the 2010 year was $19 million, and at the end of June 2011 quarter, they had booked $10 million in revenue so far. To achieve the low end of their expected yoy 80% growth, they need to book $24 mln in revenue in the last six months of the year. In our projection we assume 400 units shipped in Q3, and 750 units shipped in Q4 would meet the goal.
The company took orders for 1,296 additional units in the first six months of 2011, representing about $26 mln in potential revenue.
Major Customers
PLUG has expanded the number of customers who are buying their units. From 2007 when there were 2 or 3 customers, they now count approximately 75 customers. Sysco, the #2 food retailer in the U.S. has converted 3 full sites, and has 5 more sites in the order backlog. Wal-Mart, the #1 retailer, has converted one site, and is installing a 2nd site in the 4th quarter. Coca Cola will have 2 sites fully converted by the end of the year. Also in the backlog are orders for WinCo and Proctor & Gamble (NYSE:PG).
Shipping the Backlog
Their biggest challenge is to ship their growing backlog. The company has the backlog to meet their 2011 shipment goals. Typically there is a 3 to 9 month delay from the time a customer orders until they are ready to take the shipments.
The company shipped 217 units in Q1 and Q2.
Gross Margins
The company expects their gross profit to be positive beginning in the 4th quarter. This is based on major design changes to both the low end and the high end products. The company expects to reduce both material and labor costs by 30 percent by the end of the year.
PLUG is transitioning to new lower cost versions of the products. They will want to ship as much of the new lower cost product as soon as possible. If there are any delays in switching to the new products, then the first positive gross margins could shift into the 1st quarter.
PLUG is changing their low end unit from a liquid cooled design to an air cooled design, and changing the high end unit through a 30-40% reduction in components. Also, a portion of the COGS is overhead, which would be allocated over a larger number of shipped units. PLUG's CEO mentioned that the material cost of the low end unit will be dropping from the $10,000 range to the $ 6,000 range.
The new units will take time to transition into the product mix, so with a start in the 4th quarter, we assume that the full benefit of the new products will not be felt until the 2nd quarter of 2012.
Impact on Opex
Opex costs in Q2'11 were much lower than Q2'10 because of the company restructuring. R&D costs were cut from $4.4 mln in Q2'2010 down to 1.1 mln in Q2'2011, and the restructuring costs were largely written off in 2010.
The company still has a high SG&A run rate. In the second quarter SG&A was $3.9 mln on $4 mln in revenue. We hope to see SG&A stay relatively flat even as revenues rapidly grow in Q3 and Q4.
Cash
Net cash used in operating activities for the second quarter of 2011 was $6 mln. PLUG had cash and equivalents of $27 mln at June 30, 2011. The company believes it has sufficient manufacturing capacity for 2012 production, and that they have enough cash to reach profitability.
Future Challenges and Opportunities
We expect that the time from order to shipment will decrease over time as PLUG's customers gain experience. Some customers are expanding from their initial installations into multiple distribution centers. PLUG's customers, sales and fuel distribution partners are going through a learning curve. We expect that as they gain experience, they will get faster at moving from order to installation.
Selling lift-truck power modules in Europe is the next obvious market. The business case for battery replacement could be even stronger in Europe. On April 5, 2011, the company announced that WinCo Foods LLC will use 184 GenDrive fuel cell units to power its electric lift truck fleet at its 800,000 sq. ft. grocery distribution center in Modesto, California. This transaction with WinCo Foods marks Plug Power's first large grocery installation in California. At the same time, the GenDrive units being developed for WinCo's European-style moving mast lift trucks will offer Plug Power a segue into the European material handling industry..
The company believes that it can reduce product costs significantly. From the June 30 10-Q:
"With this increase in orders, and expected engineering improvements that utilize common components across product lines, we expect to drive down material costs by 30 to 40 percent. Implementation is currently underway and we expect these improvements to begin to impact our financial results by the end of 2011."
The company has identified another potential application within the materials handling industry. That is to provide fuel cells for refrigerated trucks. The advantage for this application is that it would allow trucks to run refrigeration quietly and cleanly while parked near to residential areas. Unloading of trucks in many locations is not possible during off hours due to the noise of their motors running. The size of this market is comparable to the lift truck market.
Risk: Speculative Buy
Positives – PLUG has a commanding lead in market share, and is focused on an ideal application for fuel cells, with excellent reference accounts, and sales that appear to be expanding in cookie-cutter fashion within large customers like Wal-Mart and Sysco. The available market in the U.S. appears to be 100x bigger than PLUG current shipment rate, and the growth opportunities appear very good for Europe, as well as expanding into new applications.
Negative – The company has to reduce the time from orders to shipments. Order and shipment rates for the next few quarters could be erratic. The time to phase in the new cost reduced products could also vary, pushing out the time to profitability by a few months.
Valuation
We are assuming that PLUG power ship most of its backlog over the next nine months, and continue to ramp orders as customers gain experience with the technology. We assume the company increase sales by 80% 2011, and then be 80% again in the following 12 months. We assume a conservative estimate of long term sales growth is 30% CAGR, and that they will maintain long term net profits of at least 7 percent of sales. They have already brought down their Opex burn rate, and are in a good position to have positive gross margins by Q12012, and to be EBITDA positive in 2012.
Our target price for the stock is $5.50. Short term (next 6 months) we may experience high price volatility up or down depending on market conditions and the company's ability to ramp shipments in the remainder of 2011.
Summary
We view PLUG as a speculative buy, with short term price volatility, and a target price of $ 5.50.
Disclosure: I am long PLUG.