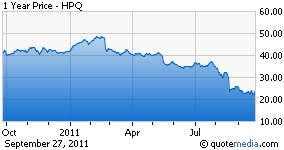 For the past 10 years Hewlett Packard (NYSE:HPQ) has been the business media's dream come true and an investor's nightmare. First there was the appointment of Carly Fiorina as CEO in 1999, which made her the first female CEO of a DJIA company. She had unfortunate timing, beginning her tenure as CEO of a tech company right before the tech bubble burst. Then there was a proxy fight with co-founder Bill Hewlett's son Walter over the merger with Compaq. Fiorina was forced to resign by the board of directors in 2005.

Mark Hurd was named CEO in 2005 and was successful at improving efficiency and profitability. He also made strategic acquisitions such as Electronic Data Systems, 3com and Palm. While HP seemed to be on the right track with Mark Hurd as CEO, he was forced to resign in 2010 due to allegations of sexual harassment.

Leo Apotheker was then appointed CEO. HP launched its tablet (the Touchpad), which saw virtually no sales. Leo Apotheker then announced HP would leave the smart phone and tablet business. He also said they would spin off or sell the PC business and acquire Autonomy for $10.3 billion. Shortly thereafter he was ousted by the board and they named former Ebay CEO Meg Whitman as the new CEO. Whitman has received a cold reception with the main criticism being she has no experience selling hardware to businesses.

HP certainly seems like an unpredictable company and investors have pummeled the stock. It is currently selling near the same price it did 16 years ago in 1995.

Investors do not want to go near HP because of its unpredictable management. But is HP worthless? Despite its problems with having a clear and consistent strategy in place it must have some intrinsic value. Does it warrant a p/e below 5?

Below is a table with the percentage of total revenue and operating earnings generated by each division, excluding corporate investments and eliminations.
| | | |
| --- | --- | --- |
| Division | % of Total Revenue | % of Earnings from Operations |
| Services | 27.57% | 36.20% |
| Enterprise Storage and Servers | 14.72% | 15.50% |
| HP Software | 2.83% | 4.90% |
| Personal Systems Group | 32.15% | 13.11% |
| Imaging and Printing Group | 20.33% | 28.47% |
| HP Financial Services | 2.40% | 1.81% |
| Corporate Investments | N/A | N/A |

HP has the No. 1 PC position in the world, with about 18% of the market. The PC and smart phone business make up 32% of HP's revenue, but only 13% of operating earnings. With a stronger PC position, more diversified lines of high margin businesses, and more consistent earnings growth, HP should not sell at a lower p/e than Dell (NASDAQ:DELL), which currently trades at almost 8 times earnings. There is no division of HP that warrants a p/e below 5.
As for a "sum of the parts" valuation, it is not unjustified for HP to trade at a p/e in the 8 to 10 range right now. With a p/e of 8 HP's stock should sell at $34, about 50% above where it is today.
If HP's earnings are flat for a year or two and then start to grow again, HP is classic value investment that will handsomely reward the patient investor.
Disclosure: I am long HPQ.
Additional disclosure: I have no position in Dell or Ebay and I do not intend to take a position in the next 72 hours.