Precious Metals Sell Off
On Thursday and Friday, the decline in precious metals prices accelerated, in the process breaking a number of short-term and in some cases medium-term support levels.
To this we want to note that the increase in margins on gold, silver and copper futures by the CME was not the reason for the decline, but its consequence. Consider for instance that at one point on Friday, the gold contract was down by $114. At that point a buyer on Thursday's close would have had a 'paper loss' of $11,400 per contract. However, before Friday, the initial margin per gold contract was only $9,450, with the maintenance margin at $7,000. Obviously, at the low point, more than the initial margin of our putative buyer would have been wiped out. In that sense, Friday's margin increase to $11,450 initial and $8,500 maintenance margin is probably insufficient.
We mention this because many commentators at e.g. Zerohedge seem to believe that the margin increase was the reason for Friday's sell-off, with the circular logic explanation du jour being that 'someone knew in advance that margins would be hiked' and therefore sold. But in that case, said 'someone' would also have needed to know in advance that a decline big enough to provoke a margin hike would happen, and then they would have sold anyway. In any case, this explanation doesn't hold water.
It is the duty of the futures exchanges to uphold confidence in the clearing house, and therefore they must increase margin requirements when the increase in volatility potentially could create problems for counterparties in ther market. At $11,450 initial margin and an underlying value of about $165,000 per contract, there remains plenty of leverage in gold futures – in fact this is more leverage than there was in gold futures at the all time low in 1999/2000 (at the time the gold price was at $250 and the initial margin per contract was at $2,750 if memory serves).
A better explanation for the big sell-off in gold and silver is provided by the fact that other commodities have been selling off strongly for quite some time, which necessitates that indexed commodity funds sell commensurate levels of otherwise unrelated commodities to bring their weightings back in line. This selling in turn will tend to trip stops set be other players. Moreover, it is to be assumed that a number of speculators had to close out positions in order to bring their leverage down due to losses incurred elsewhere – as stocks, commodities and carry trade currencies all plunged in unison. Often the 'winners' are sold especially hard in such situations. This has nothing to do with fundamentals of course, but that doesn't mean one should ignore the message of the charts.
Gold, Silver and Inter-Market Divergences
We would note that the disappointing Fed announcement of Wednesday, which promised some interest rate tweaking but not more imminent money supply inflation was not only bad news for overvalued equities and industrial commodities. It was also not so good for gold's nominal price, and in silver's case both for the nominal as well as the real price.
However, as the charts below illustrate, not all is lost, and in spite of last week's drubbing, gold's real price actually continues to hold up very well.
First up a chart of gold showing support and resistance levels as well as a fibonacci grid referencing the preceding rally phase. Also indicated on the chart are previous instances of high volume sell-offs. As we have noted before, high volume sell-offs have often occurred near lows in the gold price in the past. Note however that no significant support level has as of yet been reached.
(Click charts to enlarge)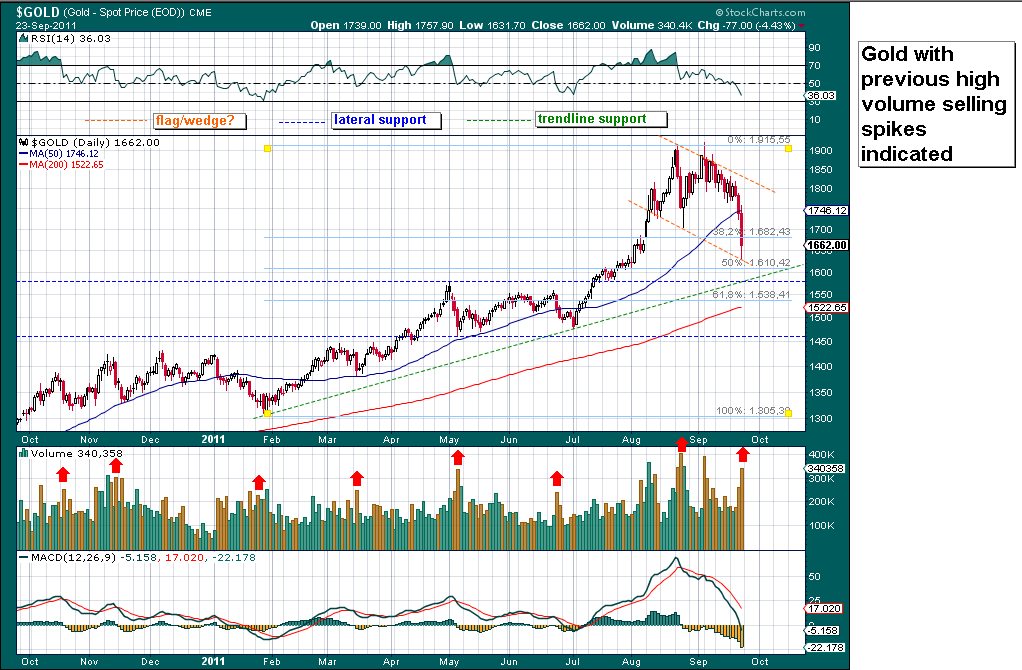 Gold with lateral and trendline support and fibonacci retracement levels of the rally from the February low. As can be seen, volume spikes often occur in the vicinity of lows. In a few weeks the support trendline will cross the 50% retracement level.
Our reader Bernard from Quebec (not France as we erroneously said last time) has provided a chart of a proposed e-wave count that we think is probably too bearish, but it would be a mistake to rule anything out a priori. Note by the way that the proposed decline in this chart would be considered wave ((2)), so it is not a bearish chart per se, since a third wave advance would be expected to occur thereafter.
The reason why we think it may be a bit too bearish regarding the near term action is mainly that a few negative divergences that were in evidence at the recent highs have in the meantime been turned on their head and become positive divergences. As an example, consider silver: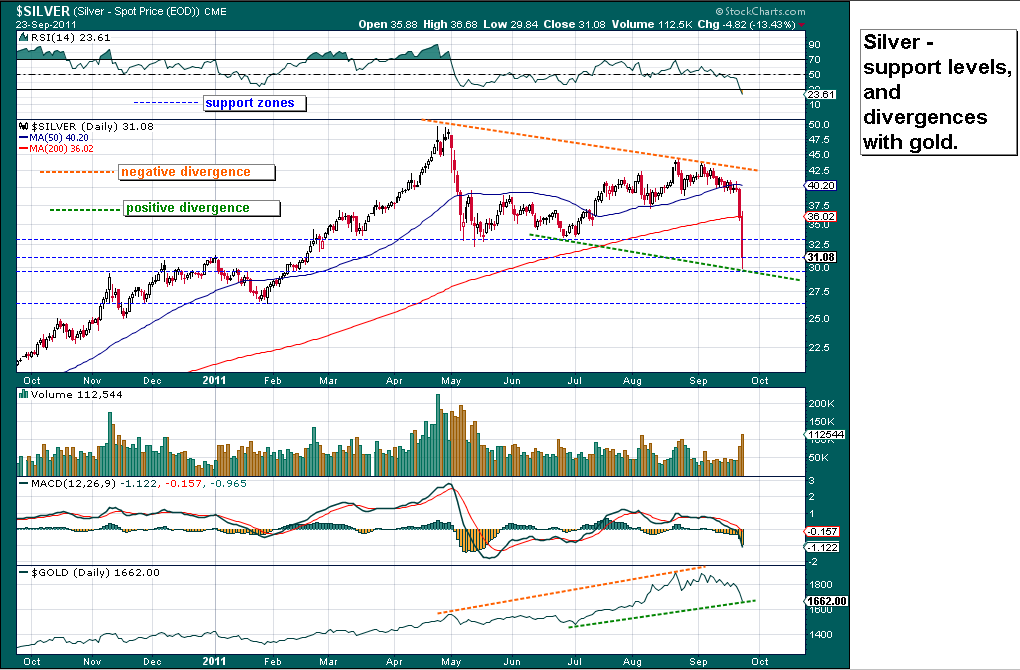 Silver may still have to decline to the lower support indicated on this chart, but the negative divergence with gold at the high has now turned into a potentially positive divergence.
Another similar 'double divergence' is visible in the gold chart in euro terms compared with the gold chart in dollar terms.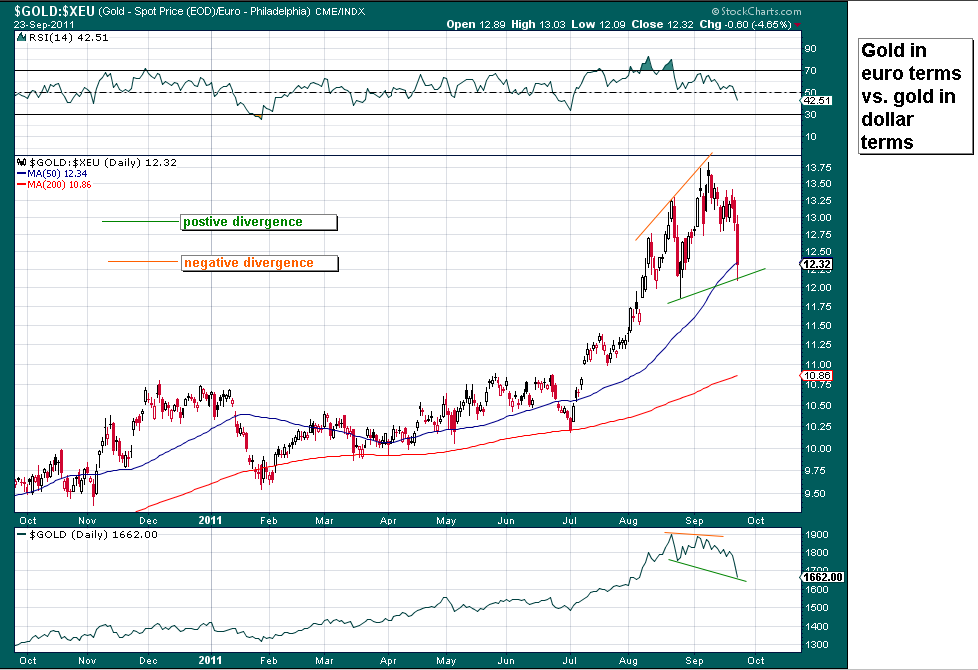 Gold in euro vs. gold in dollars (solid line at the bottom) – they diverged at the high, and are now once again diverging after last week's decline.
The gold-silver ratio meanwhile has shot up, and continues to look bullish, which is bearish for 'risk assets'. On the other hand, the ratio has now traveled a long way in a very short time, so a breather should be expected soon: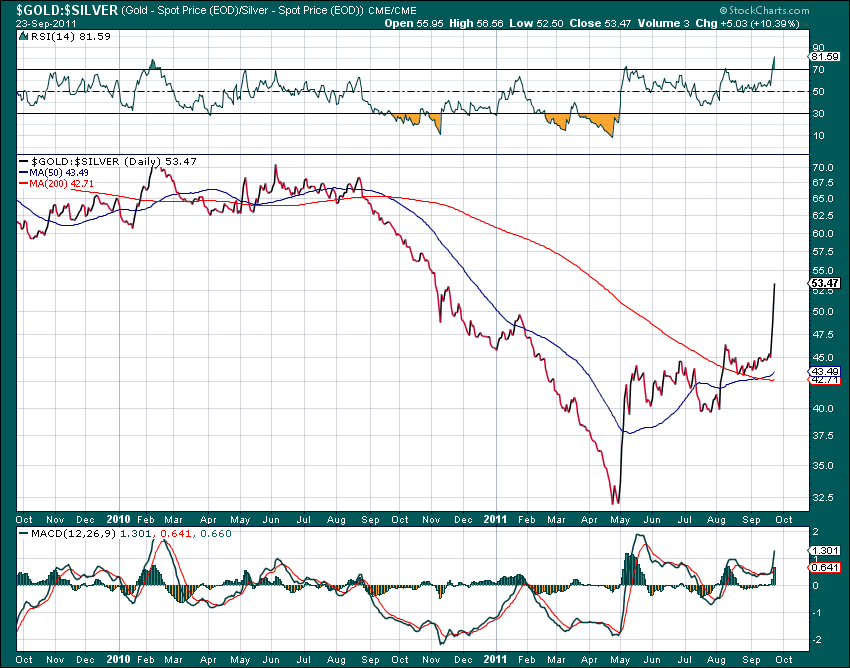 The gold-silver ratio has increased sharply, reflecting the decline in 'risk assets' and increase in credit spreads. Note however that RSI is now at almost 82, so a pause in this trend should soon be in evidence.
Gold Stock Indexes Diverge As Well
Another divergence that has turned from negative to positive is the divergence between HUI and XAU. In an update on gold and gold stocks on September 12 we wrote:

The HUI index has managed to break out to new highs, but it is too early to judge whether this breakout will be sustained in the short term. The index is notoriously volatile and a steep sell-off in the stock market could lead to some profit taking in the near term. There is also the fact that the sister index XAU (which has a slightly different composition) has not yet managed to break out. This disparity is indicative of the fact that although the advance in gold stocks has broadened, it remains uneven. There is not yet a move 'in concert'. As a result careful stock selection continues to be rewarded, but it also means that one must remain circumspect about breakout moves such as the one in the HUI.
As a result of the steep sell-off on Thursday and Friday, this has now turned around completely – the XAU has broken below its previous support and ended in fact at a new low for the year, while the HUI has closed well above the equivalent support level.
Note also that juniors and exploration stocks declined a lot more than both HUI and XAU and must be considered quite oversold.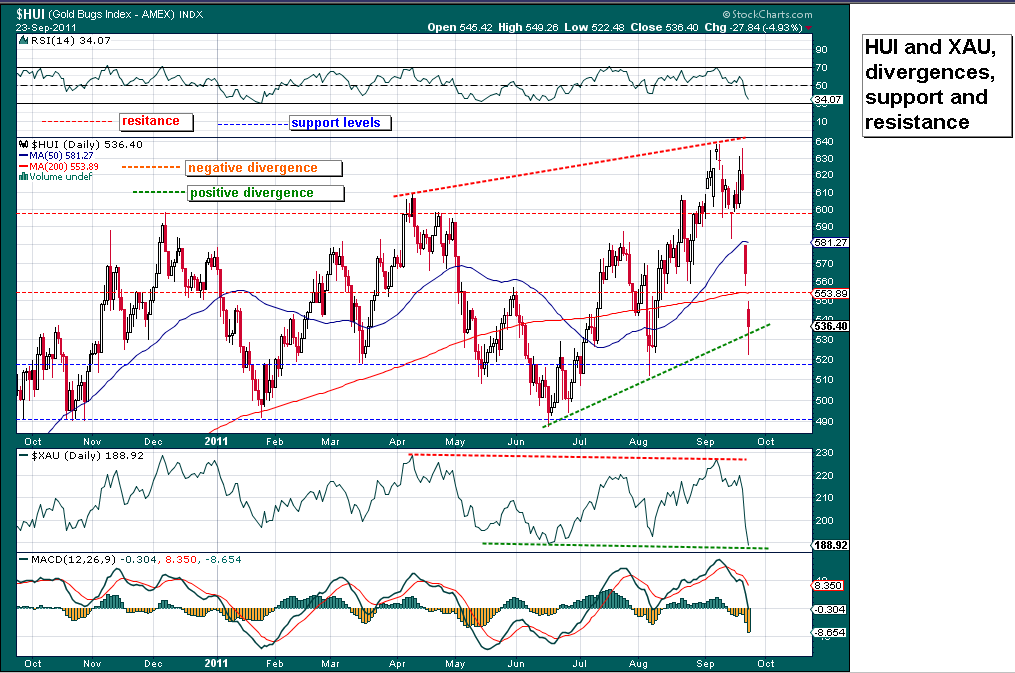 HUI (with support-resistance levels) and XAU (green line just below the HUI chart) – they diverged at the top, but now they diverge once again at the recent low.
The above does of course by no means guarantee that the divergences will prove to be meaningful. Alas, it is good to be aware of them, not least because they did prove to be meaningful at the recent highs.
Gold's Real Price Remains Strong
Meanwhile, one more reason to temper bearish sentiment on gold stocks is the fact that gold's real price barely declined. Also, in terms of the so-called 'commodity currencies', gold remains quite strong. For instance, for South Africa's producers the recent decline is but a barely noticeable hicc-up after a huge rally.
This is illustrated by the charts below: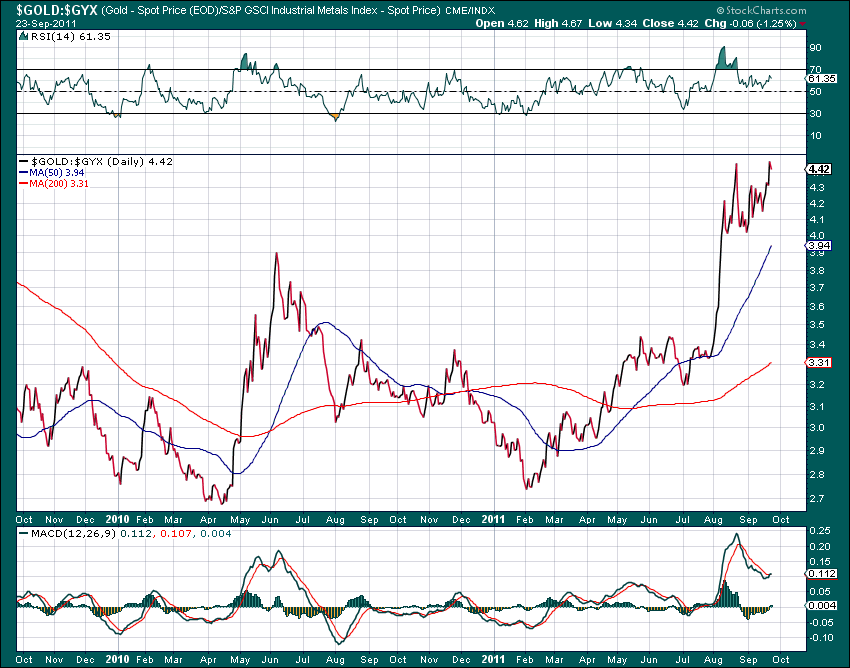 The gold-GYX ratio shows that gold has actually continued to strengthen vs. industrial metals (in other words, the latter have been falling a lot more). This typically happens as economic confidence falters.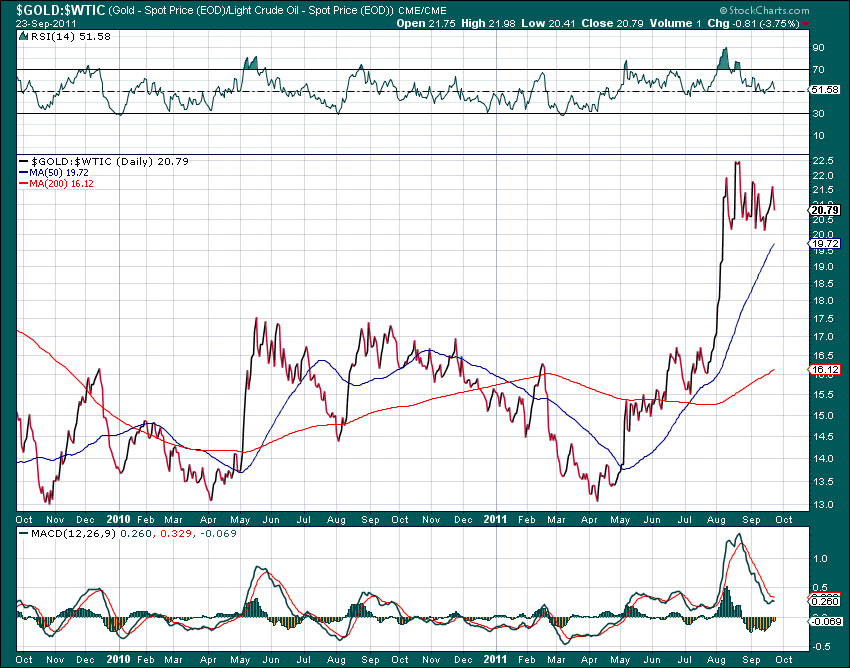 Gold also continues to look strong vs. crude oil.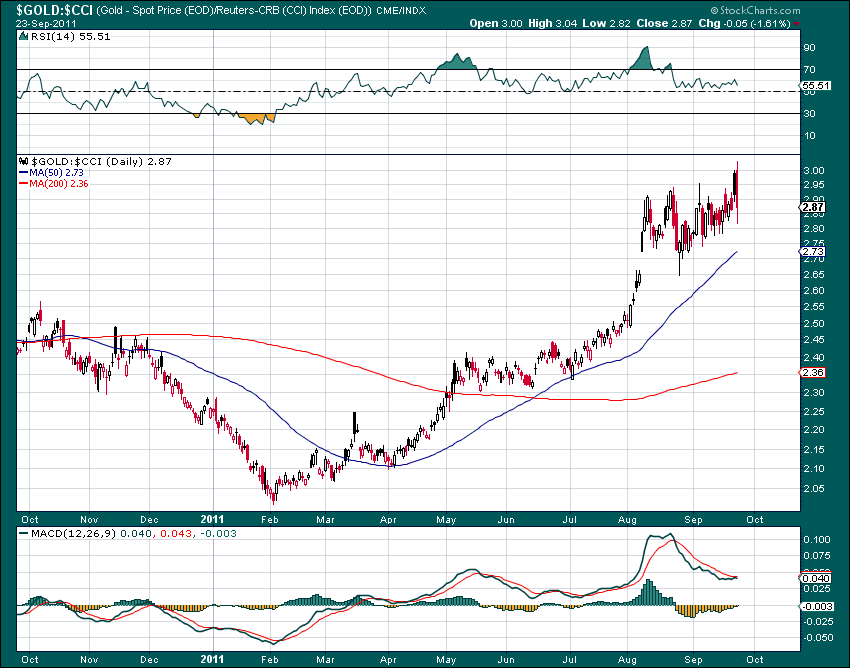 The gold-CCI (unweighted CRB) ratio – gold has held on to the bulk of its rally against all commodities.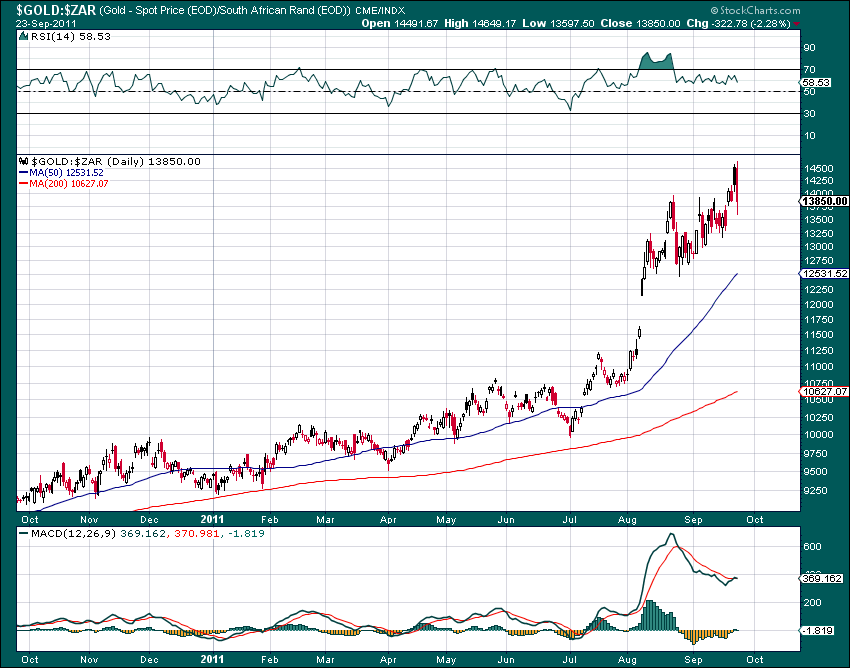 Gold in terms of the South African Rand. Gold producers in South Africa remain in clover.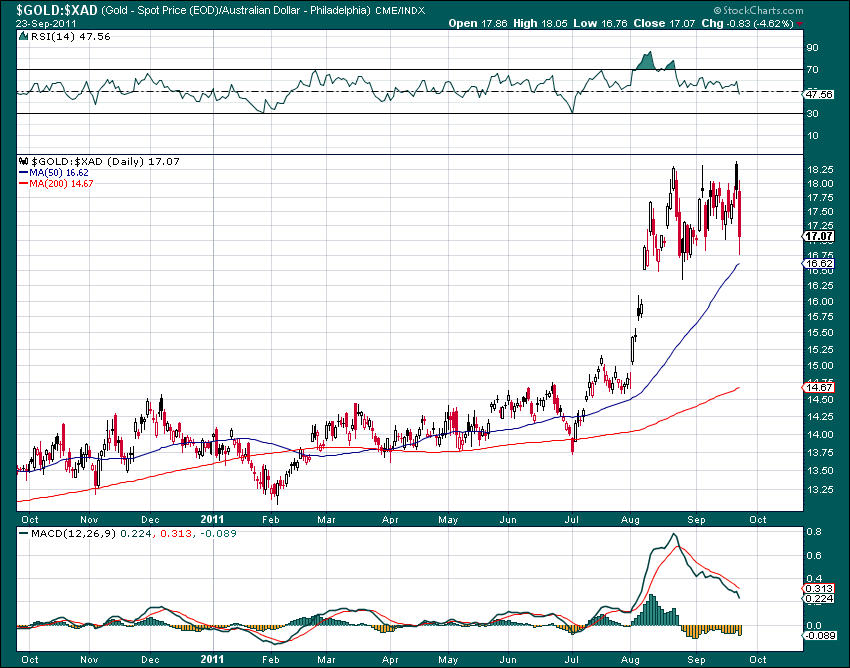 Gold in Australian dollars remains within its recent trading range.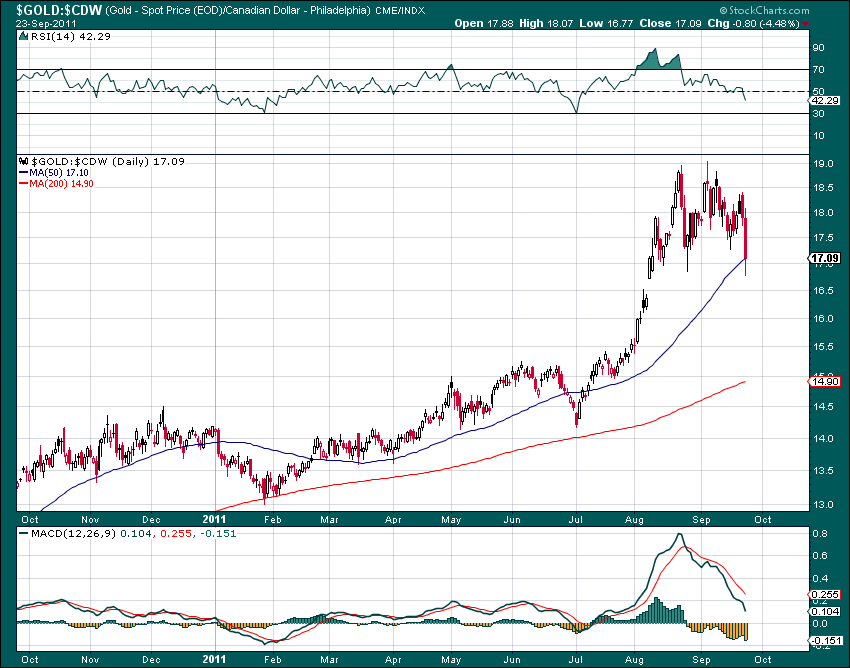 In Canadian dollar terms gold has lost a bit more, but still has held on to more of its gains than in USD terms.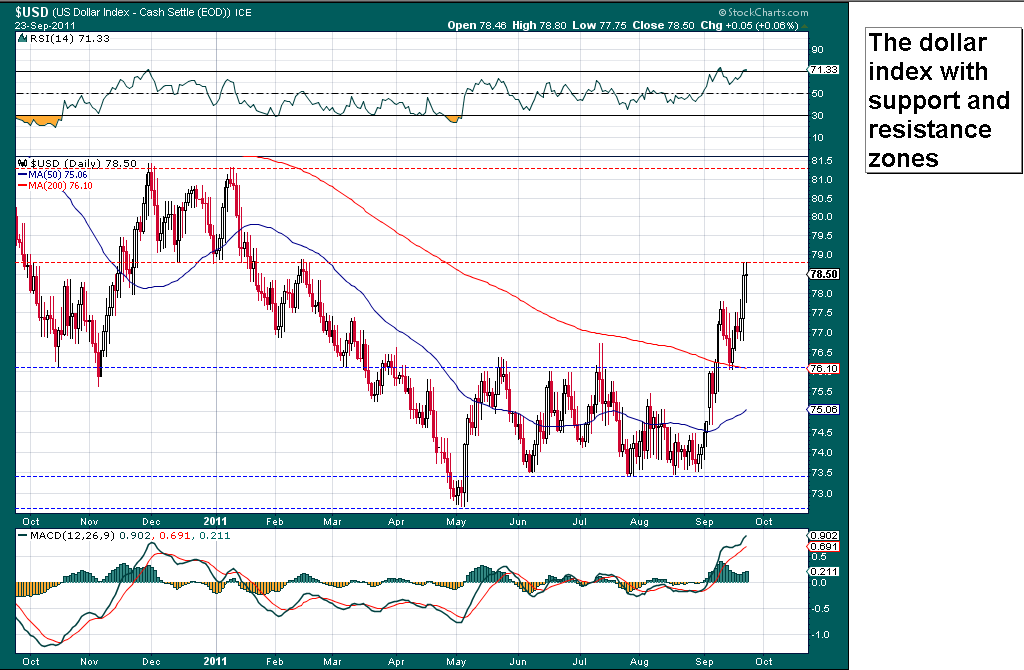 The US dollar index (DXY) has reached a first level of lateral resistance. We happen to believe that it will rally further before reversing again, but a pause may be in the offing here.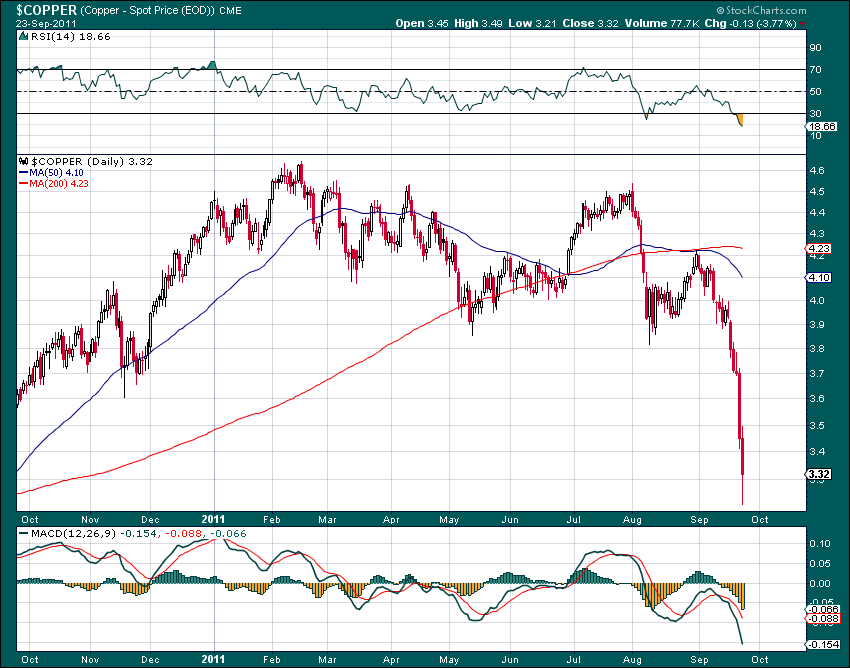 Copper has plunged, but is now extremely short term oversold as well. Eventually, even lower prices are likely to be seen, but this market probably will experience a retracement bounce soon.
In summary, it seems the market has punished gold stocks unduly in view of the fact that profit margins depend on the real rather than the nominal gold price. Furthermore, this tendency to attempt to 'discount' the gold bull market's imminent demise in the shares of gold producers has been a feature of the market since 2008. It has been continually wrong, so perhaps at some point someone will wise up. As far as we are concerned, the fundamental factors supporting the gold bull market have become stronger rather than weaker. Nevertheless, short- and medium-term corrections, even violent ones, come with the territory. One would do well to remember that the 1970s gold bull market witnessed similar, at times even more, volatility as it played out.
It is of course always possible for the fundamentals to change prospectively, but we see nothing of the sort on the horizon at present. As far as we can tell the monetary and fiscal authorities are unlikely to change course, so we expect more money printing and more deficit spending to come down the pike.
Charts by: StockCharts.com