The continued volatility in the stock market is nerve-wracking. However, the turmoil has allowed some great secular growth companies to become huge bargains for long term investors. One such equity is EMC, whose recent positives and valuation are not reflected in its stock price.
EMC Corporation (EMC) – "EMC Corporation develops, delivers, and supports the information and virtual infrastructure technologies and solutions. The company offers enterprise storage systems and software, which are deployed in storage area networks (SAN), networked attached storage (NAS), unified storage combining NAS and SAN, object storage, content addressed storage, and/or direct attached storage environments." (Business Description from Yahoo Finance)
Catalysts:
A. The continued dysfunctional board and management turmoil at HPQ is causing major distraction at EMC's top competitor in the enterprise storage space. This should encourage client defection to and growth of market share for EMC.
B. The trend to consolidate data centers remains in place and is accelerating due to server virtualization. The U.S. Government plans to consolidate 40% of their data centers over the next few years and the Canadian government has a more ambitious goal of over 90%. This provides major tailwinds for the number one server virtualization software player VMWare (NYSE:VMW) of which EMC owns 80%.
C. EMC recently successfully retested long term technical support (See Chart)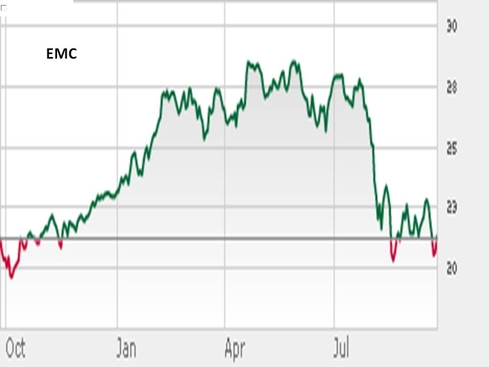 Click to enlarge
(Click to enlarge)
5 reasons to find value at EMC at $21:
EMC has met or beat analysts' estimates for the last twelve quarters and the shares are selling at just 13 times this year's expected earnings.

EMC has a five year projected PEG of .82. This is a 40% discount to its five year historical average.

The company has an A- rated balance sheet, a market beta (1.01), and its ownership of VMWare (a $37B market cap company) is not reflected fully in EMC's stock price.

I

n a time of concern over slowing worldwide growth, EMC is a company that is projected to growth revenues at a double digit pace for both 2011 and 2012.

EMC is priced under analysts' estimates at $21 a share. Credit Suisse has a $27 price target on EMC and median analyst estimate on the equity is $32.
Disclosure: I am long EMC.