Yesterday, news broke that the chairman of American Eagle Outfitters (NYSE:AEO) purchased 1 million shares on September 22. On that same day, the director of the company purchased about 120 thousand shares, bringing the total purchases to 1.12 million shares. I had been on the edge about whether or not to purchase AEO shares for a few weeks, and this insider purchase convinced me that now was the time to buy. The last time Chairman Jay Schottenstein made an insider purchase was 9/8/2010. That purchase returned 14.80% in 6 months. Michael Jesselson's last large purchase was around the same time, it returned 9.80% in 6 months.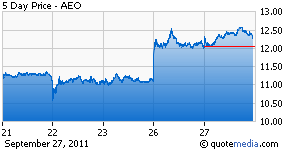 While those numbers are nice, these are the reasons I was interested in AEO in the first place:
AEO is greatly improving online sales.
In the most recent quarterly report, AEO's direct-to-consumer businesses (ae.com, aerie.com and 77kids.com) had a sales increase of 16% due to higher transactions driven by "improved traffic and conversion." Companies like Amazon.com (NASDAQ:
AMZN
) have proven that a large part of future consumer spending will be conducted online. For a company like AEO to post a respectable 16% growth means it is doing well at making itself a part of that future consumer spending.
Cotton prices are falling.
The high cotton prices over the past year continue to impact AEO's bottom line, but appear to be stabilizing. The cost of cotton is returning to Earth, down more than 50% from its March 2011 highs, and yet cotton could still drop another 25% over the next year, further improving margins for AEO. Regardless of how far cotton does or doesn't fall, it should start to trade in a tighter range, allowing management to better price products to reflect the overall higher prices in cotton.
AEO has increased focus on new consumer segment.
With the addition of six 77kids stores (a 40% increase in total 77kids stores), AEO is continuing to build brand recognition among younger kids. I believe this is a wise direction to move the business in for two reasons. First, as children become teenagers, they should find themselves visiting the same stores they are already familiar with. The other and simpler reason is that new stores covering a new market for them mean more sales overall.
The stock is cheap.
Most importantly, I feel it has a distorted P/E. It's currently sitting at 14.2, but I feel the P/E would be trading at only 11 or less at this price had cotton not exploded and if we weren't entering another recession. Even with those two things against it, I feel AEO is still doing very well. I don't believe its fundamentals have deteriorated, if anything I believe they are improving. If AEO is able to pull out significant earnings growth in any area, its stock could be in for a big upswing. The simple truth is that at a 4% dividend with stable earnings, AEO really can't go much lower. On the other hand, with any good news that comes out, AEO is poised to go up much higher, as is evident by an 8% rise on only some insider purchases.
In summary, I find AEO to be underpriced in about every way. When looking at a horizon of 5 years or more, the stock looks even better. Even under the 2008 collapse, this stock held steady around $9. When you consider how its revenue has improved since then, I see $10-$11 as being the bottom now.

Disclosure: I am long AEO.