The reason I say ConocoPhillips (NYSE:COP) is a 2 for 1 buy is the company will have a spin-off and become two companies early in 2012. One company will contain the refining and marketing businesses and the other will contain the exploration and production businesses. Buy COP now and you'll receive shares in both companies in the spring. My projections and comments are based on the company as it presently exists. The stock is recovering as the Barchart hourly trading chart reveals:
Click to enlarge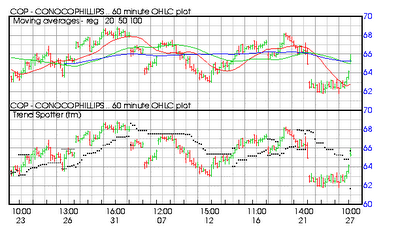 ConocoPhillips operates as an integrated energy company worldwide. The company's exploration and production segment explores for, produces, transports and markets crude oil, bitumen, natural gas, liquefied natural gas and natural gas liquids. Its midstream segment gathers, processes and markets natural gas and fractionates and markets natural gas liquids in the United States and Trinidad.
The company's refining and marketing segment purchases, refines, markets and transports crude oil and petroleum products such as gasolines, distillates and aviation fuels. Its chemicals segment manufactures and markets petrochemicals and plastics. This segment offers olefins and polyolefins, including ethylene, propylene, and other olefin products; aromatics products, such as benzene, styrene, paraxylene, and cyclohexane, as well as polystyrene and styrene-butadiene copolymers; and various specialty chemical products comprising organosulfur chemicals, solvents, catalysts, drilling chemicals, mining chemicals, and engineering plastics and compounds. The company's emerging businesses segment develops new technologies and businesses. It focuses on power generation and technologies related to conventional and non-conventional hydrocarbon recovery, refining, alternative energy, biofuels and the environment. This segment also offers E-Gas, a gasification technology producing high-value synthetic gas. ConocoPhillips was founded in 1917 and is based in Houston, Texas. (Yahoo Finance profile)
Factors To Consider
Barchart technical indicators:
As a whole indicators are presently on the sell side but the sell signals are weakening as the price begins to turn
72% Barchart technical sell signal is getting weaker
Trend Spotter sell signal is getting weaker
Presently below its 20, 50 and 100 day moving averages
At this price its 18.22% off its 1 year high
The 14 day Relative Strength Index is 49.29% and tracking to cross 50% soon
Barchart computes a technical support level at 65.15
Recently traded at 65.20 which is below its 50 day moving average of 67.46
Presently there is some weakness in crude oil prices.
Wall Street brokerage analysts project combined sales will be up 25.10% this year and another 1.00% next year.
The consensus earnings changes are an increase of 40.70% this year and 6.10% increase next year.
These consensus estimates resulted in analysts giving five strong buy, four buy, 12 hold and only two under perform recommendations.
If projections of oil prices come true the five-year annual rate of a .20% decrease may come true.
At today's price this stock has a 4.22% dividend rate which is about 1/3 of projected earnings.
The P/E ratio of only 8.87 is almost 1/2 of the overall P/E ration of the market.
General investor interest:
As gauged by the number of Motley Fool readers that have this stock on their watch lists this is a widely followed stock.
5,613 readers voted 97% that the stock will beat the market.
The more experienced and savvy All Stars are very bullish and voted 99% for the same result.
Competitors and sector leaders:
ConocoPhillips' major competitors are BP Plc (NYSE:BP), Chevron (NYSE:CVX) and Exxon Mobil (NYSE:XOM) and all are up for the year except BP as this one-year Barchart graph of price change shows: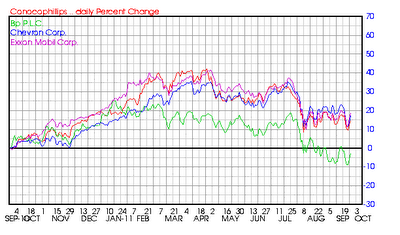 If you're looking for a little better market action some of the smaller refiners are up even more - CVR Energy (NYSE:CVI) up 215%, Western Refining (NYSE:WNR) up 195%, Holly Frontier (NYSE:HFC) up 116% and Tesoro Petroleum (NYSE:TSO) up 66%.
Click to enlarge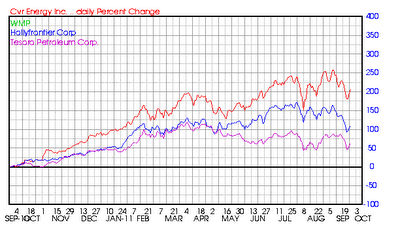 Summary - If you've been watching ConocoPhillips for some time, now is the time to buy, The 4.22% dividend rate and a P/E ratio of almost half the overall market make today's price an attractive entry point.
Disclosure: I have no positions in any stocks mentioned, and no plans to initiate any positions within the next 72 hours.