Value investors are often contrarians in that we step in to buy stocks when other investors are running for the hills. Warren Buffett famously stated that his investment approach involved being fearful "when others are greedy and greedy when others are fearful."
This approach proved quite profitable for Buffett as shown by the following examples.
American Express (NYSE:AXP)
In 1963, American Express was burned by its involvement with Allied Crude Vegetable Oil of New Jersey, by providing credit based upon the inventory of the company's soybean-based salad oil. It turns out that the inventory, kept on container ships apparently full of salad oil, was junk as the containers were mostly filled with water and had only a few feet of salad oil on top. Since the oil floated on top of the water, it appeared to inspectors that these ships were loaded with oil. When this criminal fraud that came to be known as the "Salad Oil Scandal" was exposed, American Express lost nearly $58 million, close to $450 million in 2011 dollars. The loss wiped out most of AXP's equity base and Wall Street pummeled the stock, which dropped ~50%. Warren Buffett took the contrarian view that, although this scandal cost AXP a lot of money and wiped out its equity base, its durable competitive advantage and cash-flow generating capabilities were intact. Buffett bet 40% of his investment partnership's capital on AXP and, after a few years, the stock recovered and Buffett's bet paid off handsomely.
Washington Post (WPO)
Buffett started acquiring the stock in 1973 after the stock and the media sector had taken a beating. At a market capitalization of ~$80 million, Buffett believed that there was a huge margin of safety given that he thought the company was worth $400-$500 million. After accumulating shares in the Company, the stock dropped another ~40%. This would have led most investors to run for the hills and cut their losses. Buffett, however, saw this as an increase in his margin of safety, continued to acquire more shares and history tells us that Buffett made a fortune on this stock
The key difference between Buffett and those on the other side of these trades is clear. These were absolutely untouchable stocks to most. They had lost investors money, they had made tactical and strategic missteps, or they were in unfavored industries. Can you imagine what institutional money manager would have bought these stocks when Buffett did? If CNBC and SeekingAlpha.com existed back then, can you imagine how these stocks would have been portrayed? Risk-averse institutional money managers wanted nothing to do with these stocks and commentators of the day scorned them.
Contrarian investing involves a completely different thought process and an inherently different definition of risk. Buffett thought first and foremost about the long-term franchises of these companies. In the case of AMEX, Buffett saw the Company as having a tremendous monopoly, or "toll-bridge" for countless business transactions. In the case of the Washington Post in this pre-Internet era, Buffett saw a tremendous consumer monopoly of information.
One way to look for unwanted and unloved companies that have a sustainable competitive advantage is through stock screening. I did a screen for companies with above-average return on equity (ROE), evidence of a competitive advantage (low cost advantage, high switching costs, economies of scale, barriers to entry, strong brands) and looked for the lowest relative valuations that I could find.
The screen turned up the following companies:
Hewlett-Packard Co (NYSE:HPQ)
Research in Motion Ltd (RIMM)
Marathon Oil Corp (NYSE:MRO)
Petroleo Brasileiro SA Petrobras ADR (NYSE:PBR)
General Dynamics (NYSE:GD)
Exxon Mobil Corporation (NYSE:XOM)
(Click chart to expand)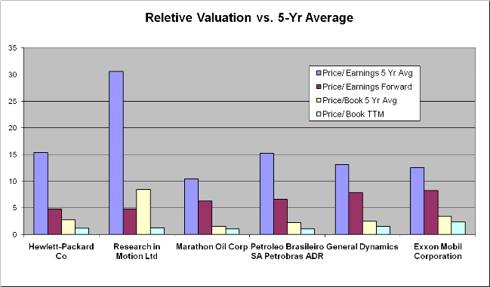 Click to enlarge
These companies have a 5-year ROE in the range of 19%-30%, a forward PE range of 4.8-8.3 and corresponding earnings yields of 12%-21%. The price-to-book range is 1.1-2.3. The forward PE compared with the 5-year average P/E ranged from 15.7%-66%, demonstrating how much the market loathes these stocks. Price-to-book TTM versus the 5-year average is 14.8-70.7%. This substantial multiple compression gives us a sense of how differently the market sees these stocks today compared with the time period 2007-2011.
Undoubtedly, Mr. Market hates these stocks. Investors who seek to profit from these declines and not get sucked into a value trap must dive deeper into a fundamental analysis and ask some questions before taking the time to dive deeper:
Are the companies hated due a secular decline in their industries?

Have they lost their competitive advantage?

Is their ability to generate cash flow impaired?
What is the predictability of earnings?

Are they run by competent management?

Is there a sufficient Margin of Safety?
A more in-depth look at three of these companies (HPQ, RIMM, and XOM) can assist in the thought process and methodology for determining whether these unloved companies are value-plays or value traps.
Hewlett-Packard Co (HPQ)
HPQ has definitely lost its way and is not following a coherent strategic direction. In an analysis that crystallizes the strategic direction of HPQ, Seeking Alpha contributor Dana Blankenhorn recently wrote in an article titled, "Hewlett Packard Too Big To Succeed?" that Hewlett-Packard no longer knows what it stands for. I would argue that, despite this period of strategic missteps, HPQ retains considerable cash generating capabilities, economies of scale, global presence and a platform to assimilate and distribute new technologies. It remains to be seen if the replacement of CEO Leo Apotheker by board member Meg Whitman can right the ship from a strategic standpoint. In my opinion, while the uncertainty around operational performance remains high, HPQ retains an economic moat. I could be wrong as this is a fiercely competitive industry. Nevertheless, my thesis is that Mr. Market has overreacted and HPQ will outperform over a 3-5 year period. Valuations models that I ran for HPQ put the intrinsic value of the company at ~$41/share. Given the uncertainty, I require a 45% margin of safety and I recently acquired a small position.
Exxon Mobil Corporation (XOM)
Exxon Mobil enjoys an enviable reserve replacement ratio, which indicates that the company has adequate oil reserves. The massive scale and size of Exxon's operations ensures that the company receives huge advantages in terms of economies of scale, and is able to maximize production activity across its projects. Many national oil companies (NOCs) lack the resources and/or know-how to effectively explore for and develop reserves in their countries and therefore rely on partnerships with private industry. Exxon has become the preferred partner in these ventures. In my June article, "ExxonMobil A superior Allocator of Capital," I outlined why I believed Exxon has a durable competitive advantage and provided 10-year profitability data to support my position. I am a buyer with a 30-40% margin of safety ($60-70).
Research in Motion Ltd (RIMM)
I cannot claim to have researched RIMM in depth. A cursory look at RIMM and its ability to compete in the handset and tablet market leaves me unconvinced that RIMM has a sustainable competitive advantage. Valuations look cheap but I am taking a pass at digging deeper due to the competitive position of the company. Disclosure: I love my BlackBerry Bold but I fear a value-trap here.
Even with a small team of analysts, the ability to fundamentally analyze and stay on top of more than 40-50 companies is limited. These types of screens are great for turning up unloved and unwanted stocks. The Market is often correct when it beats down company shares due to a loss of competitiveness, a secular decline in the economics of the industry, terrible management, or other factors. We see from the 1963 and 1973 examples of AXP and WPO that the Market can also be very wrong. By taking a contrarian view, and applying Buffett's famous four-filters of stock selection, you can identify acquisition points for unloved stocks of companies with a durable competitive advantage.