Last week Bristol-Myers Squibb (NYSE:BMY) increased its stake in BMS-936558 (formerly MDX-1106) by regaining worldwide marketing rights for the drug (except in Japan, Korea and Taiwan). This was the result of a deal with Ono Pharmaceutical, which originally held ex-US rights for the drug.
In return, Ono received marketing rights for Orencia, a BMS drug for Rheumatoid arthritis that is already on the market. BMS' decision to exchange its stake in a product with real sales in return for a candidate in mid-stage clinical development might seem odd at first glance, but a quick look at BMS-936558's data is enough to understand the deal was a brilliant move.
Like Yervoy, But Better
BMS-936558 is an antibody against PD-1, a protein involved in repressing the immune system. Blocking PD-1 with an antibody activates the immune system and enables it to fight tumors. This concept has been validated by BMS' Yervoy, which blocks CTLA-4, another inhibitory protein expressed on immune cells. Yervoy and BMS-936558 belong to the same class of drugs, which releases the brakes on the immune system, generating an anti-cancer response using the patient's own immune system. However, they should not be viewed as competitors, but as complementary (BMS is even evaluating the combination of the two antibodies in a Phase I trial).
Yervoy, which was recently approved for metastatic melanoma, is expected to generate over $1.5B in sales solely based on the current label. Sales could easily double if Yervoy becomes approved for additional indications. BMS-936558 still has a long way to go, but based on the limited clinical data, it appears more promising than Yervoy in many aspects.
With respect to efficacy, BMS-936558 has not been evaluated in large, randomized trials, but it still generated impressive signs of efficacy in multiple indications. The extent of this effect appears superior to what Yervoy demonstrated in early stage trials. Data presented last year at ASCO included a 30% response rate in patients with late-stage melanoma or renal cancer, which is very unusual for a single agent. BMS-936558 also had an intriguing signal in lung cancer with a response rate of ~10% and disease stabilization in an additional 40% of patients. It is important to note that response rate is believed to under-represent activity of immunotherapies, as they tend to be more subtle, with durable, long-lasting effects even after discontinuation of treatment.
Additional potential advantages include a better safety profile compared to Yervoy and the ability to select patients based on the expression of relevant biomarkers. Lastly, from a regulatory and time-to-market point of view, BMS might be able to get BMS-936558 approved for certain indications (primarily renal cancer) using progression-free survival, whereas Yervoy could be approved only based on overall survival.
Increased Competition
Anti-PD-1 antibodies are viewed as the next big thing in cancer immunotherapy, owing to promising clinical data with BMS-936558. There are two additional PD-1 antibodies in clinical testing: Teva (NASDAQ:TEVA) and CureTech's CT-011, now in Phase II, and Merck's (NYSE:MRK) MK-3475, in Phase I. Last year, GSK (NYSE:GSK) entered the arena after signing a $500M ($23M in up-front payment) deal with Amplimmune, which is developing drugs that target the PD-1 pathway.
BMS is in a clear leadership position with the most advanced drug, despite being the second company to enter the clinic. Its strategy to go after indications that are traditionally suitable for immunotherapy and show a direct anti-tumor effect should enable it to choose and pursue regulatory approval in a relatively short time. In addition, the experience and expertise gained with Yervoy are extremely valuable.
Route to Market
BMS appears to view renal cancer as the initial route to market for BMS-936558, in contrast to its strategy with Yervoy, which focused on melanoma. The company started two phase II studies in renal cancer earlier this year, which could have top-line data already in 2012. Renal cancer appears to be a reasonable choice, given the impressive signs of efficacy, good track record with immunotherapies and the unique mode of action that is different from that of approved agents (Sutent, Afinitor, etc.).
Additional important data should come from the combination trial with Yervoy in melanoma. Teva could have important results with its PD-1 antibody from a randomized Phase II in colon cancer. This will be the first randomized data set with a PD-1 antibody using progression-free survival as a primary endpoint. This could also be the first clear sign of efficacy for CT-011, which until now has been evaluated in settings where it was impossible to show a clear signal with a single arm study. Merck could also have data from its Phase I tests, which started enrolling patients last April, by next year.
In summary, BMS increased its exposure to one of the most promising development programs in oncology. There is still a great degree of risk associated with every clinical program, but based on the available data, BMS-936558 has an exceptional risk/reward ratio with a proven efficacy, good safety profile and and a blockbuster potential.
Like the rest of the industry, we at Pontifax are continually looking for innovative projects in the field of immunotherapy, with an emphasis on novel targets. Last year, we established cCAM Bio as part of our strategic collaboration with Roche. cCAM Bio is developing antibodies for CEACAM1, a protein that is used by tumors to suppress the immune system. This target has been known for decades, but only recently has its role as an important immune checkpoint in cancer been elucidated. Interestingly, the target bears a great deal of similarity to PD-1 with respect to signaling pathways and expression on tumors. More info, including preclinical results, can be found on the company's website.

Portfolio holdings as of September 25, 2011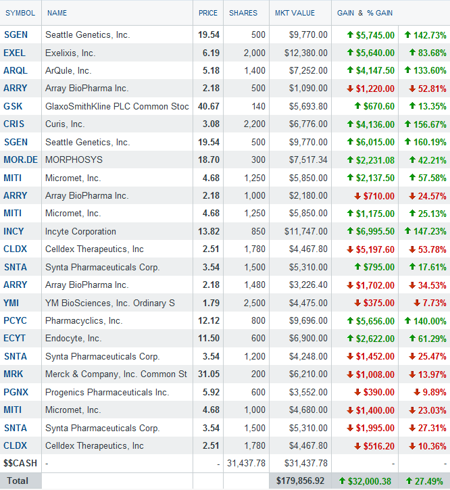 Click to enlarge


Click to enlarge

Disclosure: I have no positions in any stocks mentioned, and no plans to initiate any positions within the next 72 hours.