Despite flash trading, hedging, forex, and an expanding options market, the best way to make money in equities will always be finding a truly great company and investing in it from the begining. In the past couple of years, high-growth companies like Lululemon (NASDAQ:LULU), Opentable (NASDAQ:OPEN), Green Mountain Coffee Roasters (NASDAQ:GMCR), Salesforce.com (NYSE:CRM) and Netflix (NASDAQ:NFLX) have had 6-month runs of 140%, 116%, 115%, 91% and 114%, respectively. The key is to find these momementum growth stories at the right price, before the hype starts to take off.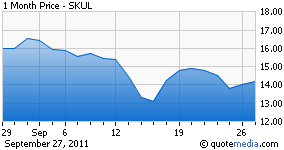 I believe Skullcandy (NASDAQ:SKUL) will be the next high growth/momentum play to steal headlines and deliver exceptional returns for patient investors. Skullcandy, a headphone company that embodies "music, fashion and action sports," has delivered unbelievable growth since its inception in 2003. Skullcandy IPO'd in late July 2011 at around $20 per share and has since slipped to $14.51 (at the time of writing) because of a crumbling market. Smart value and speculative investors alike will start to take advantage of Skullcandy's monumental growth at current multiples.
In Q2 2011 Skullcandy reported phenomal numbers: Net sales increased 46.4% year over year, and net income rose 106%. Just to put that in comparision, in Lululemon's last quarter, it reported 39% and 52%, respectively. But what makes this even more interesting is that SKUL is only trading at 12.8 times 2012 earnings, while Lululemon is trading over 40x.
There are several reasons SKUL may be trading at such a discount to other high-growth companies:
A weak Q2 by Best Buy (NYSE:BBY). Best Buy reported weak Q2 earnings about a week ago, and since then Skullcandy is down over 6%. Best Buy is Skullcandy's largest customer; because of this, shares declined. Although this may be slightly negative news, there is a great level of ambiguity in how this will actually impact Skullcandy's bottom line. The fact that Skullcandy's shares have already taken this weakness into their share price is a positive for investors going forward.

After an IPO, stocks generally become very volatile. Skullcandy is down over 25% since going public in late July. This has nothing to do with negative things happening within the company; it's just that market has been falling overall. The market is down 12% in that same time period, and because Skullcandy just IPO'd, it should be expected to have high beta. Therefore we can conclude that is the reason for the big drop.

It's still under the radar. It's safe to say that, up to this point, Skullcandy has been way under the radar of most major Wall Street firms and analysts. Since its IPO, there hasn't been a single Seeking Alpha article published about it, and it's only had 2 real press releases and thier market cap is under $500 million. The combination of these factors can temporarily decrease pricing multiples because of a simple lack of exposure.

Although up to this point, all 3 of these reasons have had an impact on Skullcandy's share price, they will not for much longer. Right when Skullcandy starts to get a little momentum, it could begin to take off. With the growth the company is projecting, it could easily warrant a valuation around 30 to 40 times forward earnings. What makes the situation even better is that the 26% year-over-year growth analysts are projecting from 2011-2012 seems far too conserative, and is likely to be surpassed. Here's why:
Skullcandy has only begun to tap into its potential in the U.S. market, let alone across the globe. Currently Skullcandy is focusing on continuing strong growth in the U.S. (45%+) and in 2012 expanding into Europe. With its recent acquisition of Kungsbacka 57, it is able to increase revenue in Europe and better drive its marketing campaign there.
With increasing European exposure in 2012 and exponential U.S. growth, Skullcandy trading for under 13x forward earnings seems ridiculous. Not only that, but in 3 to 5 years we should see Skullcandy move into India and China, which are even bigger markets than Europe and the U.S. With these expansion plans in plac,e it's not unreasonable to calculate 25 to 35% growth on an annual basis for the next 5 years, if not more.
Another thing investors overlook when analyzing Skullcandy is its Apple (NASDAQ:AAPL) connection. Skullcandy sells its products in Apple stores, and they are some of the main iPhone accessories. As people wait to but the iPhone 5, it's safe to assume this could negatively impact Skullcandy's Q3 earnings, but in Q4 this could significantly boost numbers.
Q4 is always Skullcandy's biggest quarter, just because of the seasonality of its business. With EPS projections already at $0.44 and only around 20% growth priced in, Q4 stands to be an excellent financial benchmark for Skullcandy. It could easily blow away that 0.44 number (considering its Q2 yoy growth was 46% and it's projecting only around 20% yoy for Q4), estimates are extremley conservative, management has done an excellent job setting themselves up for a blowout Q4.

With very conservative estimates putting earnings for Skullcandy at $0.90 for 2011 and $1.13 for 2012, $14.51 per share is an exceptionally cheap valuation. If Skullcandy follows through with its expansion plans, and growth continues as it has, then there is no reason Skullcandy shouldn't be trading at least at 25x forward earnings. If we take a more realistic look at what Skullcandy could earn in 2012, with Europe expansion priced in and sustained growth, then EPS figures come out much closer to $1.30 per share. At 25x my forward earnings, Skullcandy should be trading $32.50 right now.
On top of all this, Skullcandy's CFO just recently purchased 10,000 shares at $13.33 per share -- $133,000 in an open-market purchase. Very rarely do insiders buy shares in a company within such a short time of the IPO. This is yet another incredibly bullish sign for Skullcandy. Insiders are buying, growth is off the charts, expansion is ramping up. I'm long Skullcandy.

Disclosure: I am long SKUL.

Additional disclosure: I'm long March 2012 out-of-the-money calls.