Click to enlarge chart
The market had another strong day marked by a late pullback as fears over Europe continued to subside, and the market rallied on a weaker dollar. Despite weak news on consumer confidence, the market still had a strong showing before the last hour of trading. The market began to run into some short-term technical levels that are quite tough to break, and we fell from there.
The big news on the morning was the Case-Schiller Home Price Index showing a 0.9% increase in prices, which is the fourth straight month of increases. Additionally, consumer confidence came in lower than expected at 45.4 vs. the 46.6 consensus estimate. Both data points seemed weak to us as home prices are increasing, but we have no demand for these increases. While homeowners are getting wealthier, unemployment and new home sales remain at drastically bad levels.


We got a few upgrades to help get the market going like Caris & Company's upgrade of Clorox (NYSE:CLX) to "Average" and a PT of $66. Yahoo (NASDAQ:YHOO) also saw a PT increase to $17 from Benchmark Capital. Earnings from Walgreens (WAG), however, were quite weak, and the stock dropped hard on the day.

With the dollar fueling a lot of today's movement as the euro strengthened, commodities came roaring back with silver, gold and oil making nice moves to the upside. We would be worried about all of these being able to move much higher from here. Oil seems to be toppy at $85. That line may be a nice place to short USO and pick up Ultrashort Proshares DJ-UBS Oil ETF (NYSEARCA:SCO).

We had another fun day here as we were 100% bullish going into today with eight open positions. We closed a long on Accenture (NYSE:ACN) for an 8% gain, AmBev (ABV) for a 3% gain, Starbucks (NASDAQ:SBUX) for 2%, Bed, Bath, and Beyond (NASDAQ:BBBY) for 2%, and some sold puts on BBBY for 7%.

Intraday, however, we saw signs of market topping and suggested five shorts, taking a position short in Winnebago (NYSE:WGO) at 7.34. We were up over 7% at the close. We have posted the ideas for shorts below.

Moving into tomorrow, we are looking a bit bearish. The market failed to hold some key technical levels, and eventually, the European fears have to refresh and reinvigorate bearish tendencies. We believe that the end of the quarter window dressing has too much headwind to remain strong this week.

Here are shorts we like right now:
Winnebago (WGO) – The company has broken its 50-day MA once since the beginning of March 2011. The company is one of the weakest fundamentally out there with the RV business drying up and earnings hurting for this company. They have rallied with the general market from the 6.50 low back to nearing on 7.50. The 50-day MA is holding up right now as resistance, but they could pop it on another big up day. Even breaking it may be short-lived. Thor Industries (NYSE:THO), a competitor of WGO, reports earnings tomorrow in after hours, and that could provide a catalyst or be another reason to short this stock. Overall, though, WGO continues to be a short favorite, and it looks like a good time to start another short position.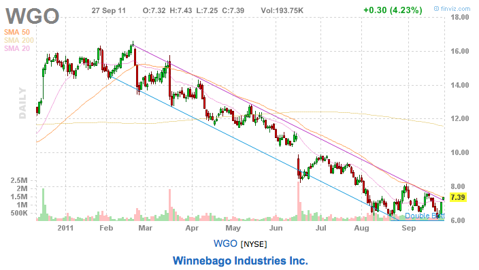 Delta Air Lines (NYSE:DAL) – Delta was one of the few stocks in the red today. The company saw a major resistance line at 8.50 that it has not been able to break this month. The airlines are always a weaker sector of the marketplace as they continue to struggle to make consistent profits due to oil prices and fluctuations in demand. So they will be one of the first areas to lead us lower if this rally fizzles. The company is right at this resistance area and the top of its current downward price channel. The company has its 20-day and 50-day MA below it, but a move from the mid-8s to 7.90 would not be shocking.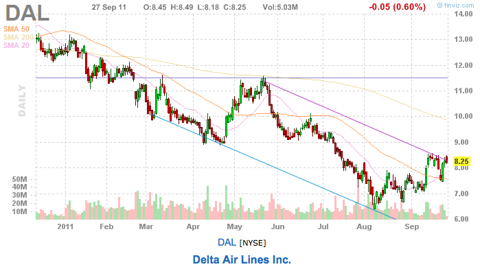 JDS Uniphase (JDSU) – JDS Uniphase continues to be a frustrating stock for longs. The company continues to be mediocre with earnings rather flat as well as growth. The company's stock looks good for a short. They have made a nice gain over the past two days, but the company has strong resistance above 12.00. The company has a key pivot point at 12.20 and the 50-day and 20-day MA right above that. While there is still some upside from the current level, it is limited. We believe a break over 12.00 is a good place to start shorting this company as they have show no consistent ability to continue higher and seemed destined to drop again.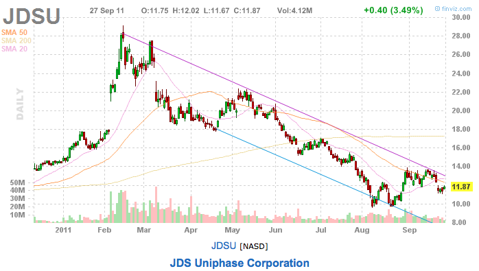 Principal Financial Group (NYSE:PFG) – Financials continue to be weak, and while insurance companies are safer than the banks or investment companies, financials as a whole continue to struggle. On a move to the downside, it will be led by financials. PFG is nearing some key areas that either will mean a breakout or this is it for the company. They are sitting just below the 50-day MA and pivot point that show pretty heavy resistance at 25.00. Breaking through those two points could send PFG to 28.00 as it would break a very long downward price channel. The company is not extremely weak fundamentally, but the 50-day MA has been pretty tough to break in the past several months. The situation around us has not changed in the past several days.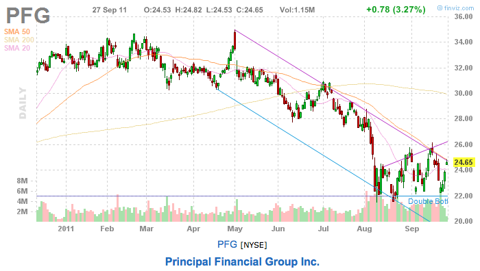 Checkpoint Software (NASDAQ:CHKP) – One of Israel's top tech companies is looking a bit weak right now. The company has failed to break the 50-day MA several times today, and it is looking like it will be moving down if we do not continue higher in the market. This one has some success rallying past the 50-day and still has upside from here to reach monthly highs. But as long as the 50-day holds up, this stock will fail back down on a move to the downside in the market.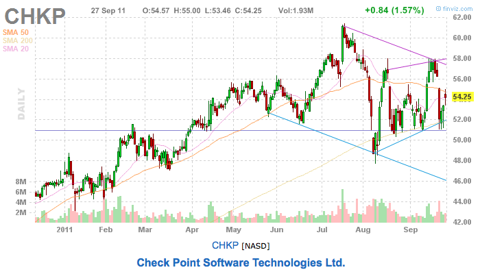 Disclosure: I am long SBUX, MCD, AAPL.
Additional disclosure: I am short WGO.I may go short oil, DAL, PFG, or JDSU in the next 72 hours.