I started writing this article at the beginning of last week, but I have been too busy implementing this strategy to write about it until now.

We have definitely entered turbulent market conditions. Turbulence is more than volatility in an asset class. Turbulence is the market environment of extreme moves across markets. In turbulent markets the cross correlation of all risky asset classes goes way up. In simpler terms it can be stated as follows: "the only thing that goes up in a down market is correlation".

With the exception of bonds and particularly Treasury bonds, the correlation between all other asset classes has increased sharply under the extreme selloffs of recent days. As we have seen recently, even gold, touted as a safe haven, has been hit by heavy selling.

These turbulent periods have shown clearly the fallacy of the simplistic approach to portfolio diversification still used by some investors, brokers and financial advisors. Simply building a portfolio of different types of risk assets -- large cap and small cap stocks, developed international and emerging markets and commodities -- does not limit downside risk.

In fact, it's not clear investors really want that kind of diversification. True diversification means that one part of their portfolio zigs while the other zags. In fact, most investors would rather not be diversified when the equity markets are strong. In such situations they would be disappointed with the part of their portfolio kept in boring low risk short term bonds. But of course in a down market they would hope that their portfolio included some holdings that dampened the losses.

Conventionally "diversified" portfolios deliver just the opposite of what investors really need. Investors want an asset that will go up in down markets and diversify the rest of their portfolio, preferably in a leveraged manner. The greatest danger is the risk that in severe down moves all their assets move together and in painful ways. And of course market timing to move from "all in' risk assets to "all cash" to avoid those losses is difficult if not impossible.

What investors need in these situations is a "turbulence hedge'. I have been writing for over a year about the volatility ETNs VXX and VXZ ETNs, which are based on short term and medium term volatility futures.. Interest in volatility hedging has grown tremendously. Not surprisingly, a large number of new volatility ETFs and ETNs has hit the markets.The list has grown to 28.The most widely traded are VXX and VXZ and there are now ETFs that match those two indices (VIXY and VIXM) although they are more thinly traded than the ETNs.

The list of volatility instruments includes two widely traded ETNs that represent those well known weapons of self destruction that appear for so many asset classes. Thus we have an inverse ETN XIV which is particularly perilous in this asset class. That is because volatility is far more volatile on the upside than on the downside. The other accident waiting to happen is the daily 2x ETN on volatility [[TVIX]].

Hedge funds have been using volatility increasingly since the financial crisis of 2008, as the FT noted in a recent article.. The article notes they trade volatility actively rather than using it as a buy and hold instrument. Volatility ETNs, particularly the short term ETN VXX, can be very frustrating as a buy and hold strategy. The dreaded contango hits the VXX very hard as the ETN "rolls" its futures contract, paying a premium each time it needs to sell the near date contract and buy the more distant one.
The volatility of volatility is enormous. While VXX is -24.8% for the past 12 months, it is +33.8% ytd. Managing a volatility position is certainly not easy. Since the beginning of August the VXX has gone from 20 to 50, and the VXZ from 50 to 70.
A volatility hedge offers the benefits of both an inverse correlation to risky assets and a leverage to those moves. The last two weeks pointed to the virtues of a well timed volatility hedge. As can be seen below, the VXX provided a 3:1 leveraged hedge to the S&P 500 (NYSEARCA:SPY) while VXZ provided a 1:1 hedge. Note also that these volatility instruments, although they are tied to the volatility of the S&P 500, also provided a hedge to emerging markets (NYSEARCA:EEM) and developed markets (NYSEARCA:VEA).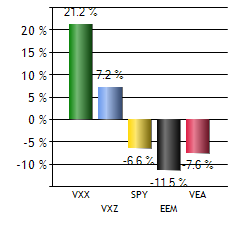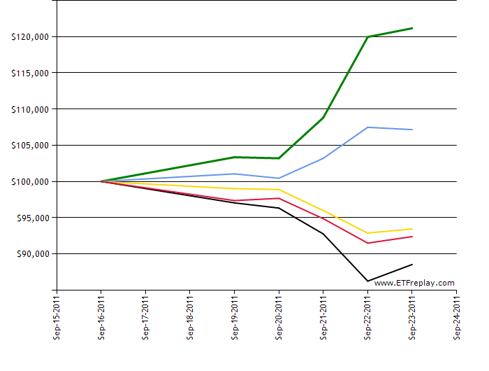 Click to enlarge

Although the relationship of the volatility index VIX (which cannot be traded) and the VXX ETN is not one where they move on a one to one basis, they are closely linked. The graphs below show that VIX has held at high levels since the August market selloff. A short term period of low actual market volatility or an upswing in the market may lead to a short term decline in the VIX,and VXX. VXZ moves in the same direction as VIX and VXX but is less volatile.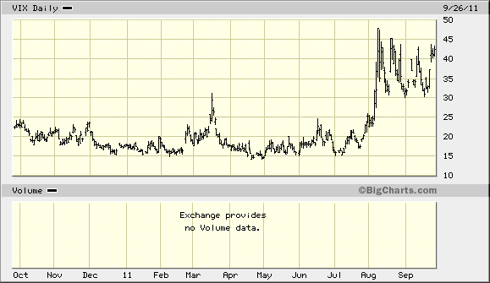 Click to enlarge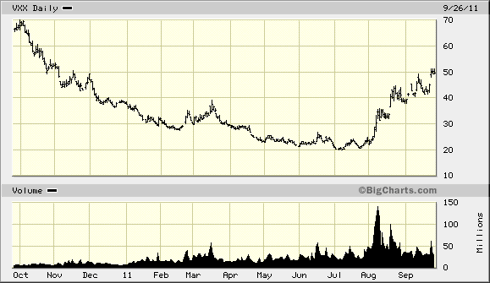 Click to enlarge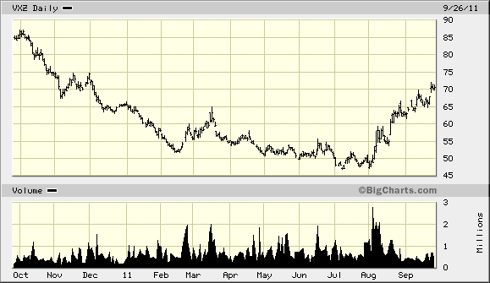 Click to enlarge

Two factors would argue that implementing a program of volatility hedges makes sense. The first, as noted is macroeconomic environment both in the US and abroad. The crisis in Europe is related not just to Greece but Italy and Portugal as well. And as we have seen last week, the increasing uncertainty about the US economic outlook can hit the market as well.The second factor is the increased volatility of the financial markets. A recent NYT article documented the increased number of days with large price moves. And the turbulence has increased as well as the volatility and selloffs are spread across asset classes.

How much could volatility and volatility hedges move in a major financial crisis? I won't make a forecast, but a look at 2008 might be instructive. The volatility ETNs were not trading at the time. But here is a look at what the VIX did during the 2008 crisis. It traded in the 80s compared to the current level of 42. Current VIX levels are close to what they were immediately prior to the Autumn 2008 crisis..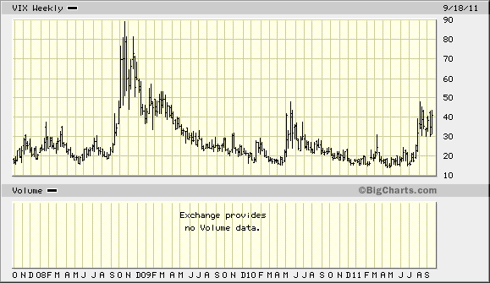 Click to enlarge




Disclosure: I have no positions in any stocks mentioned, but may initiate a long position in VXX over the next 72 hours.

Additional disclosure: clients of Mr. Weinman have positions in VXX and VXZ