Last week Rite Aid (NYSE:RAD) announced that its second quarter 2012 fiscal loss was narrowed due to a steady increase in summer sales. Quarterly losses for the most recent quarter were $94.7 million ($.11 per share) compared with losses of $199.3 million ($.23 per share) a year ago. Rite Aid's CEO, John Standley, attributed the quarterly loss improvement to the initial success of the newly formed "loyalty + wellness program, which now has over 44 million enrolled members."
As explained by Standley:
Customers tell us they like the look and feel of our new format which offers expanded clinical services, new health and wellness product offerings and our unique on-site wellness ambassadors." And as Stanley suggests, an increase in loyalty and wellness customers also provides a multiplier for front-end sales as "almost 90% of these (wellness) members shop both sides of the store, and almost 50% shop out stores every week, which means we are getting good frequency.
Rite Aid opened no net new stores this quarter as the primary real estate focus is on remodeling the wellness stores. During the most recent quarter (Q2-12), Rite Aid relocated 5 stores, remodeled 35 stores, and closed 7 stores. The company completed and grand re-opened 40 wellness stores as of the end of the second quarter and the company also announced a total of 300 wellness remodels for fiscal 2012 (and 20 relocations). And, as explained by Chief Administration Officer and Chief Financial Officer, Frank Vitrano, the wellness program could reach "78% to 80% of the chain in the next few years."
As discussed on the recent earnings call, a wellness remodel investment is around $250,000 per store and based upon the 300 store guidance forecast (for 2012), a cap-ex costs for the wellness program are around $75 million. And according to Vitrano's math, the newly remodeled stores should provide Rite Aid with "a 20% return on money (equity)" thus providing growth opportunity in the range of 3% comp. sales increases.
In addition, Rite Aid expects to close a total of 60 stores in 2012. Included in the store closure guidance is closing provisions of 20 stores with the remaining 40 stores closing upon lease expiration. And according to Vitrano, annual dark store rent is projected to be "about $93 million to $94 million."
Finally, Rite Aid announced that it will not pursue additional Sav-A-Lot combo stores as it will instead focus on the core wellness rollout model. Rite Aid will continue to operate its 10 South Carolina Sav-A-Lot combo stores. Here is a snapshot of Rite Aid's historical store base (click to enlarge images):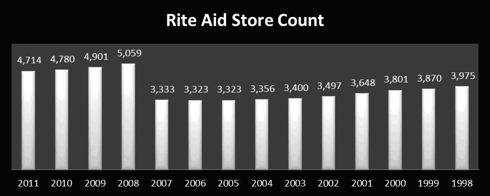 The Balance Sheet
So now let's turn to the balance sheet. With Rite Aid's new strategic wellness initiative, we can think of the balance sheet as the thermometer that provides a reading on the "wellness" of the #3 drug-store chain. As I mentioned in my previous Rite Aid article, Rite Aid's balance sheet became toxic when the company acquired 1,858 Eckerd Drug and Brooks Pharmacy stores (in 18 states) from Jean Coutu Group and, at that time, the company's debt increased from $3.1 billion (3,333 stores) to around $6.5 billion (for 5,191 stores).
As illustrated below, Rite Aid has maintained around $6 billion of long-term debt for around 5 years:

With around 4,700 stores (in 31 states and the District of Columbia) today, Rite Aid's current ratio of assets to current is around 1: .77; however, the current total assets to current total liabilities is 1:1.83, making the $6.2 billion in long term debt noticeably unhealthy. When Rite Aid's current asset to current liabilities fall below 1 to 1 the business will be technically bankrupt. Not insolvent today but a metric that should be closely watched.
At the end of the most recent quarter, Rite Aid had $965 million in liquidity, including $73 million in revolver borrowings and $139 million in letters of credit outstanding (under its $1.175 billion secured credit facility). However, without "significant" reductions to its massive $6.2 billion of long-term debt, Rite Aid will be eating into its liquidity base and also reducing its strategically aimed wellness initiatives for many more quarters (and perhaps years).
Here is a historical snapshot of Rite Aid's interest expenses: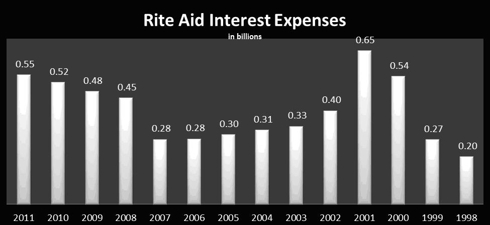 So Why Invest in Rite Aid?
I do not see Rite Aid as a stock play. The company's current stock price is $1.04 per share (as of 9-26-11) and the 52-week price has been trading between $.87 and $1.47. Although not insolvent today, the company has a new $1.175 billion revolving credit facility due 2015 that replaces Rite Aid's existing $1.175 billion revolving credit facility due 2012. The new revolving credit facility has reduced pricing and a five-year maturity, although the maturity shall be April 18, 2014 in the event that Rite Aid does not repay, refinance or otherwise extend the remaining term loans under its senior credit facility prior to that time and meets certain other conditions.
However, future credit downgrades (now S&P B-) are possible and likely and as a pure stock investment, there is a very possible outcome of liabilities exceeding assets making the impact on insolvency an extremely risky investment choice, especially in today's market where principal preservation is of significant importance.
However, I do consider investments in real estate leased to Rite Aid marginally attractive. Keeping in mind that real estate, like stocks, carries inherent risks (and returns) and any investment should be evaluated and considered based upon specific risk adjusted portfolio allocation strategies. As noted above, principal preservation should be a fundamental objective for any equity investor and I am not bullish on that attribute as it relates to Rite Aid common stock.
However, investing in Rite Aid leased real estate could be a compelling alternative investment opportunity. Although not a liquid option, real estate is a hard asset class with free-standing brick and mortar characteristics.
According to Calkain Companies, Inc., there are currently around 100 Rite Aid stores (Loopnet) available for sale (leased) or around $ 300 million of available inventory (using average prices of between $2.5 million to $ 4.0 million). Many of the Rite Aid leased stores are offered for sale at cap rates of between 9 % and 11 %. As explained by Stanley Wyrwicz, Senior Managing Director at Calkain Properties,
Sales of Rite Aid pharmacies have been particularly strong in the Northeast with most sales closing in the 9% cap rate range which represents a 200 to 250 basis point spread over corresponding Walgreens and CVS sales. Based upon the transaction velocity and relative scarcity of product, we have seen sellers in the Northeast beginning to list properties at mid 8% cap rates. And unlike the more expensively priced chains, real estate leased to Rite Aid can be acquired at prices at or below replacement cost.
So an investor could purchase (or co-invest) in one (or multiple) Rite Aid leased stores with the equity assigned to the real estate; consequently, the principal invested is not as much of a risk (compared with stock) in the event of a tenant declared bankruptcy. And as rent checks of around 9.5% (on average) are paid monthly, there is a nice premium (dividend) for the risk-return based investment model.
Another expert investment broker, Ian Schroeder with Colliers International, adds,
Rite Aid real estate provides a tremendous arbitrage in today's market when compared to Walgreens and CVS. You have a 200 to 400 basis points spread depending on the location, price point and term remaining. In comparing a $3mm Walgreens NNN investment trading at a 7% CAP to a $1.9mm RAD NNN investment at an 11% CAP the discount is $1.1MM. This is significant arbitrage for the prudent investor who studies the location and understands the Rite Aid Story.
And although nobody has a crystal ball, it appears that Rite Aid leased assets could be attractive risk-adjusted assets with a well-defined default premium built into a B- rated (S&P) tenant that has ample liquidity to complete its wellness expansion (rollout) and allow its proposed comp. sales initiatives to gain further momentum. And, in the worst case of a future bankruptcy (by Rite Aid), a real estate investor will not completely lose all of his or her principal.
Furthermore, there is an opportunity to increase (or enhance) profitability if there is ample research and due diligence achieved related to the underlying real estate. Specifically, identifying leased sites in densely populated trade areas and along high traffic corridors.
Unlike a Rite Aid stock investor who could stand to lose everything, a Rite Aid landlord could actually benefit from a tenant default (or bankruptcy) by leasing out the space to a dollar store, auto parts store, or even another drug store.
And Finally – Where Is The Tipping Point?
As explained in Malcolm Gladwell's book, The Tipping Point,
People who study epidemics--epidemiologists-- realize that they have a strikingly different way of looking at the world. They don't share the assumptions the rest of us have about how and why change happens. The word "Tipping Point", for example, comes from the world of epidemiology. It's the name given to that moment in an epidemic when a virus reaches critical mass. It's the boiling point. It's the moment on the graph when the line starts to shoot straight upwards. AIDS tipped in 1982, when it went from a rare disease affecting a few gay men to a worldwide epidemic. Crime in New York City tipped in the mid 1990's, when the murder rate suddenly plummeted. When I heard that phrase for the first time I remember thinking--wow. What if everything has a Tipping Point?
With Rite Aid, the epidemic is perhaps the balance sheet and specifically the $6.2 billion in long term debt obligations. The band aid is the expanding "wellness" strategy that "could" steer the company towards profitability.
However, the "band aid" (wellness expansion) and the "epidemic" (debt) are both competing for capital and as explained by Rite Aid's CFO (Vitrano):
There'll be some balance between reinvesting back in the stores, which we (Rite Aid) obviously know we need to do. But we also need to start getting down the $6.2 billion worth of debt that we have out there. It's not going to be something we're going to make huge strides on, but we certainly need to start paying down some of that (debt). So it'll be a give-and-take there.
As I wrote in my previous article in July (of this year), Rite Aid has the ability to pare down considerable debt with a strategic disposition of some of the core west coast stores. The west coast stores make up around 846 stores in 6 states (CA, CO, OR, UT, and WA) and around 18% of the company's overall portfolio (or around 4,700 stores).The west coast fleet is located furtherest from the Pennsylvania headquarters and the core business (82%) is considered east coast centric. In addition, there appears to be higher valuation and equity potential as the west coast stores are likely more valuable to the peer drug store chains (i.e. WAG and CVS) that are not as widely concentrated in many of the densely-populated Rite Aid trade areas. Conversely, the northeast and southeast stores total around 3,900 units and the combined portfolio remains competitive with strong brand recognition characteristics.
As Stanley Wyrwicz explains,
From its founding in Pennsylvania, Rite Aid has historically had a strong presence and market share in the Northeast. Monthly same store sales have begun to increase again after a long period monthly declines. The barriers to entry regarding development of new drug stores in the Northeast work in Rite Aid's favor as they try to maintain and strengthen their market share.
I applaud Rite Aid's management for focusing on maintaining revenue and integrating the new wellness model; however, I do not see this as a long term solution that will "tip" the income statement towards profitability. The debt has reached epidemic levels and because of that, I think that a large capital infusion is the cure for the ill-fated balance sheet.
If such an initiative is not considered, Rite Aid could "tip" the other direction and be forced to follow a long list of debt burdened retailers (Blockbuster Video filed on September 23, 2010 with $1 billion in assets and $1.46 billion in debt. Circuit City filed on November 10, 2008 with $3.4 billion in assets and $2.32 in debt. Borders Books filed on February 16, 2011 with $1.27 billion in assets and $1.29 billion in debt).
Disclosure: I have no positions in any stocks mentioned, and no plans to initiate any positions within the next 72 hours.