The resilience of stocks has been amazing these last several weeks. On four separate occasions since the beginning of August, stocks have made a run at breaking below 1120 on the S&P 500. And each time stocks find the resolve to bounce sharply higher. But time and hope may be running out for investment markets. And if real actions are not carried out soon, stocks may find themselves increasingly hard pressed to hold their ground. And the effects of quarter end window dressing promises to only add to the uncertainty.
After lurching lower yet again last week, stocks are once again on the rise over the last few trading days. But each time a new stock rally takes off, it is doing so under increasingly stressed conditions. For example, referring to the variety of important indicators that I have referenced in recent articles, most are considerably worse from where they were just two weeks ago. Greek and Italian bond yields are higher, European bank stock (EUFN) prices are lower, Bank of America's (BAC) stock price is lower, preferred stocks (PFF) have sliced below a critical support level and safe haven U.S. Treasuries (TLT) are higher.
The only exception is gold (GLD), which is lower from two weeks ago thanks to some liquidation selling and a series of margin requirement beat downs but has since bounced decisively off of its 150-day moving average and appears back on the rise once again. Nothing has gotten better. A good deal has gotten worse. And time is quickly running out. Yet stocks continue to find the strength to rally. Impressive indeed, but for how much longer can they defy gravity?
The "hope" that is allegedly supporting the stock market is worrisome if this is indeed the reason that they continue to bounce higher. Whenever stocks return to rally mode, the media headlines repeatedly cite the "amid hopes that Europe is finally working toward resolving its debt crisis". Really? It is particularly problematic for the stock outlook if this is truly the reason. How many more times can stock investors buy into the idea that Europe is working toward fixing the problem without policy makers actually taking the decisive action everyone is anxiously anticipating? And how many times can we be disappointed with the subsequent lack of action only to jump back into stocks again on the latest unfounded rumor?
Even if the eurozone rolls out its latest "bazooka" plan, the problem is simply not going to resolve itself until we actually get on with it and let the inevitable defaults take place. Until the system can finally cleanse itself, the debt problems will continue to persist. And even if the eurozone were to someday actually execute a plan that resolves its debt crisis, its not as though everything will then be well with the world.
After all, we still have a global economy that is experiencing decelerating growth and rising recession risks across many regions. If stock investors are truly ignoring these risks and remain caught up in the "hope" of another government rescue, this implies a potentially painful wash out in stocks once investors realize this rescue may never come, may not be possible anyway, and a struggling economy lurks underneath it all.
It is my sense instead that the most recent stock rallies are being driven by more mechanical forces. First, many investors that are eager to short the market in anticipation of what they perceive is the inevitable break lower in stocks keep getting denied and are forced to cover their shorts. Second, specific to the most recent rally that began last Friday, money managers that are working to salvage their year are carrying out some quarter end window dressing.
A strong quarter end window dressing rally for stocks does not necessarily bode well once the new quarter gets underway. Since last Thursday, stocks have rallied by +4% on the S&P 500. Examining quarter end performance going back to 2005, we have had five instances where stocks have rallied by +1% or more in the final five trading days before the end of the quarter. And in each of these instances, stocks went on to decline in the first eight trading days of the new quarter with an average pullback of -2.4%. As a result, the more the windows get dressed leading up to the end of the quarter, the more the curtains have quickly been ripped back down on stocks once the new quarter gets underway.
And the most painful incidence of a post quarter end window dressing hangover for stocks occurred at the beginning of the fourth quarter in 2008. This, of course, was the quarter end following the Lehman bankruptcy. From the collapse of Lehman during the weekend of September 13-14, 2008 through the end of Q3, stocks had only declined by -6.82%. And stocks had actually rallied on three of the last four days of 2008 Q3 including a +5.42% rally on the final day of the quarter. Windows dressed.
But then the new quarter began and all hell broke loose. Stocks cratered in each of the first eight trading days of October 2008 with an average daily decline of -4% as investors literally dismantled any and all stock positions and tossed them into dumpster. And after just eight trading days from the start of the quarter on the morning of October 10, 2008, stocks were down -28%. Windows completely stripped bare and glass thoroughly shattered over the course of just a few trading days.
click to enlarge image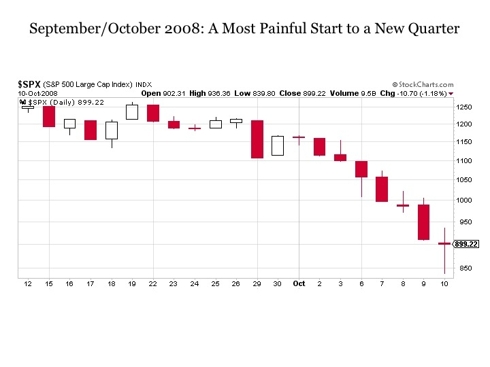 I do not expect that the beginning of October 2011 will play out anywhere near what we saw back in October 2008. But it does highlight the risks associated with becoming complacent and caught up in "hope" around the end of a quarter, particularly when crisis is brewing underneath the market surface. And if stocks continue to rally through the end of September, it may be worthwhile to use the opportunity to lock in some gains and take a breather for a few trading days as the new quarter gets underway.
This post is for information purposes only. There are risks involved with investing including loss of principal. Gerring Wealth Management (GWM) makes no explicit or implicit guarantee with respect to performance or the outcome of any investment or projections made by GWM. There is no guarantee that the goals of the strategies discussed by GWM will be met.