The news that the Papau New Guinea government is calling for InterOil (NYSE:IOC) to complete the project as approved may be the death knell for the company. The government is questioning the company's ability to complete the project.
Reuters reported:
Duma said the developers of the Gulf LNG project are promoting a "fragmented" project and said none of the companies currently involved has the experience necessary to operate a "world class" LNG project.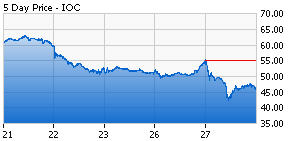 The implication for potential partners is that there is significant execution and counterparty risk in addition to the normal project risk. As it stood, Mitsui agreed to pay $400 million contingent upon completion and to advance $400 million of behalf of InterOil. That is a vastly different risk profile than committing to finance the entire $6 billion project. The terms of this agreement portend the difficulty InterOil will have in finding a partner to commit to finance the whole project.
Without the project, InterOil lacks the ability to transport the gas to market. Therefore, InterOil will not be able to reclassify the gas resources as reserves which in and of itself is reduces the value of the company. The market had been pricing the company as if it was a mere formality to have those resources reclassified. Furthermore without the project, InterOil will no doubt delay the FID on Elk and Antelope further impacting the stock price. At a minimum, any delay in issuing a positive FID pushes production off into the future. Having a contentious relationship with the government that grants your licenses is generally not a good strategy.
The downside is significant. The valuing the company on the basis of the earnings power of the other businesses yields a stock price of in the teens at best. Midstream and Downstream produce roughly $1 of EPS based on annualizing and normalizing (removing the F/X gain) the latest quarter. Applying a market multiple on those earnings produces a price in the teens.
Disclosure: I have no positions in any stocks mentioned, and no plans to initiate any positions within the next 72 hours.