Each month I update a fundamental/technical screen at Scott's Investments and track the results real-time. August's list of 5 stocks is here and the performance of the list as a whole is a perfect example of the pitfalls in blindly investing in a screen or investing with no risk management strategy.
Giant Interactive (NYSE:GA) was on last month's list and declared a special dividend of $2.99 that went ex-dividend September 12th. Despite this dividend, the stock was down over 36% (including the dividend) during the last month's screen until today.
One method for avoiding a significant drawdown is to use a stop loss, typically set 5 - 20% below your purchase price. The size of the stop loss depends on your risk appetite, the volatility of the underlying stock, and timeframe. A stop loss does not guarantee your losses will be limited at your stop price level, as stocks can gap down (typically on the open) and open below your stop price level. Nevertheless, it is one of the most common methods for risk mitigation.
The screen looks for the following:
Earnings growers still reasonably priced as judged by the PEG ratio
Low debt
A history of high return on equity and investment, and
Price momentum as gauged by the percentage the stock is trading to its 250 day high.
The stocks are then ranked based on fundamental factors as compiled by stockscreen123.
Seven stocks qualify for this month's list. Apple (NASDAQ:AAPL) remains number one on this month's list because of its technical momentum, absence of debt, a PEG ratio of .70, a 5 year average ROE of 31.92%, and 5 year average ROI of 28.48%. The Jobs resignation could take time to affect the material operations of Apple. It is too early to say if it will have any significant material impact, so until the numbers and momentum say otherwise, Apple remains on the top of this month's list.
Wet Seal Inc. (WTSLA), an apparel store for women, is a repeat stock on this list and one I highlighted in depth last month. It is a stock worth watching as it continue to make higher lows and has a long-term channel that is beginning to hit resistance around $5.25. I expect to find resolution soon, and the two levels to watch here are $5.25 and the bottom of the channel, as we can see in the weekly chart below:
click to enlarge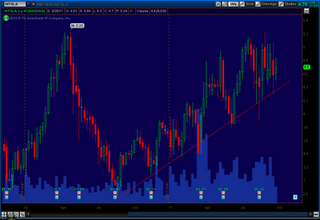 Below is the entire list for this month. It is worth noting that all of the names for this month have made prior appearances on the list:
| | | | | | |
| --- | --- | --- | --- | --- | --- |
| Ticker | Name | Overall Ranking | MktCap | PEGLT | DbtTot2EqQ |
| AAPL | Apple Inc. | 92.22 | 373775.19 | 0.7 | 0 |
| WTSLA | The Wet Seal, Inc. | 82.06 | 419.85 | 0.87 | 0 |
| NSR | Neustar, Inc | 79.6 | 1855.1 | 0.76 | 0.01 |
| INTC | Intel Corporation | 77.33 | 116782.2 | 0.88 | 0.04 |
| AZO | AutoZone, Inc. | 73.13 | 13595.27 | 0.91 | 0 |
| NVEC | NVE Corporation | 65.14 | 296.08 | 0.77 | 0 |
| DECK | Deckers Outdoor Corporation | 49.97 | 3852.41 | 0.89 | 0 |
Disclaimer: No current positions in stocks mentioned. Please note that Scott's Investments is not a financial adviser. Please consult your own investment adviser and do your own due diligence before making any investment decisions. Please read the full disclaimer at the bottom of Scott's Investments.