Last month, the Toronto-based gold miner Loncor Resources (NYSEMKT:LON) released its most recent mining results. The report points to very favorable exploration outcomes, showing profound mineral vein thickening in several of the holes drilled on the company's holdings in the Democratic Republic of the Congo, or DRC.
In fact, according to Loncor's August 23rd press release found on its website:
Commenting on the latest drilling results from Ngayu, Peter Cowley, President and CEO of the Company, said: 'We continue to be encouraged by the intersections at Makaplea including the thickest vein intersection to date in borehole NMDD023 at Sele Sele which had a true thickness of 15.68 metres, indicating significant thickening at depth.'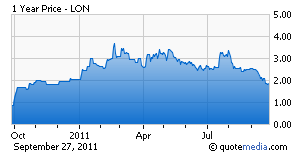 The thicker the mineral veins, the more natural resources are stored within those veins. As a result of the thickness of 15.68 metres, there is a relatively good probability that Loncor Resources will find a significant gold reserve at Sele Sele.
In fact, according to Michael Cooper, CFA, who is the President of Toronto-based Cooper Financial Research, in a September 13th telephone interview:
These results indicate significant thickening of several mineralized veins, especially in Sele Sele, which is situated in a greenstone belt. In the past, greenstone gold belts like the Abitibi Gold Belt in Canada and the Ashanti Gold Belt in Ghana have yielded significant gold reserves. .
These drilling results intensify my view that Loncor Resources, which was the topic of a Seeking Alpha article that I published on July 27, 2011, will be an acquisition target sometime in the future. As I stressed in that article, it is important to note that Newmont Mining (NYSE:NEM), the world's largest gold producer, already has a significant strategic investment in Loncor Resources and results like these might drive Newmont to push for total control of the company, which would drive Loncor's stock price higher.
This notion is further substantiated by David Urban, who in his August 16, 2011 Seeking Alpha article titled "Newmont Mining: A Long-Term Gold Stock With a Strong Dividend Yield," claimed the following:
The recent acquisition of a stake in Loncor Resources (LON) indicates that Newmont may be on the acquisition trail as the valuations of Central African mining stocks represent one of the remaining value areas for mid- to large-cap gold mining companies.
There are several African mining industry professionals who feel the same way as Mr. Urban. In fact, according to Serigne Diouck, Managing Partner at New York and Toronto-based American Strategic Resources Group, in a September 15th telephone interview:
The prospects for exploration stage gold mining companies with significant gold reserves on their properties in Africa are limitless. This area of the world has been comparatively untouched by precious or base metals miners relative to other parts of the world. The potential for free cash flow generation and acquisitions premiums really is staggering.
Moreover, according to Mr. Diouck,
The Democratic Republic of the Congo has approximately $24 trillion in natural resources wealth. This figure is equivalent to the combined Gross Domestic Product of Europe and the United States. The DRC is fast becoming the newest frontier in the African gold mining boom, especially due to the new pro-business initiatives that have recently been implemented by President Joseph Kabila.
Additionally, the $24 trillion estimate illustrates just how critical the DRC will be going forward in terms of natural resources extraction in Africa. According to Mr. Diouck,
Shareholders in junior miners who are willing to take on the risk of owning an exploration stage miner like Loncor Resources with promising drilling results are likely to capture a lot of capital appreciation as these companies go into their development and production stages.

Based on these drilling results, Loncor Resources looks like an attractive acquisition target by a company like Newmont Mining or AngloGold Ashanti Limited (NYSE:AU). In fact, Newmont Mining already has a sizable stake in Loncor Resources, which is testament to the strategic interest of the majors in this region of the DRC.
Serigne Diouck's company, American Strategic Resources Group, provides consulting and advisory services to companies and governments in Africa. Additionally, the company specializes in sovereign and municipal asset privatizations, public-private partnerships, natural resources industry strategic advisory, and infrastructure valuations and financings. Notably, the American Strategic Resources Group was welcomed to ring the Closing Bell at the NASDAQ with a delegation of government officials from Sierra Leone as well as several Africa-focused corporations on September 23rd, 2011.
Thus, these drilling results are a very bullish indicator for Loncor Resources. It is also important to note that Loncor Resources has a market capitalization of around $150 million, no debt on the balance sheet, and $32 million in the bank.
Loncor Resources' relative multiple, (price over net assets valued) a very important metric in the mining industry, is 0.2x. This is the lowest valuation among its competitors and it implies a rock bottom valuation relative to the industry. As a result of the company's fundamentals, I believe it is a very compelling investment opportunity and should be considered by investors looking to gain exposure to an emerging gold miner with significant capital appreciation upside.
Disclosure: I have no positions in any stocks mentioned, and no plans to initiate any positions within the next 72 hours.