As a value investor who, ironically, is very sympathetic towards the mild efficient markets hypothesis, I constantly emphasize the rationality of capital markets and the effects of arbitrage in closing true discounts. Academic research beyond the scope of this article has evidenced that market participants are concerned with the true fundamentals of a company and are not easily manipulated by superficial and unrelated aspects. But the market's current valuation of Barclays PLC (NYSE:BCS) has left me curious.
By almost any measure, the shares are undervalued. The stock is trading at 7.9x and 5.3x past and forward earnings, respectively, with the PEG ratio at 0.58. Perhaps even more impressive is that the company is currently being valued at around half of tNAV. Accordingly, analysts currently rate Barclays a "strong buy" with targets often being double the current price. The financial firm even offers an impressive 3.54% dividend, but yet it still has come nowhere near to closing its discount. What exactly is going on?
Barclays has a beta of 2.58 and is being held down largely by macro and regulatory concerns. Pressures for, frankly absurd capital requirements in some cases appear to have pushed a mentality that business will never be the same for Barclays. Two things follow in my mind. First, the company has incredible long-terms fundamentals. BarCap has grown impressively and analysts are expecting this to continue into at least the next three years. The UK retail segment is also performing incredibly well.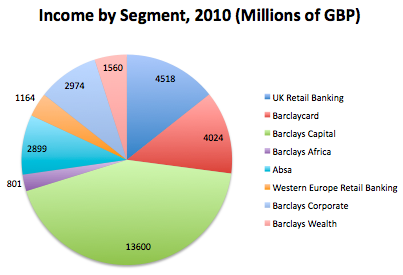 Second, I want to make a point about my own opinion about impending regulations. If history is any guide, political rhetoric hardly translates into a corresponding action. In my view, there is little chance that capital requirements are going to be as stringent as some politicians have voiced they will be. Yes, there will be new requirements, but, no, they will not be as high as what some have feared, especially in the long-term. International regulators are getting ready to impose new capital rules, but the effect will just be a temporary change in the rules of the game until standards are rightfully relaxed. Politicians are beginning to reverse prior positions and saying that these new regulations will have deleterious effects in the way of lending. Accordingly, many are now saying that true stringency will have to "wait" for another time. Regulations have already been excessive in my view and will likely be streamlined internationally in the long-term. This, however, is just one view.
Concerns about overly rosy guidance amidst the Euro crisis has also held the stock price down. CEO Diamond has stated that he was aiming, as a goal, for around 13% ROE by 2013. The market has substantially discounted what could be a sub-optimal future ROE. Investors are further concerned about the company's business mix, although given a comparable sum-of-parts-analysis evaluated through multiples, I still find a tremendous discount to intrinsic value of around 40%.
While many analysts, including myself, find economic stagnation a growing reality in Europe, I believe that the financial firms will buoy up distressed businesses and assets. The potential for high value creation is tremendous during this time. Or as the late Baron de Rothschild would say, "The time to buy is when there's blood in the streets". There is blood in the streets and it is time to buy with leverage.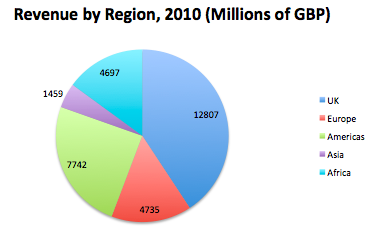 Consensus estimates for EPS are that it will decline by 23.2% to $1.42 in 2011 and then by 33.1% in the next year. I anticipate profit before taxation declining by 12.1% and then increasing by 5.6% and 13.3% thereafter. Along with other analysts, I find that the firm is a "strong buy".

For my views on US financials, click here to read an article on Goldman Sachs (NYSE:GS) and here for one on Citigroup (NYSE:C).
Disclosure: I have no positions in any stocks mentioned, but may initiate a long position in BCS over the next 72 hours.