As the world seemingly implodes around the heads of investors, it is now more important than ever to look for companies that can succeed in all seasons, be they good or bad. We have found a company that we believe has exactly what it takes to be very successful over the long term.
Broadcom (BRCM) has what it takes to succeed, for a variety of reasons. The release of the iPhone 5 October 4, will highlight once again Broadcom's role as one of the premier component suppliers to Apple (NASDAQ:AAPL). Its chips have been present in almost every single iDevice, with the exception of the iPod line. It a virtual guarantee that a Broadcom chip will be in every iDevice. The only company with more certainty of having its technology in iDevices is ARM Holdings (NASDAQ:ARMH) itself. Eric Brandt, Broadcom's CFO, on its most recent conference call, stated that the company expects "net revenue in Q3 to be roughly $1.9 billion to $2 billion. Sequential revenue will be up across all segments, and our Mobile & Wireless business will rebound sharply, up double digits driven by strength across all lines of business. We expect Q3 GAAP product gross margin to be flat to up slightly and within our GAAP targeted model."
The iPhone 5 will be the most successful smartphone launch this year, and Broadcom will be there to capitalize on it. Like all Apple suppliers, Broadcom faces the possibility that it will fall out of favor in Cupertino. We think this is unlikely, however, as Broadcom's technology is too advanced and too integral to the iDevice ecosystem for it to be left out. Broadcom said as much during its announcement of the NetLogic (NASDAQ:NETL) acquisition, when it reiterated its Q3 revenue guidance, a strong sign of confidence in an industry where almost every chip company, such as Texas Instruments (NYSE:TXN) and Altera (NASDAQ:ALTR), is cutting guidance. Apple accounts for about 11% of Broadcom's sales, and according to Bloomberg, Apple is what will allow Broadcom to rise above its semiconductor peers.
On September 12, Broadcom announced its intent to acquire NetLogic for $3.7 billion in cash; it expects the acquisition to be accretive to non-GAAP earnings in 2012. While some have questioned the large premium Broadcom is paying, we think this is a justifiable premium for the secular growth opportunities NetLogic has. Furthermore, NetLogic's margins are 20 points higher than Broadcom's and its product portfolio has little overlap with Broadcom. This will allow Broadcom to use its sales channels and marketing teams to sell NetLogic products to a far larger base of customers. Broadcom will make NetLogic one of its business segments, and it should be just as successful as its other product lines. The eventual integration of the two product lines will allow Broadcom to compete even better in the semiconductor space.
Broadcom has lagged the market year-to-date, and we think this underperformance will soon end as people come to see that Broadcom will be able to grow regardless of the economy, on the back of the smartphone boom, in both the Apple and Android camps, and NetLogic.
(Click charts to expand)





Worries over order losses at customers such as Nokia (NYSE:NOK) have been largely behind this decline, which is unfounded due to Broadcom's position as a supplier to all of the leading smartphone companies. Reduced business at Nokia simply means more business at Apple.
Broadcom's leading financial position will allow it to both finance the NetLogic acquisition, invest in R&D, and return capital to shareholders. Broadcom had over $3.1 billion in net cash at the end of the second quarter, and as CFO Eric Brandt noted, "cash flow from operations was a record $489 million for Q2."
Broadcom pays a quarterly dividend of 9 cents/share, for a yield of 1%, a yield that we think will rise over time in tandem with Broadcom's share price.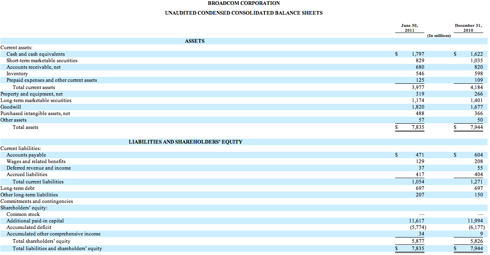 We think Broadcom is a great investment for those who believe in the continued growth of the smartphone sector and the continued drive toward a more connected world. Analysts agree with us. Credit Suisse sees the stock reaching $50, Argus sees the stock at $46, and S&P sees it at $45, along with Nomura. The Reuters average is $44.33. In short, Broadcom is poised to become the leading mobile semiconductor company, with the industry's most complete product portfolio, and industry-leading exposure to Apple. Broadcom's motto is "connecting everything," and we think Broadcom will be able to do just that, all while connecting shareholders with great profits.

Disclosure: I am long AAPL, BRCM.