BHP Billiton (NYSE:BHP) is currently trading at $72.30, marginally above its 52-week low of $65.82 and significantly below its 52-week high of $104.59 achieved in April 2011. The stock has been pushed lower from the same contagion downward pressure affecting markets at present, paring back $25 (24%) in the last 90 days and its simple moving average is flat trending downward. Movement in mineral prices during the last week has also placed additional pressure on the company's stock price. That said, I still assess BHP as a heavily discounted stock for long position traders, and for those looking to build sizable positions in their portfolios.
90-Day Trading Range for BHP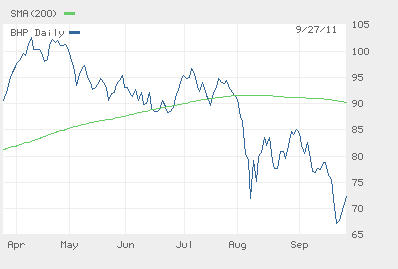 BHP has just revealed its growth ambitions for Pilbara iron ore on a scale larger than its key rival Rio Tinto (NYSE:RIO). It has just released a significant presentation to analysts and investors, which states that it is setting an ambitious target to produce as much as 450 million tons of iron ore annually, well above its current capacity of 155 million tons. Underpinning this growth forecast is sustained demand from not only China, but India as well, and pricing for raw materials to supply these contracts will also determine the benefit and magnitude of this revenue for the 'Big Australian.'
BHP has continued to perform well over recent years. Presently it is delivering EPS of 8.54, trading at a P/E ratio of 8.10, delivering a dividend rate of 2.20 and a yield of 3.1847. Its market capitalization currently sits at $192.71 billion. The company also conducted a $10 billion share buyback in order to focus on expanding its operations over take-overs, something it has not been able to achieve successfully despite the best efforts of CEO Marius Kloppers.
When you look back over how the company's stock has performed historically, it demonstrates the steady and consistent upward movement in price, reflective of the output and profitability of the company. The company's share price rose steadily for the first half of the previous 12 months, and its current downward trend is largely related to the same volatility and whipsaw trading affecting markets at present.
1 Year Trading Range for BHP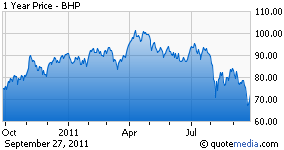 Contrast this with the 5 year and 10 year trading charts for BHP, and you will see the consistency in its stock price, and how quickly it managed to regain its initial losses following the global financial crisis.
5 and 10 Year Trading Range for BHP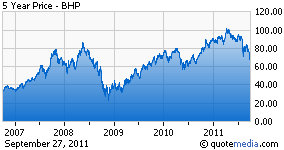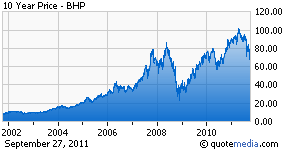 Demand for BHP's raw materials will continue to grow, and it will continue to expand its asset base to meet this demand. It faces some unique challenges in its operations, including government taxes (mineral resource rent tax in Australia) and operating in hostile environments with large personnel and resource overheads. But it will continue to deliver profits and a dividend income stream in the short term, with definite long- term capital growth for those willing to take a long-term position. I recommend investors wait for the share price to trend upward before investing in long-term positions in the stock. With a history of meeting its operational goals, this has potential to reap big returns for investors on a year-in year-out basis.
Disclosure: I am long BHP.

Disclaimer: This advice is general advice only, and you should seek independant financial advice before making an investments of your own.