Struggling from anemic growth, ConAgra Foods (NYSE:CAG) is attempting to add value through acquisitions. The stock currently trades at roughly 13.6x and 12.5x past forward earnings, respectively, and offers an attractive dividend yield around 4%. These numbers make ConAgra more undervalued than its peers on a multiples basis, in addition to providing a comparatively more favorable risk/reward given the upside of accretive takeovers. Ralcorp (RAH), Kraft (KFT) and General Mills (NYSE:GIS) offer dividend yields of 0%, 3.3% and 3.1%, respectively, while consistently trading at higher multiples. Considering that ConAgra further has a beta of 0.71, investors concerned about a downturn should consider buying this stock.
ConAgra already has a portfolio of strong brand name products: Banquet, Chef Boyardee, David Seeds, Egg Beaters, Healthy Choice, and Hebrew National, among many others. The consumer goods company has been experiencing slow growth and recently missed earnings due to a decline in flour results. Rising input prices are being slightly offset by price increases, but net income was down by 10% for Consumer Foods and volume was flat. Buying out competitors would have the effect of adding scale while spreading out marketing costs. These revenue and cost synergies will likely be beneficial in paying off net debt, which currently stands at slightly more than a fifth of the company's market value. I am nevertheless concerned that ROIC forecasts by many analysts, including myself, are flat at around 10% over the next few years.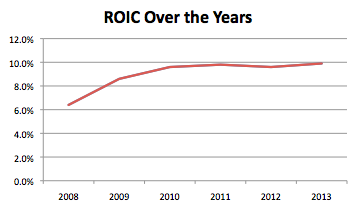 Analysts currently rate the stock more toward a "hold" due to concerns about slow growth and the effect acquisitions will have on debt. Management discussions of share repurchases are also not favored by many investors. Consensus estimates for EPS are that it will grow by 2.9% to $1.80 in 2012, and then by 8.9% and 7.7% in the next two years. I forecast revenue growing by around 9% to $13.4B and then by 2.2% in both of the following years. Although I am anticipating that SG&A will decrease by around 100 basis points to 13.6% in 2013, I expect this to be offset by margins declining 150 basis points to 12.5% over the same time period.
Overall, I remain optimistic that acquisitions are the right path forward for the company due to the marketing value that can come from leveraging brand name products to promote new ones. Increasing scale while reducing SG&A will also help the company pay off debt in a way that is optimal for market share gains.
To read about how competitor Kraft Foods is taking the opposite approach (a breakup) to unlocking value, click here.
Disclosure: I have no positions in any stocks mentioned, and no plans to initiate any positions within the next 72 hours.