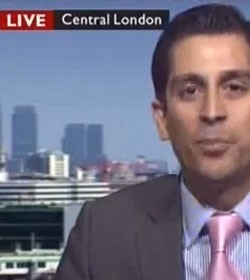 Forbes thought Alessio Rastani might be a prank.
His blatant call for a European (EUR) depression, bragging he would make money off it, as FxStreet reported here, sounded like a joke.
Goldman Sachs (GS) rules our world, not the politicians, Rastani told the BBC confidently, and those who move fast when Goldman flashes sell signs will make lots of money, just as in the 1930s.
Rastani's remarks have the blogosphere buzzing but for the wrong reasons.
Like Forbes, Felix Salmon, asks whether Rastani is real. The Independent asks whether he's right and, since markets rose after his remarks, their assumption is he's wrong.
But the point isn't whether markets rise or fall suddenly, it's whether that manipulation is valid. If Rastani is correct, then a central tenet of our time – that trading provides liquidity, that it's an aid to investors – may be wrong. If Rastani is right, and trading is just trading, a continual search for volatility combined with a willingness to create it out of whole cloth, then limits on trading become sound policy.
That's the political heart of Forbes' fear. And it's a question Seeking Alpha readers should be asking as well. Because if trading is the enemy of investing, maybe the dollar UUP can benefit from trading curbs.
I'll be straight on my own bias here. I'm an investor. I buy and sell for long-term gains, not short-term profits. I think computers and New York trading floors will wipe out anyone trying to jump in-and-out, just as surely as fruit machines wipe out people in Las Vegas. You can't beat the house, and volatility is the house.
But would limits on trading remove the liquidity necessary for investors to have a shot at profits? Markets, and especially currency markets, need liquidity, they need vast stores of it, and the trading obsession is a price we pay for that liquidity.
China (CNY), however, doesn't pay that price. The value of the Yuan is tightly controlled by central policymakers. Speculation is limited to private companies where its damage can be controlled. The value of that currency has been increasing this year, but in a measured way. It has risen nearly 20% against the dollar in the last five years, and investors have benefited, but there have been none of the wild swings that have whipsawed European and American speculators, governments, and investors.
So is it possible China has it wrong, that people like Rastani are the enemy, and that greater government control of markets could in fact create a better investment climate? If you're playing CNY, you're saying yes. If you're playing EUR or UUP, you're saying no.
Disclosure: I have no positions in any stocks mentioned, and no plans to initiate any positions within the next 72 hours.