Government Properties Income Trust (NYSE:GOV) is a real estate investment trust (REIT) which began trading in 2009. The Trust operates in one business segment: ownership of properties that are majority leased to government tenants. The stock pays a 8.0% annual dividend yield. The stock is trading near a 52-week low. The market cap is approximately $1 billion.
As of August 2nd, the company reported a year-over-year growth in earnings for the quarter ending June 30th, 2011. The Trust's net income for the quarter ended June 30, 2011, was $10.9 million, or $0.27 per share. This compares to $7.7 million, or $0.25 per share, for the quarter ended June 30, 2010.
Government Properties Income Trust has the following core tenants:

The U.S. government
Six state governments
The United Nations, an international intergovernmental organization.
These core tenants represent 93.6% of annualized rental income as of June 30, 2011. The U.S. federal government is Government Properties Income Trust's largest tenant. The U.S. government represents 74.2% of annualized annualized rental income as of June 30, 2011.

Government Properties Income Trust possesses 64 properties which are primarily leased to the United States government, and 12 which are let to the states of Maryland, Massachusetts, California, South Carolina and Minnesota.

Click to enlarge



Business Strategy
The properties that Government Properties Income Trust owns consist of an estimated 7.6 million rentable square feet, spread across 27 states and the District of Columbia. These properties have been consistently occupied by tenants sanctioned by the government ever since these properties had been initially acquired, developed or redeveloped.
Government Properties Income Trust shares had been listed on the New York Stock Exchange in 2009. The shares have been assigned investment grade status since 2010 and have been assigned a place in the Russell 2000 index along with the MSCI US REIT index.
Business Strategy
Government Properties Income Trust is managed by REIT Management & Research LLC (RMR). RMR is a sizable real estate management company which was established in 1986 to manage communal investments in the real estate business.
As of June 30, 2011, 1,450 properties, located among 46 states, have increased their already substantial repertoire, with over 680 employees in its headquarters and regional offices.
Along with GOV, RMR also manages Common-Wealth REIT, which basically owns and leases properties related to public dealings like hospitals, hotels, travel centers and senior homes. They also provide managerial services to companies of such natures.
RMR is also affiliated with RMR Advisors Inc, which is an investment managing company. Its services include mutual funds that basically invest in security for unaffiliated real estate companies. RMR has an upper-hand when it comes to rival companies in the real estate territory, given its extensive managerial experience and its cost effective strategy, which is much less than other comparable services.
The Congress of the United States fashioned REIT in the 1960s for the purpose of making large scale investments and to generate income by producing real estate that is more reachable for smaller investors. It is suggested that investors in the REIT might find greater diversification more beneficial if it is achieved by investing in a portfolio of properties instead of just a single building, incorporating seasoned real estate professionals to help gain success.
Government Properties Income Trust Peer-to-Peer Industry Group Comparison
Click to enlarge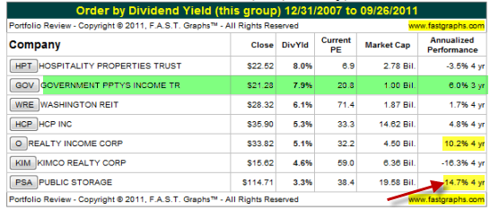 Hospitality Properties Trust (NYSE:HPT)
Hospitality Properties Trust is a real estate investment trust that presently owns about 300 hotels and 185 travel centers in California, Texas, Virginia, Massachusetts, North Carolina, Georgia, Arizona, Tennessee and other states. The company also has operations in Puerto Rico and Canada. Hospitality Properties Trust established a rent restructuring agreement with Marriott (NYSE:MAR), which has provided visibility to Hospitality Properties Trust revenue and FFO projections.
Washington Real Estate Investment Trust (NYSE:WRE)
Washington Real Estate Investment Trust is a self-administered, real estate investment trust (REIT) that invests in the greater Washington, D.C., location. As of December 31st, 2010, the portfolio consisted of 85 properties totaling 10.7 million square feet. Three quality properties were recently acquired: 1) 1140 Connecticut Avenue in DC; 2) 1227 25th Street in DC; and 3) John Marshall II in a Virginia suburb. The Beltway continues to operate on a green-light fashion. Wheeling and dealing is the normal course of business in the nation's capital.
HCP, Inc. (NYSE:HCP)
HCP is the largest healthcare real estate investment trust (REIT). HCP owns interests in 672 properties in 44 states as of fiscal year end 2010. In April, 2011, HCP closed its purchase of the assets of privately held HCR Manor Care. The cost was approximately $6-billion. The private deal includes 340 post-acute care, skilled nursing, and assisted living facilities.
Realty Income Corp. (NYSE:O)
Realty Income Corp is a real estate investment trust (REIT) that owns commercial properties. Facilities are rented primarily under triple net lease agreements. Realty Income Corp. presently owns over 2,500 properties located in 49 states. The 2011 FFO estimate is approximately $2.00 per share.
Realty Income Corp. is expanding beyond the retail establishment arena, although this segment still represents 90% of net revenue. The goal is to reduce this 90% retail net revenue figure to 70-75%. Realty Income Corp. management is focused on international opportunities.
A few acquisitions include 2010 acquisitions of some SuperAmerica convenience stores, wineries and vineyards. Management continues to expand the need to think outside the box. Shareholders should continue to profit due to pro-active management actions.
Kimco Realty Corporation (NYSE:KIM)
Kimco Realty Corporation is a self-managed real estate investment trust (REIT). Kimco is the largest owner of neighborhood and community shopping centers. The current economic landscape has forced Kimco to sell non-shopping-center investments and reduce its holdings of smaller, less profitable centers. Canada and Latin America are providing higher cash flow to provide an adequate FFO to support a 4.7% dividend yield.
Public Storage (NYSE:PSA)
Public Storage is real estate investment trust (REIT). The core business model is to acquire, develop, own and operate self-storage facilities. Public Storage is the largest owner and operator of storage space in the U.S., with equity investments in over 2,000-facilities. Public Storage has focused upon acquiring higher quality facilities with higher rental revenues. The European operation, Shurgard Europe, is owned 49% by Public Storage. Funds from operations (FFO) should increase by 7-8% for 2011. The company has provided out sized shareholder returns as indicated in the table.
Disclosure: I am long GOV, O, PSA.