With concerns about a double-dip in the US economy, it is interesting that analysts are currently rating the highly cyclical Johnson Controls (NYSE:JCI) between a "buy" and a "strong buy." The company has a beta of 1.87 and a dividend yield of 2.28%, while trading at around 12.5x and 8.9x past and forward earnings, respectively. High risk-adjusted returns will be realized mainly through the success of Power Solutions and Building Efficiency.
The consumer goods company specializes in providing automotive interiors and products that optimize efficiency for cars and buildings. It makes heating and ventilation systems and offers repair services. Despite the company's overly sensitive correlation with the United States economy, many analysts are still betting on higher demand for energy efficiency. Concerns about cost savings and domestic security during a downturn will be the main drivers in shifting demand. The risk is found in possibly lower demand in automotive production.
I am anticipating that Building Efficiency will perform well into 2012. Over half of this segment's sales come through repairs and personal service for control systems. Power Solutions and Global Workplace Solutions are also looking to have strong improvements in the top line with growth rates around 11% and 17%, respectively, per year up until 2013. I find that value creation will also be improved through steadily increasing margins. The company recently had unnecessary contract issues that are unlikely to occur in the future.
With that said, the company still faces a high degree of uncertainty. In issuing guidance, management should keep estimates conservative in the high-growth segments, so as to prevent any panic. Free cash flow will likely continue to be volatile, as it has in the past.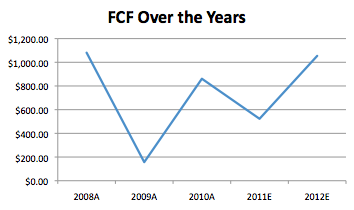 *Note: Fluctuations in FCF between the years has been simplified into a connecting line.

Overall, I anticipate EBITDA growing by 13.3% and 14% in the next two years, partially driven by improvements in margins and contract renewals. Consensus estimates for EPS are that it will grow by 22% in 2011 to $2.44 and then by around 25% for both 2012 and 2013. With a PEG ratio of 0.71, I believe that the stock will provide high risk-adjusted returns in line with analyst estimates. The dividend yield of 2.28% will cushion a volatile ride.
Disclosure: I have no positions in any stocks mentioned, and no plans to initiate any positions within the next 72 hours.