The Media Audit released results from a study that reaffirms what we know about Sirius XM (NASDAQ:SIRI) - it sports an upscale audience. Here's a summary of the findings from Radio-Info.com: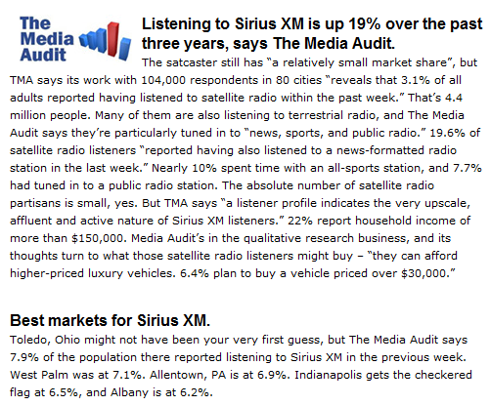 It comes as no surprise that Sirius XM listeners also spend time with news, sports and public radio stations - three formats that attract affluent demos. And it's not shocking that Sirius XM represents a niche with its "relatively small market share." Of course, sports radio, at the local level, remains a niche as well. So do most, if not all terrestrial formats. Until you get the daily penetration a mega-talent like Rush Limbaugh achieves, you, as a format, reamin a niche. There's nothing wrong with that; in fact, it's how the business is designed.

On the surface, the note that "6.4% (of Sirius XM listeners) plan to buy a vehicle priced over $30,000" sounds great. But, at day's end, what does such a great one-sheet statistic translate to for the company and investors focused on revenue growth?

Terrestrial radio - and now Pandora (NYSE:P) - can certainly produce similar statistics. At the same time, terrestrial and Pandora use the connections they create with their listeners to drive results. Each monetizes its audience. As Pandora co-founder Tim Westergren points out, his company is on a roll on that front:
We're seeing a growing wave of local advertisers shifting their terrestrial broadcast budgets to Internet radio. Everyone from local car dealers, hotels and real estate dealerships, to supermarkets and universities have discovered the power of Pandora personalized radio to connect with their local audience.
Like terrestrial has always done and will continue to do, Pandora can generate massive listener responses for advertisers at the local level. Using its scale, Pandora can now secure buys across major markets and trigger meaningful traffic for clients at the local level. That has been terrestrial radio's bread and butter for ages. Even as Pandora makes inroads, that will not change, no matter what Pandora says.

Because it has yet to sell more advertising, Sirius XM cannot do the same, rendering its targeted and affluent audience almost useless. Certainly, you can rest assured that upper-end car buyers will continue to subscribe to Sirius XM, helping to drive growth in that regard. But, will this produce the type of revenue and earnings growth necessary to support future, meaningful rises in the company's stock price?

It's nice to have that $15 a month from subscribers, but as Netflix (NASDAQ:NFLX), DirecTV (DTV) and DISH Network (NASDAQ:DISH) all show, that growth inevitably slows, sometimes stalls and always runs the risk of reversing. Generating multiple, dynamic revenue streams - something Amazon.com (NASDAQ:AMZN) has mastered - could shift Sirius XM from, as fellow Seeking Alpha contributor Jim Van Meerten calls it, "a former and faded rising star" to a company that's actually prepared to compete with its more aggressive and innovative rivals.

The real opportunity lays in doing something with that 6.4%/over $30,000 car buy statistic. It's an excellent number. It's the type of thing terrestrial radio sales departments salivate over. In its current state, however, it remains little more than a number for Sirius XM. The only way to make it mean something is to take the loyalty and demographics of its audience and monetize them.

Many fans of Sirius XM balk at the notion of airing more commercials than the satellite radio service already airs. Of course, commercial-free content does represent a major advantage for Sirius XM over terrestrial. Commercials do not have to come in traditional 30- and 60-second in-between-songs form, though. The company can certainly find ways to bring more advertising into the mix without alienating an audience that comes to satellite, at least in part, because it's relatively commercial-free.

For instance, Sirius XM could take its reported numbers from Toledo, West Palm Beach, Allentown, Indianapolis and Albany and do a pilot run. It could attempt to secure a buy of car dealerships in those markets and see what types of results ensue.

Of course, Sirius XM needs the capability to be able to pull this off. Simply put, it needs to be able to "say" something to a listener in Toledo that a listener in New York cannot hear. While I could be mistaken, I do not think it can execute in this fashion just yet, excepting its local traffic stations. In other words, it cannot program E Street Radio, for example, to send 30 different messages to 30 different markets. And, if it can do this and I don't know about it, it says quite a bit about Sirius XM's lack of aggressiveness in the space.

I follow the space closely and listen to Sirius XM daily. As it stands, the programming amounts to a series of nationally-syndicated feeds that make virtually zero connection with local audiences. Content-wise, and considering the advertising perspective I raise here, this might be one of satellite's top weaknesses.

If SatRad 2.0 will not only offer, but take full advantage of this functionality, more power to it. But, relative to where terrestrial and Internet radio stands now, that ability is a long time coming for satellite, particularly in the car where Sirius XM enjoys considerable saturation. In addition, Sirius XM also faces an uphill climb convincing advertisers that it has the scale and ability at the local level to generate terrestrial- and Pandora-like results for clients.

Disclosure: I am long P.