If you've been following my articles on gold, you would know that I have been bearish on the GLD ETF. I'm going to add another precious metal to my short watch list.
Silver underwent a similar rise to gold, and as of the last few trading days has become technically broken. The SLV ETF hit a high around 50 and over the next 5 trading days got crushed towards the 35 level earlier this year. Since the bottom in May, the ETF has basically traded higher in a tight consolidation range towards 44. The ETF finally broke on September 22nd and has continued to fall. The SLV broke 30 on 9/23 and looks to trade to at least 25 over its next leg lower.
I would exit any position in the SLV and look to short the ETF based on the chart below.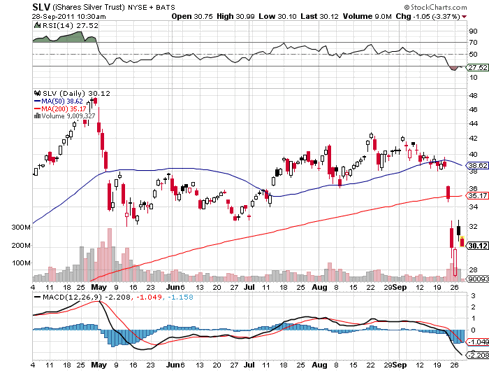 The similarities between silver and gold is concerning. Although gold remains fundamentally valued in the investment community, I continue to believe that the chart points lower. Whether we get a consolidation range similar to SLV from May-September is anyone's guess. The GLD remains technically broken and for the first time in a while people have losses in their portfolio's. As of today, the ETF is trading below 160 and anyone buying higher, will become a seller looking to lessen his loss or capitulate.
This is a very real scenario and not often reviewed in the retail world. The GLD has major headwinds above its current price. In fact, it has not had any resistance in over a year and has had only one major correction since 2008, when it traded lower by 25%. The current downtrend is about 13% and I expect at least a 20% move near term and a potentially much larger move over the next year.
Below is the daily GLD chart showing a clear break towards the 148 level.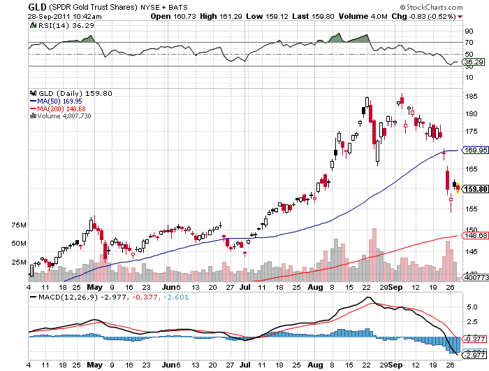 The chart below shows the weekly move since the end of 2008. As this chart shows, the move has been steady with almost no correction. I believe that a larger correction is in store, possibly heading towards 110.
Disclosure: I have no positions in any stocks mentioned, but may initiate a short position in SLV over the next 72 hours.