Steve Jobs gets all of the credit, but the real genius these days comes from Jeff Bezos, CEO of Amazon.com (NASDAQ:AMZN).

When Jobs flicked the initial domino - iPod - he unleashed the genius of Apple (NASDAQ:AAPL) that still pervades business as well as pop culture. As subsequent iPhones and iPads roll off assembly lines, Apple continues to execute its novel and amazingly successful retail strategy. But because it's happening and has been happening for a while, it's old news. We're all waiting for Apple to come up with something new. Or not.

The genius of Bezos appears as more of an ever-evolving work in progress. Whereas Apple looks like it runs on auto-pilot, Amazon keeps upping the ante. Bezos' genius lays not only in the fact that he comes up with really good ideas, brings great products and services to market and executes well, but that he has tricked the U.S. consumer into believing that his company gives them something for nothing.

Consider the line from Bezos back in April when Amazon unleashed Kindle with Special Offers:
We're working hard to make sure that anyone who wants a Kindle can afford one. Kindle with Special Offers is the same No. 1 bestselling Kindle - and it's only $114. Kindle is the best deal in consumer electronics anywhere in the world.
Here's what I wrote about that this past spring:
In some ways, it sounds a lot like Bezos is running a non-profit as opposed to a multi-billion dollar juggernaut.
This new Kindle comes in at $25 less than the standard Kindle and $75 less than the Kindle 3G. If you go the less expensive route, you'll have to deal with special offers from Amazon - ranging from half-price gift cards to deals on Amazon MP3s - and advertising from the likes of Proctor & Gamble (NYSE:PG), Visa (NYSE:V) and JP Morgan Chase's (NYSE:JPM) Amazon Visa credit card.

Hold the phone. Amazon's not a tax-exempt (no pun pretended!) charitable organization after all. I can put two-and-two together with the best of them. Amazon's real intent here is to take Kindle bargain hunters to the cleaners without even kissing them. It's a brilliant disguise. Sure you'll save between $25 and $75 going with the "cheaper" Kindle, but at the same time you'll get lured into spending more.
And the genius continues with the introduction of Amazon's tablet (or enhanced reader?), Kindle Fire.

Here's part of Bezos's pitch (from Amazon's website), which, to critical readers, comes off as even more disingenuous than the way he sold Kindle with Special Offers:

Click to enlarge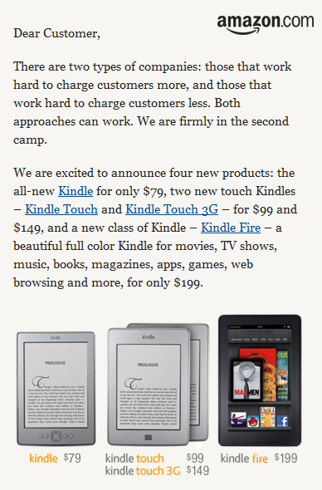 Click to enlarge
There's not a nice way to say it, so, please, pardon my French: What a load of crap.

Mind you, despite the strong words, I love this. And what I am about to say nicely summarizes the reason why I am bullish on AMZN. It's just so transparent. And, thankfully for Amazon, it has two things working for it. First, the large segment of Americans that make up the less-than-sharp consumer base will fall for that pickup line - we work hard to charge customers less. Give me a break. Second, Amazon actually delivers solid products so I do not mind that they're "saving" me money in one area only to take it in another. For the record, I pre-ordered Kindle Fire this morning. I almost bought two.

And that's exactly what Amazon does so well. It offers the impression that it's on the consumers' side. That it's saving them money by providing products and services that actually work really well for less. When you shop at Amazon.com, it's not like you're slumming it at a Wal-Mart (NYSE:WMT), paying $5 for a poorly-made t-shirt that will retain the smoke smell the local Bingo parlor attaches to it for eternity. Not at all. In fact, Amazon, at least on the surface, gives you a Mercedes at Toyota prices.

Of course, it's clear what Amazon looks to accomplish with each one of these transparent attempts at egalitarianism. Here's the rest of the announcement the company posted at its homepage after announcing Kindle Fire:
Kindle Fire brings everything we've been working on at Amazon for 15 years together into a single, fully-integrated experience for customers – instant access to Amazon's massive selection of digital content, a vibrant color IPS touchscreen with extra-wide viewing angle, a 14.6 ounce design that's easy to hold with one hand, a state-of-the-art dual core processor, free storage in the Amazon Cloud, and an ultra-fast mobile browser – Amazon Silk – available exclusively on Kindle Fire.

We are building premium products and offering them at non-premium prices.
You get a premium product at a non-premium price, but they'll ding you, multiple times, elsewhere by giving you the "full-integrated (Amazon) experience." This latest move just masterfully extends the incredible synergies Amazon continues to create between its revenue streams. I have every confidence that using Fire as a loss leader will work wonders for the company and, in turn, for investors.

I do believe that enough "stupid consumers" exist that Amazon could be successful even if it trotted out inferior and sloppy products and services. But, again, it does not. Good reason exists - whether you qualify as a low- or high-end consumer - to take part in the Amazon experience. I just think it's funny that Bezos thinks he gets away with insulting our collective intelligence.

As I have noted in multiple Seeking Alpha articles, I do not see this move having much, if any, impact on Apple and iPad sales. I remain bullish on both companies. I expect each stock to outperform - and likely dominate - the market heading into the holidays and through early 2012.
Disclosure: I have no positions in any stocks mentioned, and no plans to initiate any positions within the next 72 hours.