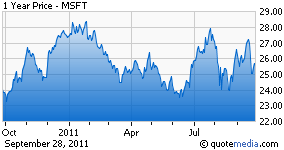 Over the past year, investors' typical reaction to Microsoft (NASDAQ:
MSFT
) has been indifference. They haven't cared about Windows 7 success. And, they're unimpressed by Xbox's market share leading leap this year. They seem nonplussed by Microsoft's significant market share grab in enterprise. Overall, despite a lot of reasons to fall in love, 2011 has instead been one big shoulder shrug.
But, that may change very soon. Microsoft has always been better at making innovation better. Unlike competitor Apple (NASDAQ:
AAPL
), Microsoft is more comfortable letting others be the first to market. Instead, they take lessons learned from competitor's success or failure and build compelling, market friendly products. Or, in the view of competitors, they make it living hell to hold onto market share.
Having the size and depth to develop products has advantages. Many of the best features found in Microsoft software is, at a minimum, inspired by features already enjoyed in various applications. The true brilliance of Microsoft's strategy remains in its ability to integrate technology across products and leverage scale to win mass appeal.
Scale is exactly what Microsoft is aiming for with its Windows phone software, affectionately known as Mango. Mango is more than a simple operating system. Its metro design, which has won over many users, is simple, easy to use and artsy. More important, it gives Microsoft a vehicle for uniting phones, tablets, notebooks and PC's.
If stumbles and stalls marked Microsoft in the last decade, including the correctly maligned Vista OS, and incorrectly maligned Xbox strategy, the current decade is marked by balance and advances. The Windows 7 platform has been a winner. Xbox, which lost billions in 2005, 2006 and 2007, is the market share leader and aggressive pricing and product development is eating into the enterprise market share of companies including Salesforce.com (NYSE:
CRM
) and Oracle (NASDAQ:
ORCL
).
Clearly, Microsoft has something to prove. It has aggressively pursued licensing deals with smart phone OEMs that use Google's Android OS, claiming certain Android features infringe its patents. Last year, HTC inked a licensing deal with Microsoft. And, today Samsung (
OTC:SSNLF
) inked a similar deal. This means the two largest Android based phone manufacturers are more closely tied to Microsoft just as Microsoft's Mango software launches.
Given these two makers account for about 50% of all Android based phones, a closer relationship with Microsoft and growing concerns over Google's (NASDAQ:
GOOG
) acquisition of competitor Motorola Mobility (NYSE:
MMI
), is bullish for the Microsoft powered market share next year. Consider this point, following HTC agreeing to pay $5 per Droid handset to Microsoft; Windows powered phones have grown to about 30% of all HTC phones sold.
All this and we haven't even touched on the biggest contributor to future Microsoft phone share: its deal with smart phone Goliath Nokia (NYSE:
NOK
). With Nokia tossing aside Sybian for Microsoft, and a likely rollout of its first Microsoft OS phone in late October at Nokia World, Microsoft benefits handsomely.
But the land grab is far from limited to phones. Tablets offer opportunity too. Amazon.com (NASDAQ:
AMZN
) just launched its Droid powered Kindle Fire as a cheap alternative to iPad. The NOOK refresh is coming soon. And directionless products from competitors, including HP (NYSE:
HPQ
) and Research In Motion (RIMM), have shown there's an opportunity to win share there too. It wouldn't surprise me if we see similar patent share deals between Amazon and Microsoft. And, certainly a successful Mango paves the way for Microsoft powered OEM tablets too.
It's not hard to imagine a re-energized Microsoft in 2012. Xbox gamers and social media mavens will be able to share across networks and clouds, across phones, computers and tablets, all while generating critical Bing eye-share. And, in typical Microsoft fashion, consumers won't be tethered to a particular brand in the process.
Investors can take additional comfort in Microsoft's huge cash position, which totaled $52.8 billion last quarter, up from $36.8 billion last year. The company's operating cash flow rose 2.9 billion to $27 billion in the process. And, as of June, $12.2 billion remained on its 2008 $40 billion buyback authorization. The company also boosted its dividend by 25%, bringing its yield to 3.2%. As a result, overly complacent investors may miss out on significant upside as Microsoft becomes a major player in consumer devices.

Disclosure: I have no positions in any stocks mentioned, but may initiate a long position in MSFT, AMZN over the next 72 hours.