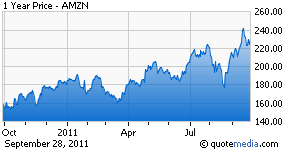 With a few hours to think about it, many in the tech press are having second thoughts about who might win, and who might lose, in the wake of the Amazon (NASDAQ:AMZN) Kindle Fire announcement. It's vital, before you invest, that you understand all this.
Taken all-in-all, the Amazon announcements turn out to be as important in their way as Apple's (NASDAQ:AAPL) original iPhone launch. They transform tech business models through a combination of hardware, software, services and commerce in ways that will help some companies, and destroy many others.
Ecosystems – As regular readers here know I called ecosystems the new buzzword for fall earlier this month. The Ecosystem Era is now fully upon us. Hardware, software, services and commerce are now combined in one package, and consumer electronics players must find ways to compete.
The Browser – The Fire features a new browser called Silk that compresses files on the server side, that is, in its EC2 cloud. What happens to users during the next EC2 outage?
There are also privacy implications here. Amazon must watch user traffic to maximize Silk's capabilities. And Amazon promises to deliver the "right size" file for your device. What if a user wanted the bigger file? And with Amazon caching so much content, are you really getting the latest news?
The Business Model – The long media tail now wags the hardware dog. If you don't have a cloud, if you don't sell media, how do you compete with Amazon on price? This doesn't just impact Research In Motiom (RIMM) but also Hewlett-Packard (NYSE:HPQ) and Dell (NASDAQ:DELL) as well. And given the hands-off nature of Amazon's business model (and the likelihood others will copy it), stores like Best Buy (NYSE:BBY) now look like very bad buys indeed.
On the other hand, both Google (NASDAQ:GOOG) and Microsoft (NASDAQ:MSFT) can respond to this threat. A Google TV now makes a lot more sense, and if Microsoft can acquire Hulu (or another content play) their Azure cloud is much better-positioned to compete. After all, they're already serving Xbox game systems. Adding commerce, even if it's not on Amazon's scale, now makes sense for both companies. Overstock.com (NASDAQ:OSTK) anyone? One of these companies might also make a nice home for Barnes & Noble (NYSE:BKS). Expect Netflix (NASDAQ:NFLX) stock to be hit hard, maybe hard enough for it to be worth buying.
China – Companies like Baidu (NASDAQ:BIDU) and Alibaba, which have been toying with the idea of selling phones or tablets for months, may now need to accelerate their plans in order to match what Amazon (and in time others) offer. Given Yahoo's (NASDAQ:YHOO) ownership of a big Alibaba stake, this makes them a better acquisition as well.
Apple (AAPL) - Apple has plenty of cash to respond fully to this threat. They could buy Overstock and B&N with seat cushion money, for instance, then add those channels to its online operations quickly. But here is the problem. Where it previously found itself the low-price leader in the space, it suddenly faces a foe with prices 50% lower. And how far behind might an Amazon phone be, really?
Clouds – There are major implications here for cloud infrastructure providers like Rackspace (NYSE:RAX). While Dell is building its own cloud infrastructure, companies like Hewlett-Packard (and maybe even Samsung (OTC:SSNLF) will definitely need branded services and commerce in order to compete with Amazon's prices. The cloud era is now fully on in consumer markets, so invest accordingly.
Disclosure: I am long GOOG.