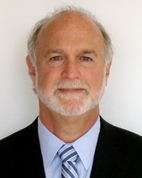 (Click to enlarge)
CEO Daniel Gold
Marshall Edwards (MSHL), with one cancer drug now undergoing clinical testing and another set for early 2012, is planning to take a road less traveled by early-stage oncology companies and one that's more in tune with Big Pharma.
"As soon as we've established a safe dose with our ME-143 and ME-344 compounds, we're going to immediately undertake randomized Phase 2 studies," CEO Daniel Gold says in an exclusive interview with BioTuesdays.com. "They will be smaller studies and will be controlled."
Junior biotech companies often run single-arm Phase 2 oncology studies and, depending how the data stack up against historical controls, move forward with a randomized and controlled Phase 3 study. On the other hand, Big Pharma likes to drill down in Phase 2 with many randomized and controlled studies in order to be sure there is a good reason to move the drug forward into an expensive Phase 3 trial.
"We're taking a similar, big company approach," Dr. Gold says. "Standards of care change, patients change, and lots of things change, and, if you don't compare your study with an equivalent population in Phase 2, you're really gambling when you go into Phase 3. That's not the trap we're going to fall into."
Dr. Gold credits his CMO, Dr. Robert Mass, with developing the company's clinical strategy. Dr. Mass, a medical oncologist, most recently was Head of Medical Affairs, BioOncology, at Genentech. He also was clinical science leader for Genentech's development of Herceptin, Tarceva and Avastin, currently the leading oncology therapeutic worldwide.
According to Dr. Gold, Marshall Edwards' plans for its two compounds mimic Genentech's approach to drug development.
Marshall Edwards plans to use its two compounds against specific oncology indications where there is a standard of care that is not curative but gives patients some benefit before the cancer returns. "What we'll be looking for is that when we add our drug on top of the standard of care, we can extend the benefit to patients receiving that standard of care," he adds.
Dr. Gold has been doing more than fine tuning Marshall Edwards' drug candidates. When he moved into the executive suite in April 2010, he began negotiations with majority shareholder Novogen of Australia to replace an existing licensing accord with an asset purchase agreement for the purchase of Novogen's isoflavone intellectual property portfolio, including its oncology drug candidates, which are designed to inhibit tumor cell metabolism. That deal closed last May.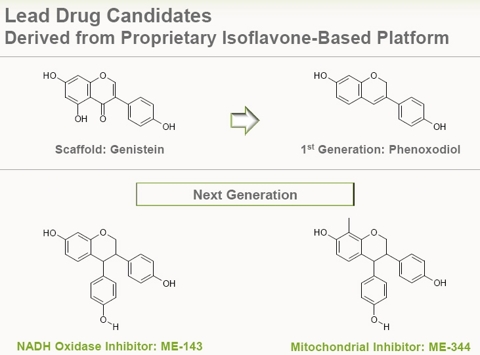 Click to enlarge
(Click to enlarge)
Lead Drug Candidates
One of those drug candidates, ME-143, began a Phase 1 intravenous dose-escalation trial earlier this month to measure its safety and tolerability in up to 24 patients with refractory solid tumors. Final data are expected by the second quarter of 2012. Positive data would lead to a Phase 2 trial in the second half next year.
The company also plans to submit an investigational new drug application with the FDA in the first quarter next year to begin Phase 1 testing of its ME-344 cancer drug.
"Although we appear to be a nano-cap research and development shop in oncology, we have a significant amount of experience with the earlier versions of our drugs," he explains, pointing out that Marshall Edwards' first generation Phenoxodiol product has been tested in hundreds of patients via oral or intravenous routes and appears to be well tolerated with low toxicity. "So, we are not your typical start-up."
ME-143 is the primary active metabolite that is produced when Triphendiol, a second-generation derivative of Phenoxodiol, is introduced in vivo. Dr. Gold says pre-clinical studies show that ME-143 demonstrates superior anti-tumor activity against a broad range of tumor cell lines, compared with both Phenoxodiol and Triphendiol.
ME-143 is an NADH oxidase inhibitor that is designed to interfere with certain enzymes on the surface of tumor cells that are crucial to maintaining unregulated cell growth, resulting in cell death. "In addition to being more active as a single agent, ME-143 is far superior in its ability to synergize with platinum-based chemotherapy, making ME-143 the straightforward choice as the lead product candidate for this program," he adds.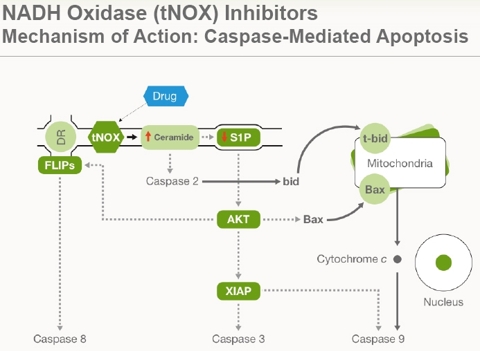 Click to enlarge
(Click to enlarge)
NADH Oxidase Inhibitors
Marshall Edwards and Novogen previously developed a compound called NV-128. In preclinical studies, it induced a different type of cell death than ME-143 by targeting an enzyme inside the mitochondria, where cells make energy to survive, leading to both DNA fragmentation and degradation of the cell's own components.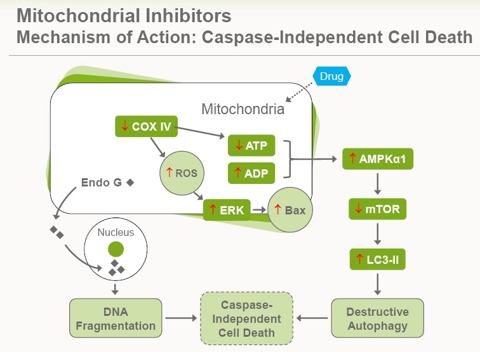 Click to enlarge
(Click to enlarge)
Mitochondrial Inhibitors
Further work on NV-128 led to the development of an active metabolite, which the company calls ME-344. In preliminary studies, ME-344 has shown as much as ten times more anti-tumor activity than the first generation compound, according to Dr. Gold.
Research in collaboration with Dr. Gil Mor, a gynecological oncologist at the Yale School of Medicine resulted in a study that was published in the June 2011 edition of Molecular Cancer Therapeutics, demonstrating that NV-128 is uniformly active against all chemotherapy-resistant ovarian tumor cells tested to date.
Asked how Marshall Edwards differentiates itself from the rest of the oncology space, Dr. Gold says that a lot of compounds currently being tested or approved target inhibition of a specific point in the growth cycle of cancer cells. "Our compounds act at a higher point in the ladder, so they have a much more umbrella effect on various pathways that are critical in tumor cell survival," he adds.
While the company has held partnering discussions with pharma companies, Dr. Gold says the consensus is that potential partners would like to see some clinical data.
"One of the important things in cancer is that you're trying to kill cells, and when you're killing something in the body, there's always a potential for unexpected toxicity," he suggests. "So, it's important for us to finish these Phase 1 trials to know for sure. From our animal studies, we are not concerned about that. But humans are different, and that's why we're doing the studies," he adds.
"When we enter Phase 2 — that's what I think is an appropriate time to re-engage potential partners," he says. "That way, they'll know what we're doing, so that if we're successful, there could be a lot of interest in licensing our products."
Disclosure: I have no positions in any stocks mentioned, and no plans to initiate any positions within the next 72 hours.