Caribou Coffee (NASDAQ:CBOU), the nation's second largest coffee retailer behind Starbucks (NASDAQ:SBUX), is an exciting growth story. Management expects EPS to be in the $0.39 to $0.41 range- representing a 40% increase compared to 2010. Operating margins continue to improve and the company's commercial and franchise segments are delivering promising results. Comparable coffeehouse sales have improved each of the past seven quarters, with additional breakfast and food offerings.

The picture is rosy- and investors have noticed, with Caribou's stock up over 18% in the past 52 weeks and over 40% for the year. But, how does the Caribou story compare to Starbucks?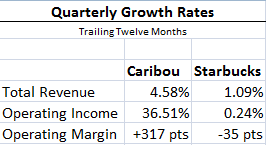 Caribou has great momentum, increasing operating incomes 36.5% quarterly over the past year and improving margins significantly. Starbucks, on the other hand, has only growth operating income 0.2%.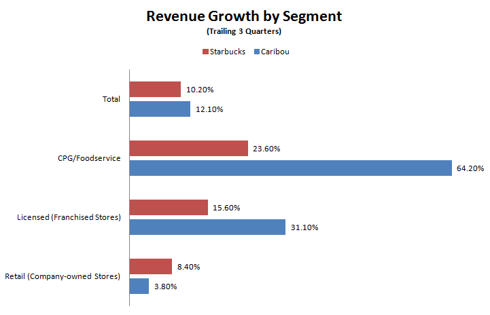 Click to enlarge
Note: The time frame used for this chart is trailing three quarters. This period is aligned with Starbucks' fiscal year, which ends in October.

For the past three quarters, Caribou revenues have increased 12.1% (vs LY), which is modest compared to Starbucks' 10.2% jump. However, Caribou's growth is coming in the right channels: commercial (CPG/foodservice) and franchised stores- two segments that represent higher operating margins (for both Caribou and Starbucks). Excluding unallocated corporate administrative expenses, Retail operating margins were 7.8% in the first half of FY11, compared to 25.8% for commercial and 36.8% for franchised stores.

Caribou's coffeehouse growth can appear underwhelming compared to Starbucks. This is due to Caribou's abundance of company-owned stores (407 versus 141 franchised as of Q2), which are more expensive to operate. These high costs were the very reason Caribou failed to turn a profit until recently.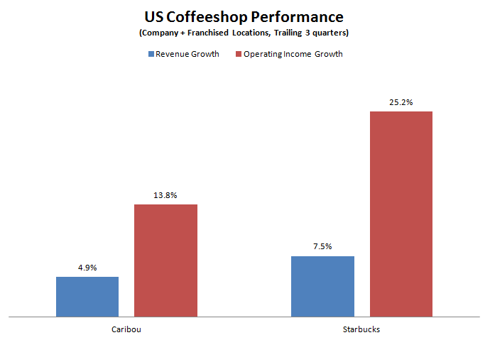 Click to enlarge

Certainly, Starbucks' model of nearly 50% company owned and 50% franchised stores has proven to be an effective strategy. Not to worry- Caribou has already started to shift toward increased franchise additions. Franchised coffeehouse growth is 36% annually from 2007 to 2010, compared to a net loss of 22 company-owned locations. As Caribou's ratio of owned to franchise stores continues to approach that of Starbucks, the company's bottom line will reap the benefits.

Click to enlarge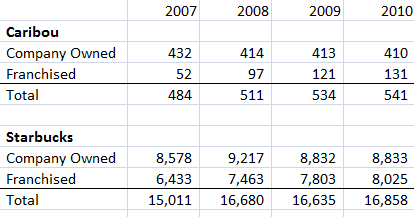 In terms of cash flow generation, Caribou's FCF (Buffett's Owner's Earnings) trends are promising. In 2010, the company actually generated more cash per share than Starbucks.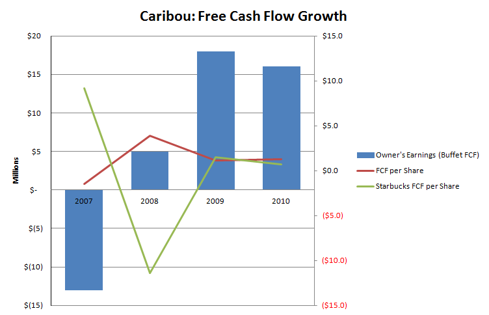 Click to enlarge
Valuation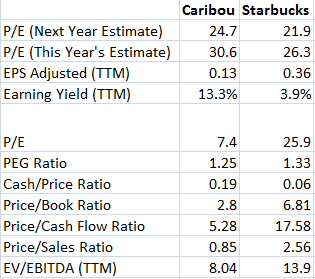 Recommendation
Management's long term vision is for Caribou to deliver value through a multi-channeled approach: 50% company-owned retail, 25% commercial and 25% franchised. Recent history suggests that this transition is definitely achievable. As Caribou expands its commercial business and continues to add franchised locations, we can expect continued growth that should outpace the rest of the industry.
Target Price: $15
Entry Strategy: Buy after dip
Keep an eye on:
Coffee commodity prices


Disclosure: I have no positions in any stocks mentioned, but may initiate a long position in CBOU over the next 72 hours.