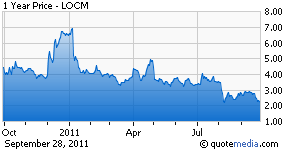 In January of this year Local.com (NASDAQ:LOCM) traded as high as $7+ per share. However, the company's core business was heavily impacted when the Yahoo (NASDAQ:YHOO)/Bing integration resulted in lower revenues than what the company would have expected given the same traffic and number of clicks prior to the integration. The company's pre-announcement in January of the expected revenue shortfall caused a selloff that pushed the shares down to $5. The timing could not have been worse, as the company was just beginning to execute on its larger strategic plan to better diversify the company's revenue sources by developing several new income streams that were complimentary to its core business. The stock offering that was part of that plan pushed the shares down further, as the deal priced at $4.25 and as is typical, the shares proceeded to trade in a lower range following the offering. When LOCM's second quarter report showed that the issues with the Yahoo/Bing integration had not abated, traders began to dump LOCM shares indiscriminately pushing that shares down to the $2.15 - 2.20 level where we find it today.
Local.com's shares now trade approximately 65% lower than they were before revenue expectations were lowered due to the Yahoo/Bing integration, even though the company substantially enhanced its ability to monetize traffic by signing a deal with Google (NASDAQ:GOOG) that went live in August. Prior to the Yahoo/Bing integration, we were aware of several companies that replaced Yahoo's search ads with Google ads and experienced a double digit increase in revenue generated on a similar base of traffic/clicks. Since the Yahoo/Bing integration, most companies that we know of that rely on Yahoo/Bing for search monetization have experienced declines in the amount of revenue generated by their traffic versus what they had come to expect from Yahoo's own search ads, which suggests to us that the improvement in revenue achieved by offering Google ads over Yahoo and/or Bing might be even greater now. Thus, we believe that Local.com's core search business will experience a material uptick in monetization due to the new deal that gives Google's pay per click (PPC) ads priority positioning. As such, we believe that the core search business that was the basis of LOCM's $100m+ market cap back in January is likely producing revenue at a much higher clip now than it was then and this is obviously not reflected in the company's cash adjusted $35m market cap.
Local.com's recent entry into the daily deals space through its acquisition of Screamin' Daily Deals in July has the potential to drive even greater value for shareholders than the core search business and we believe that daily deals revenue could surpass the revenue generated by the company's core search business over the next 12 months. While there is obviously significant execution risk, we believe LOCM has unique capabilities that make it more likely they will be successful in the daily deals space, particularly in markets where LOCM already has a significant advertising presence. LOCM's network already reaches 36m unique visitors organically on a monthly basis and their reach extends to another 44 million unique visitors through their PPC channels. We believe these numbers could ramp very quickly, as the economics of buying PPC traffic for a high margin offering like daily deals allows for much more aggressive and higher priced bidding for traffic in markets where LOCM offers deals.
If LOCM is able to leverage its existing organic traffic and expertise at PPC ad arbitrage, their numbers could change quite dramatically. A typical PPC ad arbitrager may (for instance) pay an average of 10 cents per click to get visitors to their site and offer PPC ads to the visitor that are targeted to generate something more than the 10 cents. The ads shown need to generate more revenue per click and/or have a high enough percentage of visitors who click an ad to make this a profitable undertaking. Pure arbitragers seek to make money per click transaction and at the end of the day must generate more click revenue than they spend to get the traffic and pay for the hosting costs of their sites. Local.com has built its business on a more "value added" approach, in that they have invested considerable resources into building a best in class local search engine and they are betting not just that they will make enough per transaction to cover the cost of the visitor, but that they can deliver an experience that will cause that user to remember the Local.com domain and visit them again for local searching. The 36 million organic monthly unique visitors to their network suggests that they have had considerable success and the four quarters in a row of profitability prior to the Bing/Yahoo integration suggest they had attained the scale and expertise necessary to grow profitably.
Thus, Local.com's local search business has grown by mastering the art of buying traffic at a price that allows them to make a profit because enough of the visitors convert by clicking or converting in some other type of monetizable transaction. There is considerable science in profitably executing this strategy and its razor thin margins allow for little if any error. This is one of the most striking differences between LOCM's legacy search business and its new Daily Deals business - the potential gross profit margin is huge with daily deals, literally a multiple of any kind of transaction the company's previous campaigns were based on. The best way to understand the significance of this difference is by reviewing and comparing recent LOCM numbers with numbers from Groupon's (NASDAQ:GRPN) recent S-1 filing -
LOCM spent $15.9m buying traffic Jan 1- June 30, 2011 hoping they could monetize that traffic through clicks, impressions and CPA deals to turn a profit. Between the traffic acquired as a result of this $15.9m ad spend and their organic traffic, LOCM achieved PPC revenue of approximately 19.7m. For illustrative purposes using a period with a similar advertising outlay, Groupon spent $18m on advertising in the second quarter of 2010. The relationship between this ad spend and the customers it produced describes very well the potential economics of this business.
"To demonstrate the economics of our business model, we have compared the revenue and gross profit generated from the North American subscribers we acquired in the second quarter of 2010, which we refer to as our Q2 2010 cohort, to the online marketing expenses incurred to acquire such subscribers. The Q2 2010 cohort is illustrative of trends we have seen among our North American subscriber base. The Q2 2010 cohort included 3.7 million subscribers that we initially spent $18.0 million in online marketing to acquire in the second quarter of 2010. In that quarter, we generated $29.8 million in revenue and $12.8 million in gross profit from the sale of approximately 1.2 million Groupons to these subscribers. Through March 31, 2011, we generated an aggregate of $145.3 million in revenue and $61.7 million in gross profit from the sale of approximately 6.3 million Groupons to the Q2 2010 cohort. In summary, we spent $18.0 million in online marketing expense to acquire subscribers in the Q2 2010 cohort and generated $61.7 million in gross profit from this group of subscribers over four quarters."
We believe that LOCM's core search business has refined the process of pay per click arbitrage along with other types of online marketing and now they will be able to put that expertise to work acquiring visitors who potentially have a much higher lifetime value. Instead of playing the numbers for the possibility that the visitor may click a higher priced ad, the visitor in the daily deals model might sign up to receive a daily prompt of discounted deals that could add $5 - $200 of revenue for LOCM if they buy one deal instead of the 50 cents or so in click revenue that LOCM has hoped to achieve from this visitor with their core business. This potential for a one off revenue event of $5 - $200 (average closer to $20) for a unique visitor vs. the 25 cents achieved by the legacy business is only the tip of the iceberg, because the very nature of the daily deals business is that the visitor will likely have contact with LOCM the following day and each day thereafter, offering the potential for another revenue event of $5 - $200. This does not even begin to factor in the potential value that each new consumer sign up brings, in that each user is given incentives to use social media to promote each day's deal among friends and family, giving well received deals the chance to go viral and generate more sales and more users without additional advertising expenditures.
Thus, instead of trying to get enough visitors to click 25 cents worth of ads to make a small profit over the 20 cents that was paid to acquire them, LOCM will seek to get some percentage of those visitors to sign up for daily deals and potentially earn hundreds or even thousands of dollars in revenue over the lifetime of that subscriber.
In summary, we believe that Local.com is uniquely positioned to thrive in the daily deals business and we believe it is already happening. We note that LOCM's Spreebird/SDD business did over $1 million in revenue the very first full month (August) it was part of Local.com, which amounts to about 50% of their revenue for the entire calendar Year 2010. While the company has yet to release metrics related to this business, we can see from the consumer interface that there are many deals that have been very well received, including a couple that have sold over 10,000 vouchers in just a matter of hours. We also note the striking similarities between where Groupon was in early 2009 and where LOCM's SDD business is now in terms of revenues generated and subscribers.
Very few investors get the opportunity to buy into a company like Groupon or Living Social early enough to see the value of their investment reflect the early stage exponential growth that a well executed daily deals operation can deliver. We believe investors who buy shares of Local.com may have that opportunity right now, as the recent sell off in the stock market has contributed to a decline in LOCM shares that has now pushed them down to a level ($2.16) that does not reflect the value of the company's local search business, much less the potential leverage its unique assets and competencies could bring to the daily deals business it has acquired. With the company's $13m in cash, the current price equates to an enterprise value of just $35 million. We note that the company had previously traded in a range that would equate to an enterprise value of about 3x that level, based on the prospects for its local search/advertising business alone. We believe that business has great potential and the company's new contract with Google to provide the primary page PPC ads has the potential to make a substantial positive impact on Local.com's core business. Despite what should be improving economics for that part of Local.com's business, you essentially get to buy into that at 65% - 70% less than you would have paid at the beginning of the year. Additionally, the company's recent entry into the Daily Deals space and the potential that the company could become a significant player in that space is not reflected in LOCM's valuation at all, so investors at today's prices are essentially getting a call option on the high margin daily deals business for free.
One last thing to consider - around the time that it became clear that the Bing/Yahoo integration was resulting in much lower revenue than many of its advertising partners had expected; a much more significant, aggressive and growing short interest began to materialize. This short interest grew considerably right up until the week that LOCM announced the Screamin' Daily Deals acquisition and filed the 8-k informing investors of its new ad deal with Google. Since that time, the short interest has steadily decreased as the short sellers have obviously been easing out of these positions. What has happened the last few weeks makes for a really interesting situation - the volume of shares traded each day has dwindled causing much more volatility (and what is rumored to be substantial naked short selling) in the stock on a daily basis. Yesterday, the Nasdaq posted the most recent short interest figures and it appears that Local.com's Short Ratio has swelled to over 14 days now, so at the average number of shares traded each day it would take close to three full weeks of trading for all the REPORTED short positions to be covered. Given the recent increase in the company's revenue guidance, management's recent acknowledgement of the hyper growth of its daily deals business and the all but certain uptick in the core business due to the Google contract, we would not be surprised to see significant money flows into the stock as investors begin to understand what is happening here and short sellers move to cover their positions ahead of the early October period when the company has pre-announced Q3 results in the past.