Is this the end of the line for silver? Well one thing's for certain: The white metal's free fall has the "deflationistas" among us grunting with satisfaction. But those silver bears may be banished back to their cave before the year is through. Let me explain ...
No doubt silver has endured a brutal correction: falling from $42 to $28.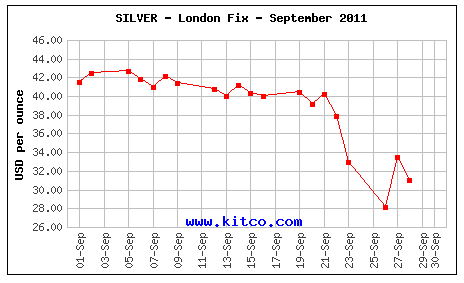 But it's not nearly as steep as the 2008 sell-off, which saw it plummet from $19.25 to a mere $9 an ounce. If history repeats, the same percentage decline would knock silver back to $20, with its 10-year uptrend firmly intact. Here's why I don't think that will happen ... plus a way to protect your silver position just in case it does.
My favorite silver signal - the eBay (NASDAQ:EBAY) indicator - is flashing "false alarm!"
While the paper silver market - stocks like iShares Silver Trust (NYSEARCA:SLV) - was getting rocked, the price of Silver Eagle bullion coins has remained remarkably steady. Take a look ...
Since Thursday, September 22nd, SLV is down 26.71%.
But Silver Eagles selling on eBay have only fallen 10% to 15%.
As of September 28th, they're holding their ground at $40 ... while the official price of silver has slipped below $30.
Of course, physical silver always commands a premium over paper silver.
But whatever the case, it's clear holders of the physical metal are not abandoning it in droves.
Partly because it's harder to liquidate than pressing "sell" in a trading account.
Partly because the typical silver bullion owner has deep conviction that hard money is the right investment in an age of bailouts and sovereign debt disasters.
And let's be honest ... It's the market's way of admitting there's a LOT more paper silver than real bullion in this crazy world.
A quick scan of completed eBay listings shows the average price of raw Silver Eagles is $38.25 to $41. That's a clear sign of strength worth paying attention to. (Raw means it's uncertified - in other words, not priced for collectible value or rated by a coin-grading service.)
Is Silver a Buy at This Level? YES ... but Only if You've Got an Iron Stomach and an Options Trading Account
Like I said, Silver could fall back to $20 and still be in an uptrend. But that's small consolation to investors buying in at $30 an ounce today. And that's why it's important to consider protecting yourself.
The easiest place to find "cheap insurance" is the options market - specifically out of the money put options on iShares Silver Trust. If you believe the silver market will remain volatile through the fall, you could purchase an October put option with a strike price of $25 ... or even $20 for as little as $0.22 ($22 per contract) to $0.88 ($88 per contract).
These put options could easily increase 10 to 15x in value if silver crashes further. And depending on the size of your long position - they could partially or completely hedge your portfolio and give you the psychological fortitude to hold on.
I'm not a fan of options or hedging in general. They can be risky. But when used to protect a long position that you do not want to sell, they can be quite effective.
And if you believe silver will be trading much higher than $30 an ounce a few months from now, this strategy could help you ride out the bumps and ideally use any profit from the put options to add to your silver position at bombed-out prices.
Disclosure: I have no positions in any stocks mentioned, and no plans to initiate any positions within the next 72 hours.