"I'm Lovin' It" probably applies if you'd bought McDonald's back in January 2005 and reinvested the dividends. You'd now be collecting more than $925 per year on a $10,000 investment – or 9.25% -- and you'd have an unrealized gain of more than $20,000.
Here's a look at the value of a hypothetical $10,000 investment in January 2005:
And here's a look at what your shares would be yielding;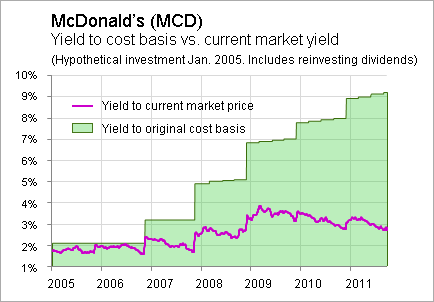 The purple line shows the yield to market price. The green area shows how your yield would have grown as the company increased its dividends.
The 10% annual dividend increases over the past couple of years haven't been as high as they were, say, back in 2007, when the company raised its payout by 50%.
Still, if the dividend gets raised at least as much as last year, you'll be getting more than a 10% yield. And you didn't have to be all that patient -- that's a double-digit yielder in just 7 years.
Oh, one thing to note about McDonald's: From 2000 to 2007 it paid its dividend annually, not quarterly. (According to a New York Times article from 1999, the company cited the high cost of sending out checks, thousands of which were for $1 or less). But since 2008 they've returned to quarterly payments.
Recent yield levels
For anyone looking to make a new investment in MCD, or wanting to add to existing holdings, here's a chart of the stock price along with some dividend yield levels based on the payout during the past four years or so: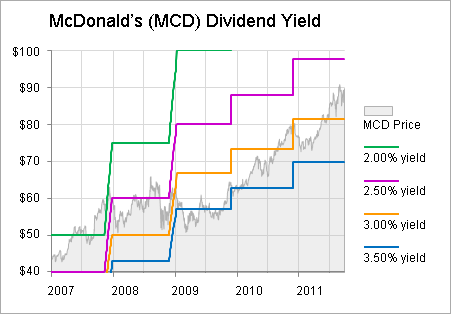 Back in early 2009 when the financial markets were collapsing, MCD yielded more than 3.5% when the stock was trading at around $57. Today that level would be more like $70 per share.
Before 2008, the stock saw its yield dip to less than 2.5%. With today's payout, that level would be almost $100.
However, I think the stock might be getting ahead of itself – especially if the overall market decides to tank. But if the stock gets near its year-to-date low, perhaps around $75, I'd be a buyer. I'll be waiting – patiently.
Disclosure: I have no positions in any stocks mentioned, and no plans to initiate any positions within the next 72 hours.