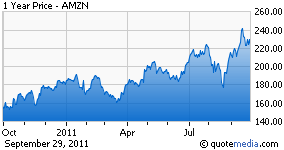 Yesterday was a big day for Amazon.com (NASDAQ:AMZN), as the company introduced newer versions of Kindle, its popular ereader, as well as its forthcoming tablet line. The stock did not react with much significance to the news, although AMZN is up more than 10% over the past 30 days.

As I've stated numerous times in my previous coverage of AMZN on Seeking Alpha, I do not consider the stock to be a buying opportunity due to its remarkably high P/E ratio - currently over 100 - but I do think its strategic trajectory is outstanding, and sets the path that other digital media companies will follow. This path will be something like the following:

Establish a community of digital media consumers
Create low-cost tablets, e-readers and other devices that are designed specifically for the type of media the company produces
Use the hardware as a sales channel to sell media products and advertising, and to earn revenue via social networking (i.e. game play mechanics)
Amazon is blazing the trail here. To minimize its costs, the firm's tablets will be built atop a forked version of the Android operating system. Indeed, building off existing open source software as a foundation will be a key part of how media companies create hardware products at minimal cost. On top of this, though, is the fact that Amazon is pricing its tablet at below cost; rather, the company is expecting media sales to make the venture profitable for shareholders.

Look for digital media companies, like Demand Media (NYSE:DMD) and Netflix (NASDAQ:NFLX), to follow suit here if they wish to remain competitive. Likewise, the stage is being set for hardware titans like Apple (NASDAQ:AAPL) and Dell (NASDAQ:DELL) to be disrupted. Apple has already proven itself capable of creating new products as second movers take its market share. Dell, as well as other hardware companies like Hewlett-Packard (NYSE:HPQ), may face a greater challenge if they are overly reliant on selling products that digital media companies can feasibly create at a low enough price point and monetize via digital media sales.

Disclosure: I have no positions in any stocks mentioned, and no plans to initiate any positions within the next 72 hours.