Corpbanca (BCA): BCA is a Chilean bank with 113 branches and 382 ATMs throughout Chile. The company services both commercial and retail clients and has a market cap of nearly $3BN. Earnings have grown over 21% for the last 5 years and it has consistently beaten its peer group in its return on capital:
(click charts to enlarge)


The company has about 7% of the total loan market and is aggressively growing that without relaxing its tough underwriting standards.
The company has increased its dividend from $0.32 in 2006 to $1.64 (paid on Feb 16, 2011), which gives it a very solid yield of about
7.5%
(paid out annually). The shares have sold off along with the broader equity markets (emerging markets, in particular) so this is a good opportunity to pick up a solid dividend payer that was unfairly beaten down. As the Chilean economy continues to grow, the emerging middle class will continue to demand more loans to buy more goods and services (this is also good for
our other favorite Chilean stock
).
Unlike American banks whose byzantine balance sheets and increasingly complex business models make it very difficult for investors to get comfortable with what they're buying (...on top of competing in a very mature economy with limited growth), the Latin American banks still follow a traditional, simple banking business model. Borrow cheaply (via deposits) lend prudently at a higher rate and earn the spread. This model works very well in a growing economy like Chile's and is a fantastic recipe for long-term dividend growth.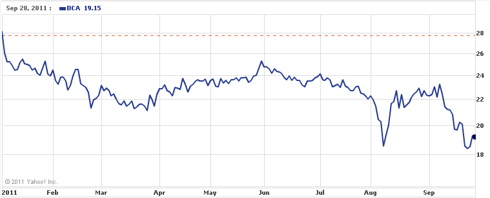 There are risks, of course, and in the case of Chile it's a softening of commodity demand from China, which will impact the economy at large and, by default, local banks. That said, we feel this still represents a compelling long-term opportunity for both capital appreciation and dividend growth, especially with the recent sell-off.
Philippines Long Distance Telephone Co (
PHI
):
PHI offers the most diversified range of telecommunications services across the Philippines, including wireless, fixed line and information and communications technology. Like BCA, the case for investing in PHI, in large part, hinges on the long-term growth story in the Philippines. Dominant telecom companies in emerging economies is a
one theme we especially like
. The Philippines has a stable manufacturing and service-based economy with a mature banking sector and the country continues to benefit from "off shoring" moving from China. PHI comprises about 25% of the benchmark PSE Composite Index. Furthermore, the Philippine telecom market is basically split between PHI and its smaller rival, Globe Telecom. Also like BCA, this company has sold off sharply in recent days and is now yielding
7.4%: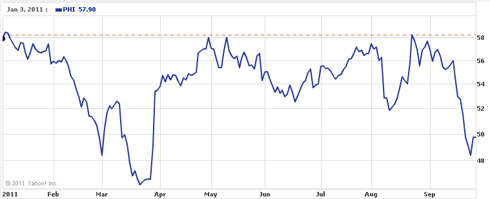 One important thing to note, is that the Philippines currently has a 25% withholding tax rate on dividends for foreigners. The good news is that you'll likely be eligible to
get it back
in the form of a tax credit. Given the long-term growth story coupled with the opportunity for near-term capital appreciation, we think this is a solid dividend payer worth a look.
Disclosure:
I am long
PHI
,
BCA
.