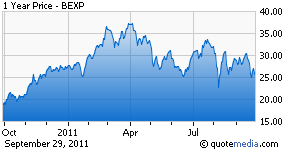 A few weeks ago, some of you may have read my article on RPC Inc. (NYSE:RES) pertaining to its great value and potential for future growth. And although I thought and still think that RPC is an excellent company (especially at its current sub-$18 price), another company in a related sector has caught my eye. This stock is Brigham Exploration Company (BEXP), which is an exploration, development, and production company for oil and natural gas reserves, and it shows promising potential in a variety of different ways including earnings, management, and growth. Although profits took a major hit in 2008-2009 during the recession, they have since recovered and have been growing at a rapid pace. But due to the slump in stock price caused by recent turbulence in the market, it could be a perfect opportunity to acquire shares in the company at a sizeable discount.
First off, we can look at the company's finances, a place where Brigham stands out from the crowd. Year over year, immense growth can be seen in the net income section, where Q2 2010 had a net income of $18,473,000, and Q2 2011 had an astounding net income of $ 70,835,000, a YoY increase of 283%. In terms of earnings, the company has posted consecutively higher numbers for years, from an EPS of 0.13 in Q2 2010, to a 0.24 EPS in Q4 2010, to a 0.33 EPS last quarter (Q2 2011). Analysts have estimated a yearly EPS of 1.36 for 2011 and 2.34 for 2012. If these estimates turn out to be true, then the company could be much, much larger and profitable next year than it is today, with an EPS growth of 72% or more. And knowing that Brigham hasn't missed analyst expectations for years, and shows no signs of doing so soon, the 2.34 EPS and 72% EPS growth for 2012 could be an understatement. It all depends on whether or not you think the company can sustain its growth through new projects, production, and methods. These are vital to success, and are topics that Brigham appears to be working and making progress on.
Another major, if not the most important point in considering an oil exploration stock, is to make sure the company has the means and the will to continue to succeed in the future. During the latest conference call (Q2 2011), the company's current success and planned growth was emphasized. The speaker mentioned the key point that Brigham had drilled 79 consecutive North Dakota wells, each with an average IP (Initial Production) of 2,800 boe/d (barrels of oil equivalent per day). This average is quite impressive for the area, making them a key player. The company also has plans to construct almost 1400 to 2200 more wells than they already have, which indicates the company is just getting started with exploration, development, and production. According to numbers released by the company, a 6000 boe/d well could gross 8.7 million dollars, provide a rate of return at around 51%, and have a full return on investment in two years, which is much sooner than the life of the well, which is estimated at 25 years. If these numbers are true, then it would mean Brigham's larger wells could be looking at almost 23 years of making a solid profit, without any risk of losing money. The company also released a letter on September 23rd stating that they expected Q3 production values to be in the high range of what was expected, between 15,000 and 16,200 boe/d. With the company being so profitable at such a small size compared to its future outlook/drilling estimates, it makes one wonder how dangerous investing in the company could actually be. And the answer to this thought is that investing here is most likely not dangerous at all, but the risk should still be carefully assessed.
The cons sheet for Brigham is almost completely empty. It was assumed that weather (snow, rain, and flooding) may have an impact on Brigham's production levels and their finances as well, but these assumptions never turned out to be true. At a P/E of 35, some of Brigham's future growth may already be factored into the stock price, but not anywhere near all of it. Other than this, the company looks great in terms of technology, management, and finances. Many other companies operating in the area such as Continental Resources (NYSE:CLR) and Whiting Petroleum Corporation (NYSE:WLL) show similar signs of success and point towards future growth, but neither have the same steady earnings nor the financial growth that Brigham exhibits. Over the past few months, the company has received a slew of price target updates. Piper Jaffray (NYSE:PJC) set a $31 price target and maintained an "overweight" rating; Deutsche Bank (NYSE:DB) set a $37 price target and a "hold" rating; Raymond James (NYSE:RJF) upgraded shares from "outperform" to a "strong buy" and Stiefel Nicolaus upgraded the company from a "hold" to a "buy" rating and added a $35 price target. This seems to imply that analysts are beginning to realize the true future valuation of the company and what effect this could have on the stock price.
In conclusion, the future valuation seems to be well worth the price you could pay for the stock today. But in the short to mid-term, the stock price could be rather unpredictable and could present a riskier play. Just because the company has blowout earnings, great management, and evolving technology doesn't necessarily mean the price will always go up. Although I do believe that if you're entering in for the long-term, Brigham Exploration could be an excellent company, but if you do plan on buying in for the short-term, be prepared for the unexpected. With turbulence and uncertainty in the market and the recent dip in stock price, you can't be too sure of what's to come next.
Disclosure: I have no positions in any stocks mentioned, and no plans to initiate any positions within the next 72 hours.