Long gone are the days when we could make a few thousand bucks flipping abodes within weeks, and the end result is still viewed as yet another bubble that got pricked. But the problem is that it wasn't another garden variety excess like the dot.com, and ultimately housing holds the key to economic stability. Unlike other bubbles, many more people had a vested interest in their houses, and not everyone was affected by the stock bubble of the late 90s.
Unlike previous crises, housing was the one asset class that always held its value through thick and thin, and even during the 90s when houses held back their gains, there was never a fallout. This time is really different, and Ben Bernanke's knows it.
In yesterdays' speech the media focused on unemployment, as reported by MarketWatch.
"We've had close to 10% unemployment now for a number of years, and of the people who are unemployed, about 45% have been unemployed for six months or more. This is unheard of," Bernanke said in a question-and-answer session following a speech in Cleveland.
But Mr. Bernanke's core concern lies elsewhere, and although he has fallen short of providing a solution, he knows the true disease.
Bernanke urged policy makers to consider "strong housing policies to help the housing market recover."
Lowering rates, quantitative easing, and "operation twist" are monetary exercises that have not and will not deliver the goods, and even with 30-year mortgage rates at a record low of 4.01% as reported by MarketWatch, home sales are still flat at the low end of the chart.
The average rate on the 30-year fixed-rate mortgage fell to a record low of 4.01% in the week ending Sept. 29 - these data go back to 1971 - from 4.09% in the prior week, Freddie Mac reported Thursday. "Fixed mortgage rates fell to all-time record lows this week following the Federal Reserve's announcement of its Maturity Extension Program and additional purchases of mortgage-backed securities," said Frank Nothaft, Freddie Mac's chief economist, in a statement.
So where do we go from here? Over the years markets always reallocate capital to preserve it and to seek higher returns, and, cash aside, money travels in an asset triangle: Stocks, bonds and real estate. These are the three major asset classes.
Call me crazy, but we must think outside the box because ... well, we're boxed in. The only hope that the Fed has is that the stock market falls enough to push capital into what will look like a bargain: Real estate. And since stock market "crashes" are perceived as always being temporary in nature, rising home values will improve consumer sentiment, because trying to get citizens to consume beyond their basic needs has proven to be a losing game, low rates and all. After all, many have dipped into their stock retirement accounts to survive.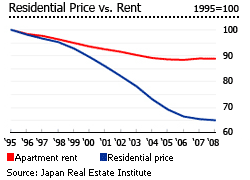 What about the Japanese experience? I've thought about it, but Japan is different in the sense that after all these years its economy is still export based, and its socialist policies and built-in cultural approach of "saving face" prevented them from rising above the ashes. I believe that we can learn and will do better. After all, the Japanese stock market never recovered because the economy never recovered, only because housing never recovered. That's the sequence.
Disclosure: I have no positions in any stocks mentioned, and no plans to initiate any positions within the next 72 hours.