A little stock that could is Green Mountain Coffee Roasters (NASDAQ:GMCR). This stock has been on a run all year and is even going to be the subject of a CNBC special in the next few days. In the past year the stock is up over 251% as this Barchart graph shows:
Click to enlarge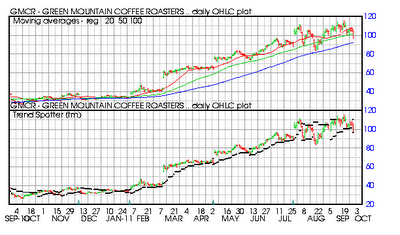 Lately there has been quite a few articles questioning just how high this stock could go. Those articles may have caused the upward momentum to take a little pause as this Barchart graph of the hourly trading activity over the past month shows:
Click to enlarge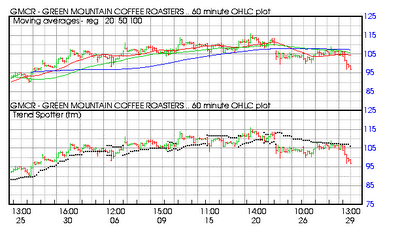 Green Mountain Coffee Roasters engages in the specialty coffee and coffee maker business. The company sources, produces and sells approximately 200 varieties of coffee, cocoa, teas and other beverages in K-Cup portion packs and coffee in traditional packaging, including whole bean and ground coffee selections in bags and ground coffee in fractional packs for use in at-home and away-from-home. It sells its products primarily in North America through supermarkets and convenience stores, in restaurants and hospitality, and to office coffee distributors, as well as directly to consumers via its website.
The company also manufactures gourmet single-cup brewing systems. In addition, it sells at-home single-cup brewers and accessories, as well as coffee, tea, cocoa and other beverages in K-Cup portion packs; and offers other licensed roasters to retailers. Further, the company sells AFH single-cup brewers to distributors for use in offices. Green Mountain Coffee Roasters, Inc. was founded in 1981 and is based in Waterbury, Vermont. (Yahoo Finance profile)
Factors To Consider
Barchart technical indicators:
These are short term indicators that may signal the correction in price that many newsletters including Value Line have been predicting
60% Barchart short term technical sell signal
Trend Spotter hold signal that is showing a bullish tendency
Trading below its 20 and 50 day moving average but still above its 100 day moving average
Although the stock has gone up over 251% in the past year the stock has recently fallen 16.17% off its recent high
The Relative Strength Index is down to 39.23% and still falling
Barchart computes a technical support level at 90.46
Recently traded at 96.60 which is below its 50 day moving average of 101.24
Fundamental factors:
Wall Street brokerage analysts have very aggressive sales projections of an increase of 99.10% this year and another 60.90% next year.
Earnings estimates are equally robust with a 135.70% increase expected this year, 58.20% next year and continue at an annual rate of 37.48% over the next five years.
Today's P/E ratio of 76.67 is about 4 times the P/E ratio for the overall market.
Please note that the increases in both sales and earnings are beginning to taper off.
At the present time brokerage analysts still have five strong buy, three buy, two hold and one negative recommendation on this stock.
General investor interest:
This is a very widely followed stock with the readers of Motley Fool and I think its interesting how the individual investors have a different view from the professional investors.
Of the 1,351 readers expressing an opinion on this stock only 62% vote that the stock will beat the market.
The more experienced and savvy All Stars seem to be in agreement with a 61% vote for the same result.
Clearly the individual investor has started to take some profits and is unsure how much longer that ride can last.
Competitors and sector leaders:
Although the business plans are slightly different, GMCR continues to out strip its major coffee distribution competitors like Peet's Coffee and Tea (NASDAQ:
PEET
) up 57% in the past year, Starbucks (NASDAQ:
SBUX
) up 47% and Farmer Brothers (NASDAQ:
FARM
) off 67%.
Click to enlarge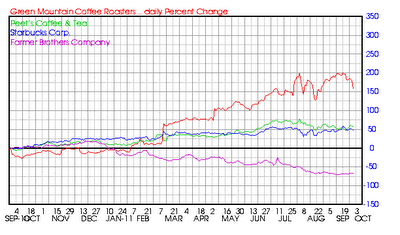 I note that GMCR is a member of the SIC 2090 - Misc Food Preparation and Kindred Products sector and although they are not competitors some have had attractive returns over the past year with Diamond (NASDAQ:DMND) up 98%, Gruma SA (GMK) up 24%, McCormick (NYSE:MKC) up 11% and Inventure Foods (NASDAQ:SNAK) up 10%.
Click to enlarge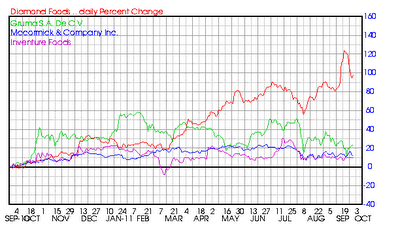 Summary: Green Mountain Coffee Roasters has had a fantastic run up but with a P/E ratio of 76.67% it would need to have maintain an earnings growth rate of four times the market to sustain the ratio. Most experts predict that the markets have an upside potential of around 85% over the next five years. Using GMCRs earnings forecasts and return to a more normal P/E ratio makes me feel that over the next five years the total return from this point on will not be appreciably higher than the rest of the market. If you presently hold this stock please use caution and place appropriate sell stops to preserve your profits. Stocks with P/E ratios this high fall fast at the first hint of not meeting earnings expectations. Short interest in this stock is starting to grow and day traders should watch this in order to take advantage of some short term instability. Long term investors won't make much if you enter at this price level.
Disclosure: I have no positions in any stocks mentioned, and no plans to initiate any positions within the next 72 hours.