Some tout Apple (NASDAQ:AAPL) as the greatest growth stock ever. Others predict its rapid rise to slow. If you own Apple, what to do? Is it too late to get in on the bandwagon now and chase AAPL further?
Here's my take. Yes, of course Apple's a winner and there's still growth in the stock for the near term. After rising 53% in 2010, Apple has slowed down rising 22% in 2011, analysts expect Apple to soar once again in 2012 as much as 20%-30%. Analyst targets average around $500, with highs at $660+. If you're long AAPL, I recommend buying in on a dip. In the past year, AAPL has been a very volatile stock with high amount of trading volume. Predicting Apple's future is like predicting anything else it's hard, sometimes near impossible and you just have to take some great, educated bets.
Apple keeps many people out of the loop. None of us know how to estimate the projected iPhone 5 and iPad 3 sales. They could blow everyone out of the water and beat earnings estimates or they could have a minor slip up sending the stock lower. Who knows? At the same time know one really knows what to expect now without Steve Jobs running the show. We have all been reassured that Tim Cook was the man behind the scenes to Apple's success the past few years but only time will tell if this is actually true or if Steve Jobs was the sole reason for Apple's innovative success.
The best scenario would be for AAPL to do a 2-1 or even 3-1 split to make it a more attractive/less risky play to investors. Even if they don't, Apple is still a strong investment. Current 93% of Wall Street analysts are giving a "Buy" recommendation to Apple with 50% of them giving it a "Strong Buy" recommendation ... JPMorgan has set a target price of $520 whereas Goldman Sachs has it set at $540 making Apple a very profitable investment with predictions expecting Apple to rise as much as 35%+. These same companies listed Apple respectively on their Best Stock Picks lists based on the thoughts that Mac computers, most particularly the Macbook Air, will regain prominence in 2012 along with upbeat expectations on iPad 3 & iPhone 5 shipments. In addition, many believe this fall will be stronger than ever as Apple continues its roll ending 2011 on a high-note with great Christmas sales leading to upbeat expectations for 2012.
End Note: We are Long Apple and recommend if you don't already own Apple that you buy it on a dip. We believe Apple will soar all the way up to $550 over the course of the next year, total yield of 41%.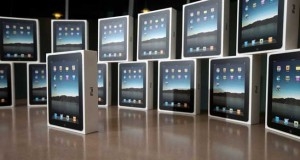 We believe Apple's greatest strength will be again increased iPhone sales led with the upcoming launch of the iPhone 5. The iPhone is Apple's most important division making up 52% of Apple's stock price estimates according to Trefis.com, an investment research website which gives you analysis on what drives the stock price higher. As a result, a successful iPhone 5 launch will do wonders for share prices.
We also downplay the effect of Steve Jobs departure which we believe negatively affected Apple's stock price much more than it should have. While crucial to Apple's image and past, the new management team has been executing and successfully operating Apple throughout the past several years as Steve Jobs slowly tampered off his involvement. With the past several years being some of Apple's best yet we have faith and confidence in Tim Cook and his new management continuing to take Apple to the next level soaring shares way past $500.
All in all, everything looks great for Apple's future so if you own it great, even consider buying more, if you don't own it, take advantage of one of these dips in the market and buy in. Either way hold onto Apple for the long-run and you will be glad you did as Stocks on Wall Street is giving it a "Strong Buy" recommendation and if that's not enough then hopefully the fact our good friends from Goldman Sachs, J.P. Morgan, HSBC and 44 other analysts & brokers also believe Apple will continue to rise so we like our odds.
Company: Apple
Recommendation: Strong Buy
Current Price: $394.79
Price Target: $550.00
Total Yield: 42%
Disclosure: I am long AAPL.