As active traders, any company able to buck the trend and post gains during extreme bearishness is certain to be added to our watch lists. In such instances, the market is often providing clues to a dynamic underlying growth story worth investigating further. With this in mind, it should be noted that during the years of the Great Recession, network-technology company, Procera Networks Inc. (NYSEMKT:PKT), was able to increase its revenue from $1.91M in 2006 up to $20.12M in 2009. Though sales subsequently flattened in 2010, with the rise of smartphone use and consumers' insatiable demand for robust mobile networks, 2011 is now shaping up to be another record year for the company.
Procera specializes in Deep Packet Inspection (DPI) and Intelligent Policy Enforcement (IPE) solutions for all types of networks including the Internet, mobile broadband networks, cable operators and related technologies. The company's PacketLogic product line allows network operators higher visibility into their networks along with the ability to gather information on subscriber and application use and enforce specific network policies. Because flexible network management is now a must for network operators, while other tech companies have experienced order cancellations and/or reduced guidance this quarter, Procera has been busy posting record bookings.
After issuing a steady stream of news releases over the past two months, it is clear Procera has secured at least $15M in orders in Q3, almost 60% above the bookings of the first two quarters combined. Ultimately, these contract wins should result in a book-to-bill ratio near 2 this quarter, positioning the company for a major inflection point moment in Q4. As such, we expect higher-than-expected sales and earnings guidance when Procera releases its Q3 numbers in early November.
On the institutional level, Procera's growth prospects and market opportunity have not gone unnoticed. In the last three quarters, the company's mutual fund footprint has increased from 4 to 11 to 57 different funds holding shares. While such swelling numbers are impressive, we expect still further increases as more institutions discover Procera's potential to double its revenues from $20M to $40M in 2011. Put another way, with most advanced world economies already in recession, Procera should be one of a handful of public companies to register this type of explosive growth this year. When the institutional radar is so un-crowded, stories like Procera's are easy for them to find.
On the Q2 conference call in late July, PKT's CEO explained why the growth of the company's market opportunity has accelerated faster than expected:
Service providers want to roll out innovative services. In order to roll out new services they need to better understand what is happening on their networks. Accurate and granular business intelligence and reporting is the killer app. This is why we are winning. We are significantly differentiated from competition in this area. The carriers can't roll out new services without having visibility and confidence in the information they are receiving.
Procera's ability to differentiate itself from its competition resides in its PacketLogic product line. Backed by the highest performance in the industry and a subscriber model that is configurable and granular, the PacketLogic technology allows service providers and operators to proactively manage traffic better than competitors' existing technologies. With some analysts predicting a tripling in online traffic over the next four years, network management companies such as Procera should see their business boom continue as service providers look to mitigate potential network capacity constraints. According to market research firm, Infonetics Research, Procera's total addressable market opportunity will grow six-fold over the next five years to $2.1 billion by 2015:
Actual and Projected Standalone Deep Packet Inspection Market
(click charts to expand)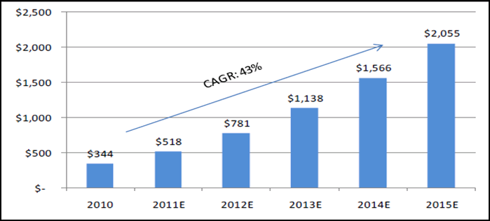 Source: Infonetics Research, April 2011
On a smaller scale, the Procera growth story reminds us of Acme Packet Inc. (NASDAQ:APKT) at its early stages. When APKT rose to double digits in early 2010, the company enjoyed all of the following characteristics that can make a stock a multi-bagger:
An exploding market opportunity and rapidly expanding total addressable market.
A top-notch management team.
80% gross margins.
Exploding profitability.
With all the necessary components in place, APKT then began a meteoric rise of 800% over the next twelve months.
Now before we continue, let us stress that we do NOT expect Procera to be an 8-bagger like APKT. However, we cannot help but think there are some similarities between the two companies' growth stories, especially on a momentum front. Let's discuss:
First, with a total addressable market growing at an astounding 43% 5-year compounded annual growth rate to $2.1B by 2015, Procera is at the epicenter of one of the hottest areas in tech: Intelligent Policy Enforcement for mobile networks. With more and more users joining the smart phone revolution, for mobile network operators, the speed, flexibility and scalability of networks have never been more important. IPE solutions allow mobile operators to improve the quality, speed and longevity of their networks and increase their services and offerings to consumers, thus providing greater sources of potential revenues. Procera, with its industry leading PacketLine platform, will be the IPE solution provider of choice as mobile operators scramble to keep up with consumers' mobile network demands.
Over the next two years, Procera will be able to bite into a market that is poised to double from $518M to $1.14B. After bolstering its balance sheet with a secondary offering in early June, Procera now boasts around $2.50 a share in cash. Likewise, Procera has begun to see the size of its orders increase as Tier-1 operators are now confident the company has the cash on hand to meet the higher demands for its products. Given that Procera has secured 18 Tier-1 customers over the past 18 months, we also expect a steady stream of follow-up orders to continue rolling in for the company. According to Stifel Nicolaus, domestic mobile service operators should accelerate re-orders in Q4 and into 2012.
On the margin front, Procera recently posted record gross margins of 62%. While management remains conservative with its stated target of 59%, we believe as revenues scale up to $16-$20M a quarter late in 2012, gross margins should increase toward the mid-to-high 60s range. This, in turn, should allow Procera's operating margins to head to the high-teens. When this occurs, profitability will soar.
Finally, perhaps the ultimate payoff for Procera could be a takeout of the company for a hefty premium. While Cisco seems content with its PQ product on its current platform, F5 Networks (NASDAQ:FFIV) comes to mind as a potential suitor. F5 was previously rumored to be considering Allot Communications (NASDAQ:ALLT), but after forming a partnership with Procera earlier this year, we think the odds for an F5 takeout of Procera have certainly increased. After all, wouldn't it make sense for F5 to take a "look under the hood" before any takeover would occur? We think so.
How much could Procera fetch in a takeover next year? We think the $15-$17 range is feasible. With a unique IP platform and sales poised to grow demonstrably over the next few years in a critical area of networking and the all-important mobile space, a 4x forward multiple on $52M in 2012 sales strikes us as fair for both parties. We shall see.
A look at the Procera chart indicates PKT is putting in the work for a sustainable bottom. Upon announcing its latest follow-up order of $4M, on September 27th, big volume came into the stock, lifting it back up above its 50-day simple moving average. As mentioned earlier, in June Procera completed a secondary at $9.50. Once the stock can climb back above this level on a consistent basis it will imply the biggest set of stockholders are now back in the black on their PKT position. This is significant. As you can see on the chart below, once PKT decisively clears $9.50, the next zone of resistance is $11-$12.50:
PKT 1-Year Daily Chart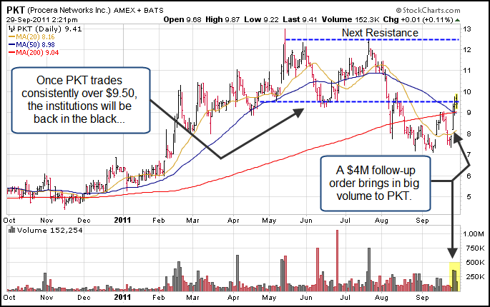 Source: StockCharts.com
With the potential for the market to break its August lows in the coming days and weeks, we plan to use our current cash levels to take advantage of any sell-off in Procera shares. There only so many identifiable growth stories out there with strong visibility for the next six months. When PKT's order number is announced in the Q3 earnings report and guidance is raised for Q4, this should be a major catalyst for the shares. Therefore we are patient buyers of the stock on pullbacks into the low-to-mid $8s in the coming weeks.

Disclosure: I am long PKT.