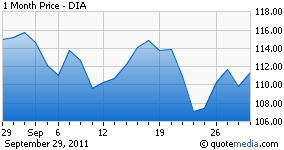 The market has taken its toll on several fast-growing stocks,. causing them to post large losses over the last 3 months. I believe the market is full of opportunity for the long-term investor that is willing to ride out the inconsistencies of this volatile market. The mindset of investors changes quickly, and with more short-term and day traders than ever, the economy can experience large swings in a matter of days. At right is a chart of the Dow Jones industrial average over the last month.
The Dow Jones has gone from the high 10,000s to the low 11,000s four times during the last month, each time in a matter of days. This trend is noticeable and apparent to every investor, yet sometimes we get caught in the moment. We can forget about the potential for loss when the markets are looking good and forget about the upside when it's trending lower. To even better illustrate the markets' unusual tendencies, the below chart shows the dates and value of the Dow's largest swings. I believe investors should keep this in mind to keep from getting caught in the moment of the markets' day-to-day trends.
| | |
| --- | --- |
| 8/31 | 11,685 |
| 9/6 | 10,956 |
| 9/8 | 11,462 |
| 9/12 | 10,851 |
| 9/16 | 11,509 |
| 9/22 | 10,635 |
| 9/27 | 11,390 |
These large swings in the market have occurred over the last month as investors trade on every hint of good or bad news. Two weeks ago the market posted one of its largest one-week gains of the year, only to fall more than 700 points the following week. Why? The Fed used the word "significant" when speaking of our economic problems, and 3 major banks were downgraded. This week the market is starting off strong as Europe seems to have found a light at the end of the tunnel. But how long will it last before our mindset changes once again and we start thinking recession? Based on recent history we can probably bet on another large drop in the markets next week if not sooner.
With such unpredictability within the markets, finding a good short-term investment can be difficult. Therefore, I believe that now is the perfect time to load up on long-term investments for your portfolio. There are several companies that have shown significant progress and have given strong guidance but have posted a substantial amount of loss during the last 3 months.
Investors should be looking for growth stocks that present a high level of value. I believe the auto industry is one of the best for growth over the next 5 years, and presents the highest levels of value. Below is a look at GM (NYSE:GM) and Ford (NYSE:F), two stocks that I believe will lead the industry in growth, along with Sirius XM (NASDAQ:SIRI), which is directly affected by the success of the auto industry because of its ties to the products.
General Motors has lost more than 30% of its value over the last 3 months. It now trades with a market cap of $32.3 billion on revenue of $146.51 billion over the last 12 months with a profit margin of 6.78%. The company's balance sheet includes $32.77 billion in cash, $12.05 billion in debt, and $65.98 billion in assets. Its stock price is $20.60, which is very close to its book value per share of $20.47. The company announced revenue gains of 18.7% during its last quarter and is on pace to post substantial financial gains during 2011, which include gains in earnings and monthly sales over the last 6 months.
The company has experienced a high level of success with its new fuel-efficient vehicles and its emphasis on new fuel technologies. Despite the company's recent success, shareholders are yet to respond by purchasing shares of its stock. GM has given investors every reason to be bullish on its future, which include a 4-year deal with the United Auto Workers that will return capital to its employees. I believe this move by the company shows a level of confidence in its future to offer such a long-term deal.
The company has a goal of 13 million units sold on average, in the coming years, an increase from its current projection of 10.5 million units this year. A large portion of the company's growth will be in emerging markets such as China and South America which are vital to the company's success. GM recently signed a new contract with SAIC Motor Corp to develop and build electric vehicles in China, which further shows the company's emphasis on fuel-efficient vehicles for a consumer base that is willing to purchase vehicles with good gas mileage.
Ford Motor Company has experienced a similar level of success by placing a high emphasis on fuel-efficient vehicles, new technologies, and new body styles. The company has yet to post the same level of growth as GM during the last 6 months, but it's given a somewhat clear picture of long-term expectations. During the company's mid-decade report Ford announced that it expects sales to increase by 50%; in addition, the company has plans to reinstate the much-anticipated dividend in the near future. Also in recent news, the company announced its plan to add 7,000 new jobs during the next few years.
But much like GM, the stock has lost a large portion of its value, 25% over the last 3 months with a price to earnings under 6, trading near its 52 week low. The stock is trading with a market cap of $38 billion on $130.96 billion in revenue with a profit margin of 5.21%. The company's balance sheet does present questions at first glance, with $168.08 billion in assets and $98.55 billion in debt. And while the company's high debt-to-assets ratio may be alarming to investors, it's drastically improved over the last 3 years, and is on pace to post similar levels of progress in 2011. I am bullish on Ford heading into the future. With strong guidance and a focus on fuel-efficiency, I believe the company will be successful in shipping more units year-over-year.
The auto industry has been the first to fall and slow to rise during the last few months of volatility within the markets. Both companies performed terribly during the recession of 2008, and I believe the recent memory of the recession has led to much of the stocks' decline in price. Yet both companies are significantly different than they were in 2008. Both have placed a high priority on lowering debt-to-assets ratios and innovating their products. Both Ford and General Motors have focused on fuel-efficiency during a time when gas prices are as unpredictable as the stock market. And both companies have been able to capitalize on products that are no longer a luxury, but rather a necessity, as longer commutes to work and higher gas prices plague the consumer.
I am confident that the auto market is going to be one of the strongest markets over the next 5 years, and I believe these two stocks will benefit the most as both companies continue to create new models with better fuel efficiency.
Sirius XM is an exciting company that benefits from the success of the auto industry. The stock is trading around $1.60, near the middle of its 52-week range. I believe the stock should be trading near 52-week highs, yet because of volatile markets the stock has fallen in excess of the Dow Jones with a beta of 2.02. The stock trades with a market cap of $6.30 billion after losing 25% of its value during the last 3 months. The company has posted revenue of $2.92 billion over the last 12 months and a profit margin of 8.13%, and both are expected to improve over the next year.
The one fundamental concern that I have is its balance sheet, which includes $7.3 billion in assets, $3.02 billion in debt, and $528 million in cash. Its high debt-to-assets ratio may be a concern for investors; however, the company has made significant progress over the last 4 years, and I believe will continue to make progress as it becomes more profitable. The company has announced several key developments which give insight into its future performance, which include rising prices, increased guidance, solid earnings, higher retention rates, and an upcoming Sirius 2.0 product.
I believe Sirius' success is a guarantee if the auto industry continues to improve, because I don't believe that any product matches its performance. Pandora (NYSE:P) and Clear Channel are great products, but they serve different purposes. Sirius is truly a transcendent service, where subscribers can enjoy music, talk, sports, weather, etc. from the majority of all U.S. manufactured vehicles. Sirius is one of only a few companies where its product comes to you and allows you to experience its benefits for a considerable amount of time before having to pay.
The only issue I have had with Sirius' product is its failure to innovate with a service that matches the technology consumers desire. However, the new Sirius 2.0 now has the potential to offer the consumer a product that will remain relevant for another 10 years. The product will offer all of the same benefits as the current model, but with Wi-Fi, Bluetooth, and smart phone-like capabilities. I expect this product to retain customers much longer with modern technology, and with vehicle sales expected to increase I see no reason why this stock can't become one of the best-performing stocks over the next 5 years.
Disclosure: I am long GM.
Disclaimer: As with any investment, due diligence is required. The opinions in this article are not intended to be used to make a particular investment or follow a particular strategy.