Two articles in recent weeks described consolidated year-to-date results from the top 10 high-yield "dog" stocks in each of seven and eight indices. The second of those articles concluded by ranking eight indices by risk from low to high:
JPMorgan New Sovereigns Dogs
S&P 500 Aristocrats Dogs
Dow Industrial Index Dogs
NASDAQ 100 Index Dogs
NYSE International Index Dogs
S&P 500 Index Dogs
Top Dog Stocks by Sectors
Russell 2000 Index Dogs
This is the last article in this eight-part series, launched as eight steps toward Yale economist Robert Schiller's admonishment to "make conservative preparations for possible bad outcomes":
Part 1

reviewed

the underlying top thirty component stocks of the Russell 2000 Index.
Part 2

discussed

the 3x9 sectors' 27 dogs.
Part 3 examined the underlying top thirty component dividend stocks of the S&P 500 Index.
Part 4 investigated the underlying top thirty component dividend stocks of the NYSE International 100 Index.
Part 5 reported the underlying top thirty highest yielding component dividend stocks of the

Nasdaq 100 Index

.
Part 6 surveyed the components of the Dow industrials, the current "Dogs of the Dow."
Part 7 described thirty high-yielding component stocks of the

S&P 500 Aristocrats, treating them as an index

.
This eighth article concludes these introductory component listings. Part 8 now describes the index with the fewest components but the most prestigious title: "The J.P. Morgan New Sovereigns."
On July 22, 2011, Thomas Lee, an equity strategist with J.P. Morgan, published a note titled "Corporates are the New Sovereigns: 22 stocks to own around sovereign default." The Barron's article covering Lee's announcement defined a Sovereign as an entity which can print money or tax at will. Lee's report listed 22 corporate stocks that show less risk of default than the sovereign U.S. government, based on five-year credit spreads, free cash flow yields exceeding bond yields, ratings of overweight by J.P. Morgan, and showing upside to their target prices. This is the lowest-yielding, with the presumed lowest risk, of the eight indices listed above.
The "Dogs of the Index" Strategy Employed for Trading
Investopedia explains the strategic concept as:
An investing strategy that consists of buying the 10 dogs of the dow [dogs of the index] stocks with the highest dividend yield at the beginning of the year. The portfolio should be adjusted at the beginning of each year to include the 10 highest yielding stocks.
This strategy is so simple you don't need more than 15 minutes per year to decide which stocks to buy. Just two key metrics determine the yields that rank the index dog stocks: stock price and annual dividend.
Dividing the annual dividend by the price of the stock reveals the percentage amount by which each stock is ranked. After selecting a pool of twenty to thirty stocks that throw the highest dividend yields in any index, the investor follows, trades, and awaits the results of an investment in the lowest-priced, highest-yielding one-half (if 20) to one-third (if 30) of the pool. A third variable of broker commission of $10 per trade is deducted from every transaction to reveal net income each year.
Top-Yielding Stocks in the J.P. Morgan New Sovereigns Index Dog Pound
Data from Yahoo Finance reveals the following twenty-two stock portfolio as of September 23, 2011, of which twenty pay dividends: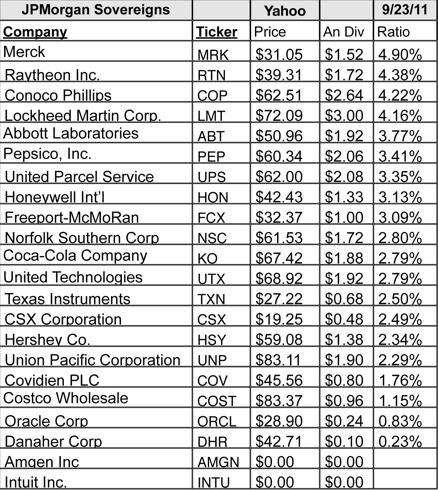 The above list shows the September arrangement of companies flagged by JPM analyst Thomas Lee. Three of the top ten stocks in the above list are industrial goods companies, two are health care pharmaceutical firms, two are basic materials companies, two are services, and one is a consumer goods firm. At the top, this index includes five of nine business sectors.
The full list of 22 represents just seven of nine sectors, and gets thick top to bottom with five service sector firms and four healthcare stocks. Here is the breakdown of the 22 component stocks by business sector: Technology: 3; Consumer Goods: 3; Services 5; Financial: 0; Basic Materials: 2; Healthcare: 4; Utilities: 0; Industrial Goods: 3; Conglomerates: 2.
J.P. Morgan New Sovereigns 22 Component Profiles
Charting Motion of the JPMorgan New Sovereigns Dogs
Even though Tom Lee just cobbled this group together in July 2011, the following charts were back-filled to show shifts and changes in yields position since January. Over the past nine months Merck has retained the top slot on this dividend yield based list. Color code shows: (Yellow) (1) firm listed in first position at least once between January and September 2011; (Cyan Blue) (3) firms listed in fifth position at least once between January and September 2011; (Magenta) (4) firms listed in tenth position at least once between January and September 2011; (Green) (3) firms listed in fifteenth position at least once between January and September 2011. Duplicates are depicted in color for highest attained rank. Until JPM updates it, this list is fixed at 22 stocks.
September Dividend vs. Price Results for J.P. Morgan New Sovereigns' Highest-Yielding 10
As mentioned above, Merck has topped this list all year. MRK's September 23 yield was 4.90%. Year-to-date annual projected dividend totals for $1,000 invested in each of the top ten stocks showed maximum divergence of $303.87 under aggregate single share price in May.
September sees the gap narrowing to $142.48, which is the closest this year. This gap in August signaled stock prices of the top ten dividend yielders dropping as lower priced stocks rose to occupy the top ten slots, boosting dividend yields and the number of shares buyable with a fixed investment amount. In September yields again dropped slightly as share prices rose.
Conclusion
Maybe annual projected dividend totals for $1,000 invested in the top ten JP Morgan New Sovereigns Index stocks will continue to converge with the aggregate single share price. This remains a docile and low-yield list showing extremely low risk.
Disclaimer: This article is for informational and educational purposes only and shall not be construed to constitute investment advice. Nothing contained herein shall constitute a solicitation, recommendation or endorsement to buy or sell any security.
Disclosure:
I am long MRK.