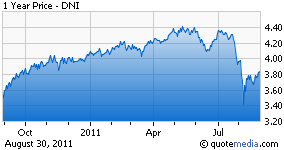 I've been watching Devon Energy (NYSE:DVN) for a while for a couple of reasons. The first is that I admire greatly their disciplined approach to running their business and optimizing the deployment of cash for their shareholders. And second, because I'm interested in their evolving business strategy.
Focus On Value Per Share
Devon management has a long history of wisely allocating capital between debt reduction, project development and buying back shares when the price is right.
Devon has had several stretches of aggressive stock repurchases:
2004 to 2006 – repurchased 12% of the outstanding shares of the company
2007/2008 – repurchased 2% of the outstanding shares of the company
2010 to current – repurchased 8% of the outstanding shares of the company
That is a massive return of cash to shareholders and a boost in value per share as 20% of Devon's shares have been retired since 2004
Repositioning of the Business
In the past two years Devon has been working on a massive repositioning of its asset base.
Devon has been dumping offshore oil and gas reserves and loading up on North American resource plays. Another oil and gas company that has not gotten the memo that the shale gas and unconventional resource plays are nothing more than ponzi schemes!
In total $10 billion of divestitures have occurred in the past two years:
Deepwater Gulf of Mexico Asset Sales - $3.1 billion
Shelf Gulf of Mexico Asset Sales - $1.1 billion
Chinese Assets - $600 million
Brazilian Assets - $3.2 billion
Azerbaijan Assets - $2.0 billion
A Repatriation Issue
In the most recent quarter proceeds from the Brazilian asset sale were received as detailed in their conference call:
In May, we closed our $3.2 billion sale of our Brazilian assets which essentially completes the strategic repositioning of Devon to a company focused entirely onshore in North America. Our total pretax divestiture proceeds exceeded $10 billion, with after-tax proceeds estimated to $8 billion. Currently, we have more than $6.5 billion of cash and short-term investments outside the U.S. that we have not repatriated. However, it's important to note that our after-tax estimate of proceeds assumes full payment of the taxes triggered by repatriation of most of those funds under current U.S. tax law. If a more favorable tax situation develops for the repatriation of these funds, or if we redeploy the proceeds in Canada, we will have up to $900 million of upside. Until we have better visibility into potential repatriation tax legislation and determine the optimal long-term capital allocation between the U.S. and Canada, our divestiture proceeds will remain outside the U.S.
This is a company sitting on a lot of cash. Devon is also a company that is willing to return that cash to shareholders as it has bought back 20% of the outstanding shares of the company over the past 7 years and is aggressively buying back now.
However, as detailed above Devon also has a challenge with the proceeds of its recent divestitures. Quite a lot of that cash is trapped outside the United States and will be subject to a large amount of tax upon repatriation. The conference call detailed that Devon could save $900 million in taxes if that cash stays outside the states, which makes me think that opportunity is knocking. I'm a big fan of returning cash to shareholders. But rather than repatriate it and then buy Devon stock which is moderately undervalued. Why not leave the cash in Canada and start buying junior Canadian resource focused oil players that are dramatically undervalued after the recent selloff? Devon would save on repatriation taxes AND be investing assets that are better values than Devon shares.
Devon is already quite active in Canada, both in the oil sands and in emerging unconventional oil plays like the Viking and the Cardium. There are a number of small Canadian companies focused on these resource plays that would make nice tuck in additions for Devon.
Selectively Locking Up Unconventional Acreage
Devon is working the unconventional game both north and south of the border. In the States Devon has several large acreage positions in new venture plays:
Niobrara – 300,000 acres
Mississippian – 200,000 acres
Utica – 410,000 acres
Tuscaloosa – 250,000 acres
It is interesting to watch this "unconventional asset revolution" take over the oil industry. Much of the media focus on these unconventional plays is coverage of skeptics of their economics or environmentalists worried about fracking. What the media is missing is that this "unconventional revolution is the best thing to happen to domestic oil supply since Prudhoe Bay.
Disclosure: I have no positions in any stocks mentioned, and no plans to initiate any positions within the next 72 hours.