The market is downright scary to investors right now. Volatility is being very rough on the world, as it is often the case that by the time headlines are published about the direction of the general market it has already reversed course. Quoting myself from my last article, "Since the market is convulsing violently in both directions due to uncertainty, if you have profits you may want to take them quickly. They can disappear very quickly." The S&P has been bouncing like a ping pong ball in the 1100's range since August. This is extremely frustrating to both bulls and bears alike, and the real winners have been the short term traders who have been scalping profits left and right upon the fluctuations of the indices.
Yesterday (September 29th) we saw a surprisingly good jobless claims number and in-line GDP estimates. We saw some intense rallying in the morning, which quickly faded (all the way into red numbers on the S&P in the early afternoon). Despite all this volatility, indices finished up. Is this a sign that we're headed back to the top of the trading range? Maybe, but if you're a long term investor all of this volatility is a bunch of noise in the bigger picture. If you want stocks that are disregarding the indices and climbing higher on strong volume, look no further than Domino's Pizza (NYSE:DPZ) and Papa John's (NASDAQ:PZZA).
Domino's Pizza and Papa John's are two beloved pizza franchises that feed everyone from hungry college students at 2:00 AM on a Friday night to families with busy moms that don't have time to cook. As an active consumer myself, I can assure you that the demand for the goods provided by these firms is relatively inelastic. If the prices remain reasonable, people will continue to order this food. Below is a chart of the EPS of Domino's and Papa John's over the last 10 reported quarters.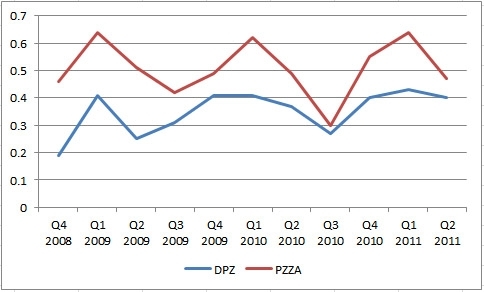 Nothing special given that other companies have been growing earnings at a record rate. Keep in mind, however that these companies have been combating the inflationary pressure of rising food costs. Prices had to rise, and boy is it hard to grow your customer base with raising food prices - even if they're only due to nominal perceptions of expense. In addition, with high unemployment continuing to cripple the finances of a large portion of the economy, one can presume that family food budgets have been shrunk as well.
So why are these stocks buys? While these fundamental factors may keep a lid on corporate earnings for Domino's and Papa John's, there is strong downside protection as well. As stated before, the economy would have to become really bad before people make severe enough cuts to their food budget to actually hurt DPZ or PZZA. The same is true of almost any food and beverage company. The restaurants; however, are much more expensive.
Domino's is trading very close to its 52-week high of 29.74, and despite the ping-pong ball effect of the S&P 500 that so many stocks have been following, DPZ is climbing higher as investors flood into defensive industries - forgoing the opportunities in "scary" sectors like tech. Papa John's is behaving similarly, but still has quite a way to go before reaching its summer highs. I would argue that since their performance is so strongly correlated in the real world, the P/E discount on Papa John's makes it a slightly better buy right now.
In conclusion, while I wouldn't recommend the purchases of stocks in general for the time being, the safest thing to do right now is to stick with the consumer staples. DPZ and PZZA don't have dividends like many other stocks in this sector, but their stocks have still been performing admirably due to their potential for growth. They're not cheap, but they should be relatively stable picks for the times ahead. That is something that the broader market simply cannot offer.
Disclosure: I have no positions in any stocks mentioned, and no plans to initiate any positions within the next 72 hours.