Campbell Soup's (NYSE:CPB) "Mmm, mmm! Good! Possibilities" jingle is ringing in deaf ears, as it has been for the last decade with its flat shareholder value. The iconic brand has little opportunities ahead and has received weak momentum going forward. The new CEO has rightfully called for international acquisitions, which will result in revenue synergies and help abate costs, but this strategy remains very much a work in progress despite success with Pepperidge Farm. Campbell Soup will need new products, as category sales have been down and are forecasted to be largely down in the next few years. I anticipate the company's ROIC declining slightly, while competitor ConAgra Foods' (NYSE:CAG) ROIC increasing slightly.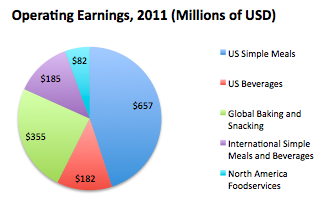 The consumer goods company faces tremendous competition in the soup market and recently raised prices with little positive response. Although 4Q11 beat expectations, this was largely due to currency effects and lower marketing, as opposed to solid fundamentals. The food-maker's largest segment, U.S. Simple Meals, performed poorly, especially in sauce sales for Prego and Pace. The segment's operating earnings was down 11% from last year, while the second leading segment, U.S. Beverages, was down 12%.
Going forward, I forecast no substantial reversal. My model anticipates organic sales growth being 2%, 6%, -2.3%, and -0.2% for the U.S. Simple Meals, Baking and Snacking, International Simple Meals and Beverages, and North America Foodservices, respectively. Raw material inflation, possibly in the double digits and lower consumer expenditures will further depress earnings. I anticipate gross margins declines by around 100 basis points in 2012, while SG&A/revenue will rise by 120 basis points.
Grocery inventories have grown substantially over the last two decades and Campbell's products face lower life spans over time. New products are expected to be unveiled next year, but this almost seems too little too late. Acquisitions should focus on producing higher-margins, but any purchase is risky in that net debt currently stands at a little more than one fourth of the current market value. Management has a goal to increase savings, but that strategy is also challenged by the need to rejuvenate anemic top-line growth.
Assessing the firm's weighted average cost of capital at around 9.4% with 3.8% EBIT growth, produces a valuation roughly in line with the one determined by the market currently. I forecast the top-line growing by around 0.9% next year. Most analysts also rate the company around a "hold" and are concerned about faltering demand and margins. Consensus estimates for EPS are that it will decline by 6.3% to $2.38 in 2012 and then increase by around 6.1% for both of the following two years.
On the positive side, the stock currently offers a dividend yield of 3.6% and will be a good defensive play for investors fearful about a double dip. However, given the company's projected operating performance, I find the company slightly less preferable than Kellogg (NYSE:K) and much less preferable than Kraft Foods (KFT).
Disclosure: I have no positions in any stocks mentioned, and no plans to initiate any positions within the next 72 hours.